This week my daughter requested honey mustard chicken for dinner. The super saucy type that comes out of a jar that definitely isn't keto friendly. So I set out to experiment how I could create a low carb honey mustard chicken recipe that was keto friendly.
For a recipe that I made up as I went along, it turned out too good not to share. Both my son and daughter ate it and said it was just as good as any commercially made honey mustard cooking sauce they had eaten in the past. When I worked out the macros, it was only 3.5g net carbs per serve (the recipe below serves 4).
It was super quick to make, using products I had on hand, making this an inexpensive low carb honey mustard chicken meal great for busy nights.
I'll no doubt come back and edit this recipe and make it again with a little more poise, I'll let you know in this post when that happens. But for now, here's how I went about (literally) throwing this together:
Chicken Breasts
I sliced two skinless chicken breasts and dunked the pieces in a whisked egg. The idea was that I would make breaded chicken to help thicken the sauce.
But I'm not like other food bloggers with perfect recipes and photography. Sorry about that. I'm a dad with two hungry teenagers, so I dumped the almond meal in with the chicken and the egg and mixed it around.
Here's how the initial chicken looked:
If you took the time to drain the egg and coat the chicken I think this would have made a better result. Also, I used quite coarse almond meal, and you'll note in the recipe below I have suggested almond flour instead.
The reason for this is the sauce had a slightly thicker texture due to the almond meal. The flour should help to make a smoother sauce.
I oiled the pan and placed the chicken in a single layer to cook.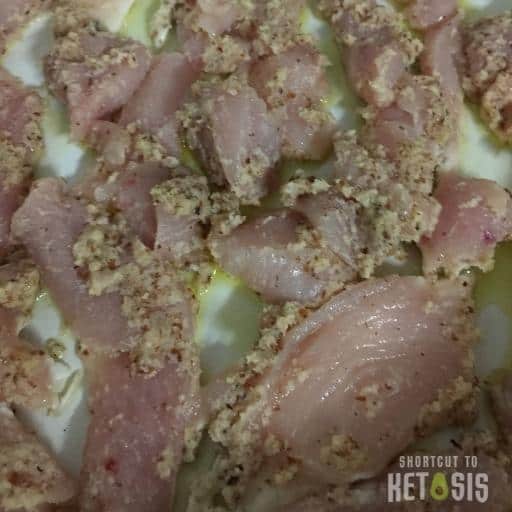 Most of the almond meal fell off the chicken and stuck to the pan, but I was okay with that. I knew that this would help to thicken the honey mustard sauce without any additives needed.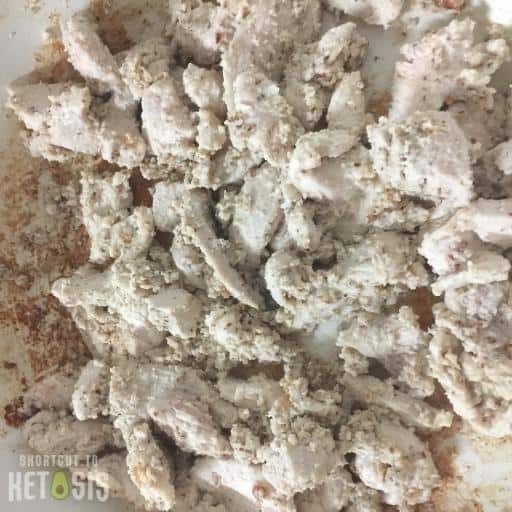 You could avoid the almond flour and thicken the sauce with xanthan gum instead, which I'll try next time – and update this post if it's a success.
Making a Low Carb Honey Mustard Sauce
When the chicken was browned I poured in one cup of chicken stock as the base of the sauce. As honey isn't keto friendly, I decided on sugar free maple syrup for the sweetness. I added the dijon mustard and seeded mustard and stirred until mixed.
It wasn't really the right color, so I added a teaspoon of turmeric which gave it a lovely mustardy yellow color, without impacting the flavor.
Here's how the low carb honey mustard chicken turned out:
It was really that simple. The final result was a creamy, saucy, sweet honey mustard flavor without the carbs usually found in commercially prepared honey mustard sauces. The combination of the dijon and seeded mustards made the sauce creamy enough when combined with the chicken stock.
You could experiment with adding thickened cream to the sauce, if you prefer a creamier version.
Taste the sauce during cooking and season with salt and pepper to taste. It's really easy to adjust the quantities to your liking. If your kids don't like the mustard seeds, leave out the seeded mustard and use more Dijon. For a sweeter sauce, add more sugar free maple syrup.
What to Serve Low Carb Honey Mustard Chicken With:
Finally, I served this up with broccolini on the side. The almond meal really helped to thicken the sauce, so I didn't need to add anything else. This would be excellent served with cauliflower rice, or any keto rice substitute.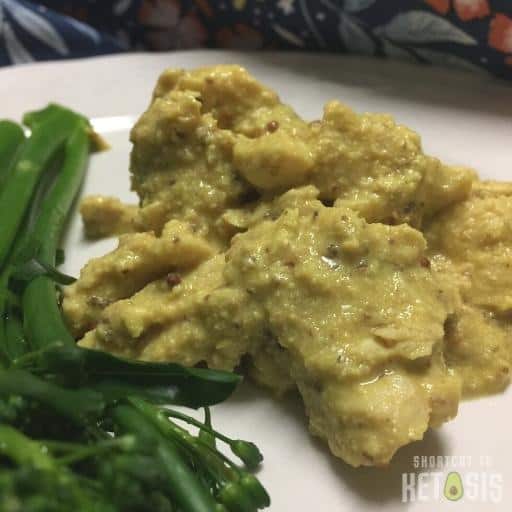 Like I said, I whipped this up in a flash and to my surprise it was a huge hit. The texture of the almond meal didn't bother any of us, but if you prefer you can leave out the egg and almond meal coating. The sauce will then be quite thin, so you'd need to thicken it with xanthan gum.
Using Xanthan Gum Instead of Egg and Almond Meal
You can thicken the low carb honey mustard sauce by mixing 1 teaspoon of xanthan gum with a small amount of cold water to make a thin paste. Mix this in with the sauce and it will thicken it nicely. This will also help make a smoother sauce.
Here is the recipe: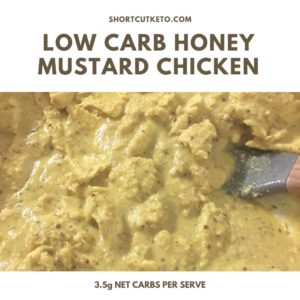 Low Carb Honey Mustard Chicken
A delicious, family friendly, low carb honey mustard chicken recipe with only 3.5g net carbs per serve. Quick to prepare, this recipe was a winner with both my children.
Ingredients
2

Skinless Chicken Breasts

1

Egg

½

cup

Almond Flour (or Almond Meal)

2

tbsp.

Dijon Mustard

2

tbsp.

Sugar Free Maple Syrup

1

cup

Chicken stock or Chicken Bone Broth

1

tsp

Ground Turmeric

1

tbsp.

Olive oil for frying
Instructions
Slice the chicken breasts into bite size pieces or strips

In a small bowl, whisk the egg

In a separate small bowl, add the almond flour

Coat the sliced chicken in the egg, then the almond flour

In a large pan, heat the olive oil over a medium heat

Fry the coated chicken in the oil until just browned

Add the chicken stock (or bone broth if using) and stir, scraping any extra pieces of almond flour off the bottom of the pan

Add the Dijon mustard and maple syrup to the sauce and stir to combine

Add the turmeric to the sauce and simmer for 5 minutes or until chicken is fully cooked.

Serve with low carb veggies or cauliflower rice.
Nutrition
Calories:
203
kcal
Carbohydrates:
4.3
g
Protein:
28.7
g
Fat:
8.3
g
Saturated Fat:
1
g
Cholesterol:
106
mg
Sodium:
396
mg
Potassium:
43
mg
Fiber:
0.8
g
Sugar:
0.5
g
Calcium:
23
mg
Iron:
1
mg