This week I was shopping at the market and broccoli was in abundance. The prices were low and the quality was good, so I bought a lot. I must have known something, because that day my in-laws turned up with two large purple cabbages – and so this broccoli slaw recipe was made.
I'd originally intended to make broccoli soup, one of my absolute favorite comfort foods for keto. Then it dawned on me that I will only use the broccoli florets for the soup, and as such I will have the stalks of the broccoli left over.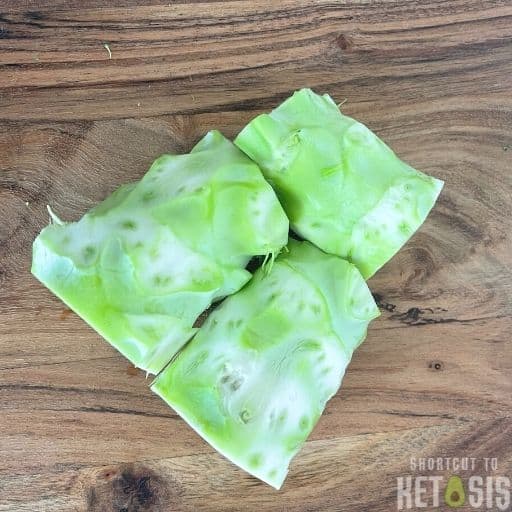 Homemade Broccoli Slaw
Now, this is probably a little unconventional. Most people probably buy pre-packaged shredded broccoli, and this would certainly help speed up the process. But I knew that I had an abundance of broccoli and no plans yet for the stalks. So I cut off the stalks, washed them, trimmed off the rough edges and set about making a keto broccoli slaw.
This was also a great opportunity to test out a new julienne peeler I bought recently. Would I go to this effort again? Maybe. There's something satisfying (for me at least) about not wasting perfectly good food, like the stalks of broccoli.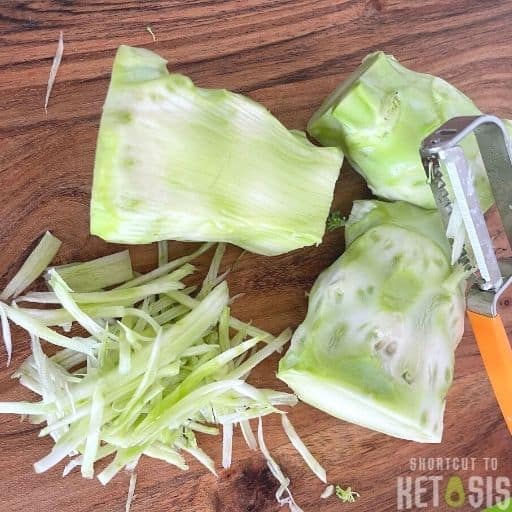 I really enjoy the sweetness of broccoli stalks, particularly in stir fry and salads. Once I had finished shredding the stalks, I chopped up 1/4 of the purple cabbage and shredded 1 medium carrot. As you may know, carrot isn't traditionally eaten on keto, however, a broccoli slaw recipe without carrot just didn't seem right.
The entire broccoli slaw recipe made enough to serve at least 6 adults as a side dish, possibly even 8 people (we had leftovers). So the carbs in one carrot, divided by 8 people is minimal.
Making the Broccoli Slaw Dressing Keto
Traditional salad dressings are heavy on the sugar. Luckily, it's really simple to make your own broccoli slaw dressing with just a few ingredients.
Here's what I used:
Mayonnaise
Dijon Mustard
Apple Cider Vinegar
Fennel Seeds (Celery seeds would work well too)
Salt and Pepper to taste
Keto friendly sweetener (optional)
I literally mixed all of these ingredients together in a bowl. Pretty simple stuff. You could use an immersion blender to help break up the fennel seeds and make an extra smooth dressing, or whisk by hand.
I used a spoon, because, I'm lazy like that! But you can see little clumps of mayo in the dressing in the image below. A mini whisk would get these out easily.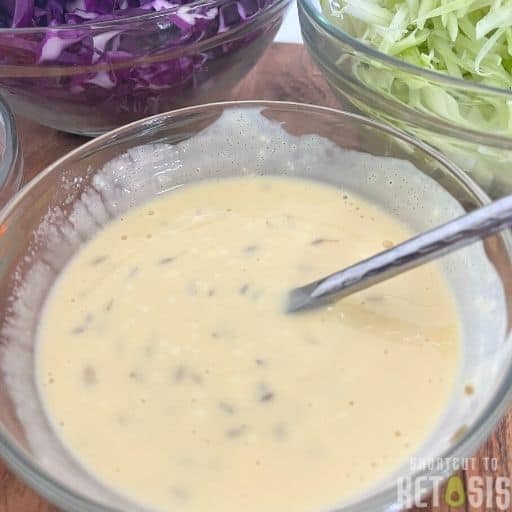 Once I had made the broccoli slaw dressing, I mixed the cabbage, shredded broccoli and carrot together in a large bowl. We were eating right away, so I poured the dressing over and mixed together.
If you are preparing this broccoli slaw recipe in advance, store the slaw in an airtight container in the fridge and the dressing in a separate container. You'll otherwise end up with soggy slaw.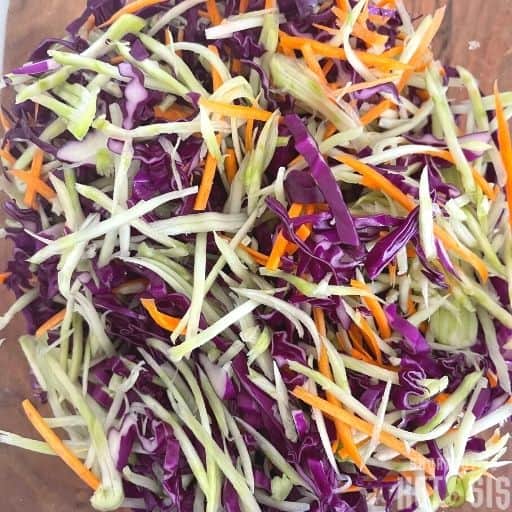 The vibrant colors of the cabbage, broccoli slaw and carrot made me want to eat this salad without the dressing. It would make a great base for meal prepping (minus the dressing) and would compliment grilled or rotisserie chicken well.
As we were eating the slaw straight away, I poured over the dressing and served immediately. It was a hit with the in-laws, who commented they liked the hint of mustard. Dijon mustard is one of my favorite condiments to use on keto with its subtle flavor and creamy consistency.
Here is the final result!
Storage:
Store your keto broccoli slaw in an airtight container in the fridge for up to 2 days. This recipe isn't suitable to freeze.
If you aren't serving your broccoli slaw straight away, refrigerate the dressing in a separate jar or container and pour over just before serving.
This recipe serves 8 as a side dish (around 1/2 cup serving each). Total carbs per serve are 5.9 grams, net carbs 3.9 grams. This doesn't include the sugar alcohols in erythritol.
Keto Broccoli Slaw Recipe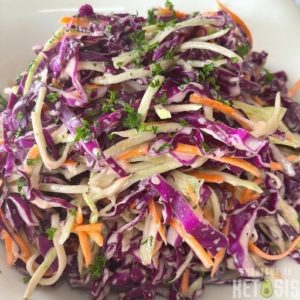 Keto Broccoli Slaw
Quick and easy keto broccoli slaw recipe great for side dishes and keto meal prep. Includes a tasty broccoli slaw dressing recipe.
Ingredients
Broccoli Slaw
1/4

purple cabbage

3

stalks

broccoli, shredded

(or a pre-made bag of shredded broccoli)

1

carrot, shredded
Broccoli Slaw Dressing
⅓

cup

mayonnaise

1½

tbsp

apple cider vinegar

1

tbsp

dijon mustard

1

tsp

fennel seeds

(celery seeds can be substituted)

¼

tsp

salt

(more or less to taste)

¼

tsp

pepper

(more or less to taste)

1

tbsp

keto friendly sugar

(optional for added sweetness – I used erythritol/stevia blend)
Instructions
Finely shred the cabbage, broccoli and carrot. Mix together in a large bowl.

In a separate bowl, whisk together all of the ingredients for the dressing.

Pour the dressing over the broccoli slaw and gently mix to combine.
Nutrition
Serving:
0.5
cup
Calories:
96
kcal
Carbohydrates:
5.9
g
Protein:
2
g
Fat:
7.8
g
Saturated Fat:
1.2
g
Cholesterol:
4
mg
Sodium:
116
mg
Potassium:
258
mg
Fiber:
2
g
Sugar:
2.4
g
Calcium:
43
mg
Iron:
1
mg