Eggs are a staple in most keto households, and we are huge fans of omelettes, for breakfast, lunch or dinner! Today I had Spanish chorizo in the fridge, so decided to make a chorizo omelette.
Topped with avocado and sour cream, this chorizo omelette had a nice spice to it, although you could definitely add more of an authentic flavor with added herbs and spices into the mix if desired.
To keep it simple, and I was hungry, I threw together chorizo, chargrilled peppers and scallions. Whisked up a couple of eggs with a dollop of heavy cream and this was the result: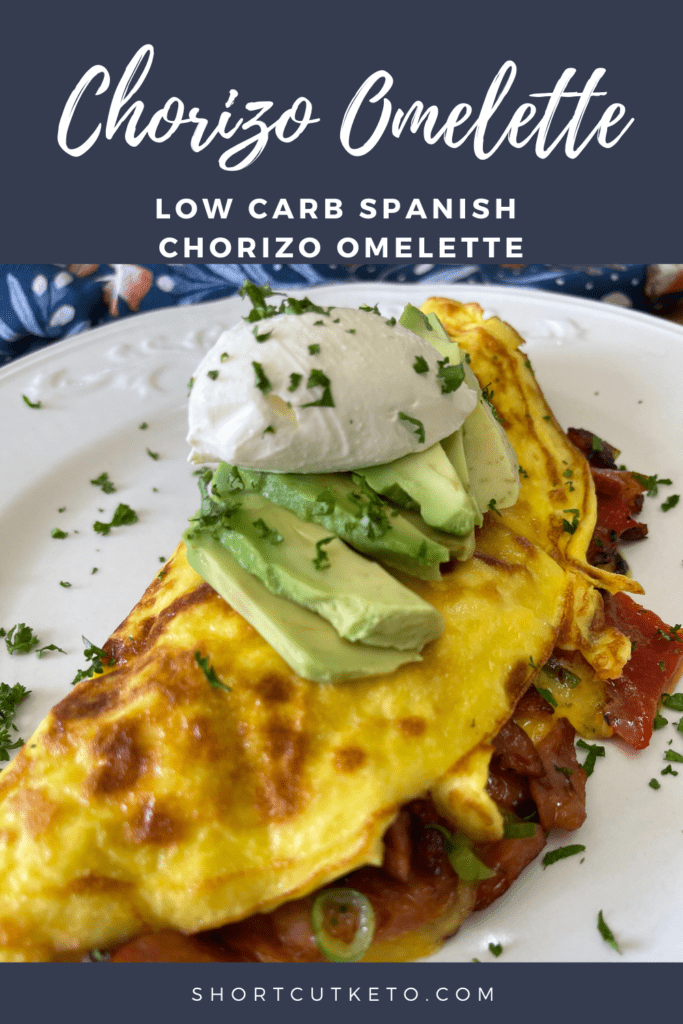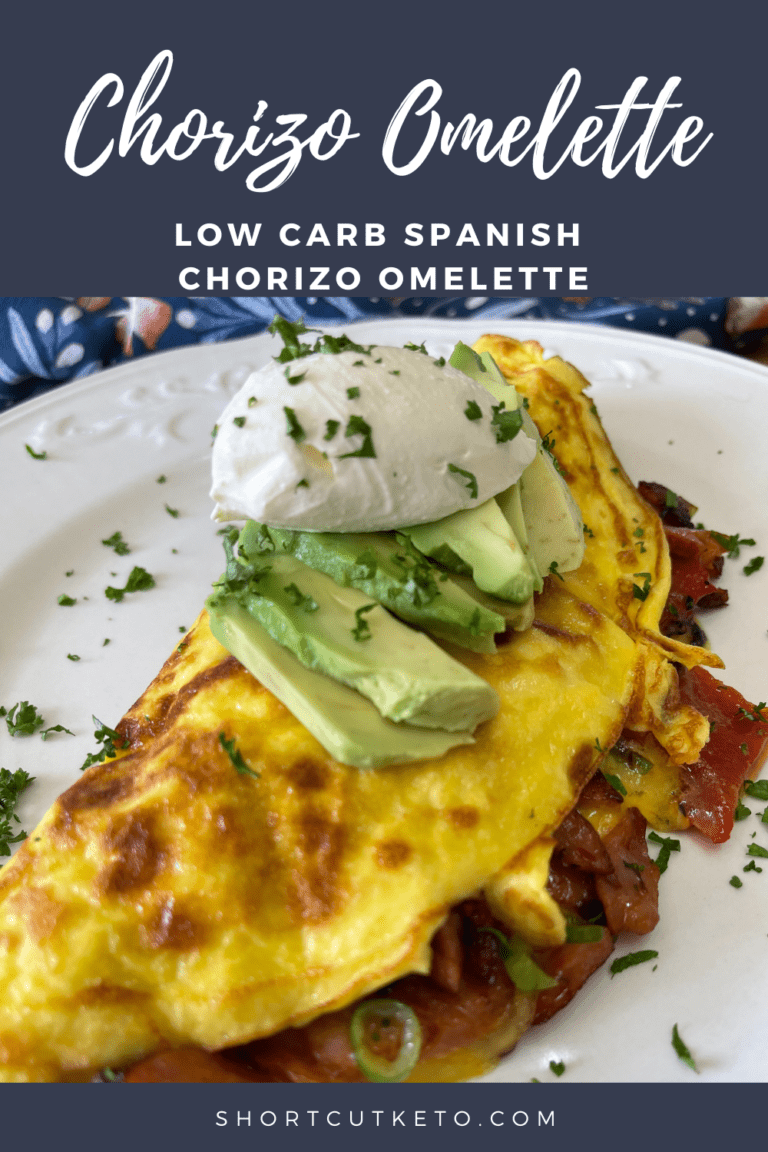 It was pretty good, if I do say so myself.
I'll step you through how I put this together – it took no time at all, including taking these images along the way to share with you. It's all about efficiency in my house!
Ingredients for Chorizo Omelette
1 Spanish Chorizo (around 3.5-4 ounces)
1/8 cup chargrilled peppers
2 Eggs
1 tablespoon heavy cream
1 Scallion
1/4 cup shredded cheese
1 teaspoon sour cream
1/4 Avocado
Fresh Parsley to garnish (if desired)
First I whisked two eggs and added 1 tablespoon of heavy cream.
Chop the chorizo into small pieces (as pictured above).
Fry these in a hot frypan until golden. They look (and smell) amazing!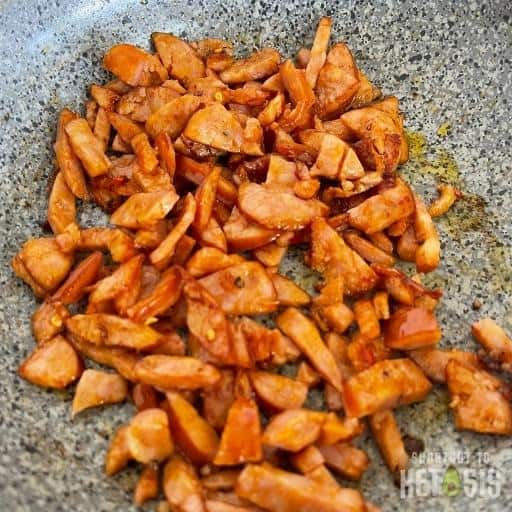 4. Add in the scallions and roasted peppers with the chorizo and heat through.
5. Heat a frypan over medium heat and pour in the egg and cream mixture.
6. Sprinkle the shredded cheese over the top of the egg. Let it sit for 30-60 seconds to allow the cheese to melt and the egg to cook a little more.
7. Add the toppings onto one side of the omelette. You want to leave room for flipping the other side over and it is much easier if is isn't full of toppings!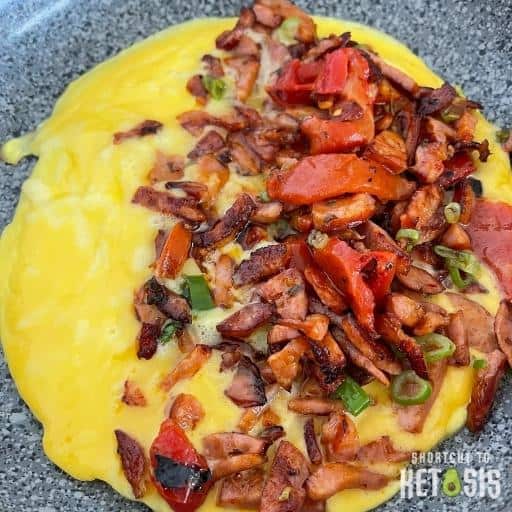 8. Fold the side of the omelette over without the toppings on top of the chorizo mix.
9. Plate and serve with avocado and sour cream. Enjoy!
It really was that simple to whip up a low carb omelette. I shared this with my wife for lunch and we were both full by the end.
If you eat this chorizo omelette on your own, the net carbs are 5.8 grams. Share this with someone, the net carbs are 2.9 grams. Happy days either way!
Variations to the Chorizo Omelette
The spice in the chorizo was enough heat for my wife and myself, but if you prefer spicier foods, go ahead an experiment with adding extra pepper, chili powder, smoked paprika or ground cumin into the mix. This would add to the flavors of the chorizo.
The sour cream and avocado on top is entirely optional, but add to the fats. The coolness of the sour cream and avocado compliment the spiciness of the chorizo nicely.
Add extra low carb vegetables to the chorizo omelet if preferred. Mushrooms would be ideal, grated zucchini (squeeze out the liquid before adding in) or fresh baby spinach.
Mix up the cheeses – use parmesan instead of cheddar, throw in some fetta if your macros allow.
Finally, replace the Spanish chorizo with Mexican chorizo instead, it's up to you!
Related Reading: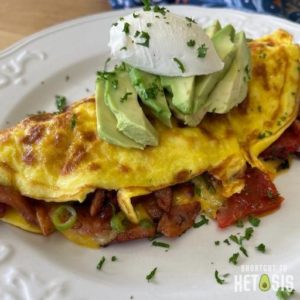 Keto Friendly Low Carb Chorizo Omelette
Quick to prepare and very tasty, the spicy chorizo paired with egg and cheese and topped with sour cream and avocado is a delicious low carb breakfast – or anytime meal!
Ingredients
2

Eggs

1

Spanish Chorizo Sausage

1

Scallion

1/8

cup

Chargrilled Peppers

1/4

cup

Cheddar Cheese

1

tsp

Sour Cream

1/4

Avocado
Instructions
Whisk 2 eggs together in a small bowl.

Add 1 tablespoon of heavy cream to the eggs. Whisk to combine.

Chop the chorizo into small pieces.

Pan fry chorizo over medium heat until browned.

Add scallions and chargrilled peppers to the chorizo and stir to combine. When scallions and peppers are warmed through, remove from heat.

Heat a medium sized frypan over medium heat.

Add egg mixture and sprinkle with the shredded cheese. Allow this to sit for a minute for the cheese to melt and the egg to cook.

Place the chorizo mixture onto one side of the egg mixture.

Fold the other side of the egg over the top of the chorizo mixture.

Serve with avocado and sour cream on top, garnished with parsley.
Nutrition
Calories:
310
kcal
Carbohydrates:
4.9
g
Protein:
24.8
g
Fat:
21.4
g
Saturated Fat:
8.1
g
Cholesterol:
224
mg
Sodium:
803
mg
Potassium:
232
mg
Fiber:
2
g
Sugar:
2.1
g
Calcium:
137
mg
Iron:
2
mg