Processed meats like hot dogs can be consumed on the keto diet due to their low carb content. But a hot dog is so much better with the bread and all the trimmings! Here you'll find a keto hot dog buns recipe that uses golden flax flour, almond flour and psyllium husks as the base.
I wanted to try something to make keto hot dog buns that weren't made out of fathead dough. Don't get me wrong, I'm a huge lover of fathead dough, but sometimes I want to experiment with different types of keto bread.
Ingredients:
Almond Flour
Golden Flax Flour
Psyllium Husk Powder
Baking Powder
Instant Yeast
Keto sweetener of choice (I used erythritol with stevia)
Cream of Tartar
Gelatin
Eggs
Butter
Coconut Cream
As these keto hot dog buns contain yeast, you'll need to start by mixing the yeast, sugar and warm water together and letting it bloom. Blooming simply means to let sit. The mixture should appear a little foamy when it has bloomed.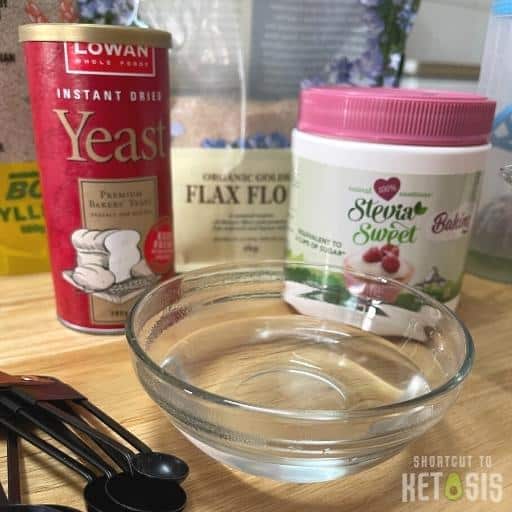 Prepare Your Dry Ingredients
Whilst the yeast is blooming, you'll need two separate bowls. One for the dry ingredients and one for the wet ingredients. Despite the longish ingredients list, this is a fairly simple recipe to make.
This is great for me, as I'm a pretty simple guy. I mixed all the dry ingredients together in one bowl: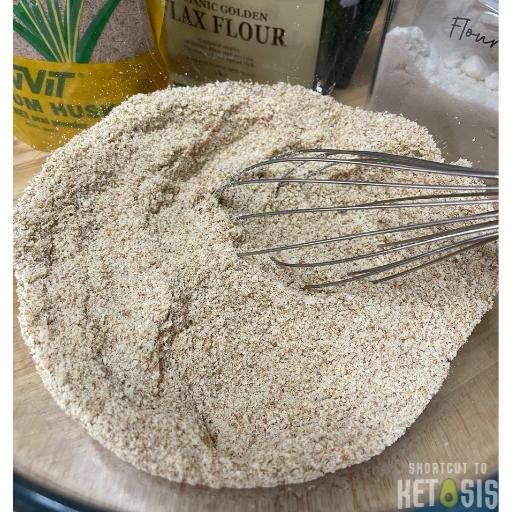 Prepare Your Wet Ingredients
Mix all the wet ingredients together in another bowl. Once you have done this, check on your yeast mixture. Instant yeast needs 5-10 minutes to bloom (depending on your environment, temperature etc). If it is looking foamy this is great. You can then mix the yeast in with the wet ingredients.
If it's not looking foamy yet, leave it to rest a little longer, in a warm draught free area. Here's the ingredients mixed together: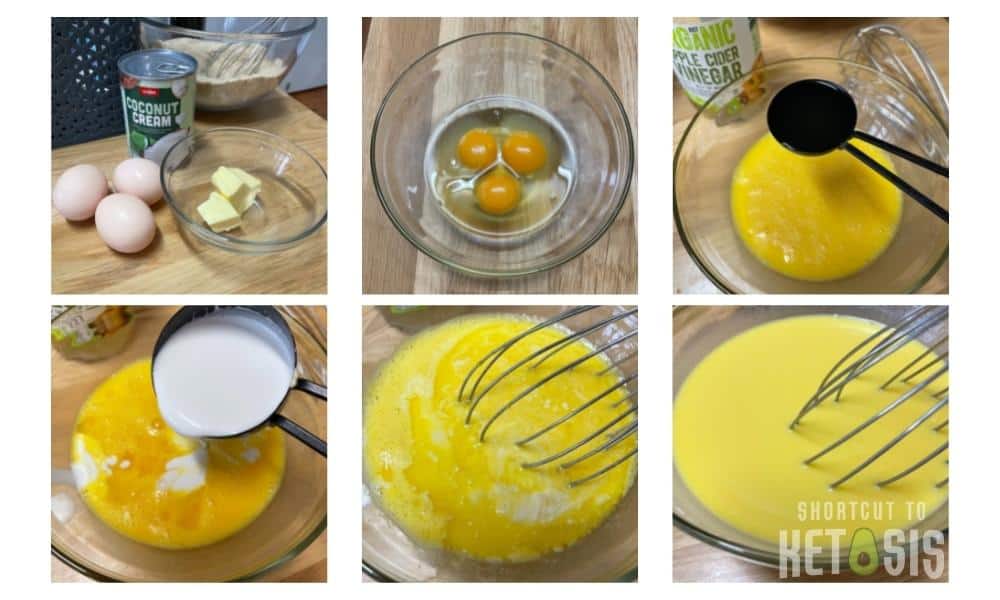 Mix The Wet and Dry Ingredients Together
After this, you'll want to mix the wet ingredients with the dry ingredients. Or vice versa. You'll notice below the image on the right looks a bit wet. This was taken straight after I had mixed the wet ingredients in.
The wonderful thing about flax, almond flour and psyllium husks is that they absorb liquid. Leaving the mixture to sit for 5 minutes or so will allow the flours to absorb the liquid and firm up enough to work with.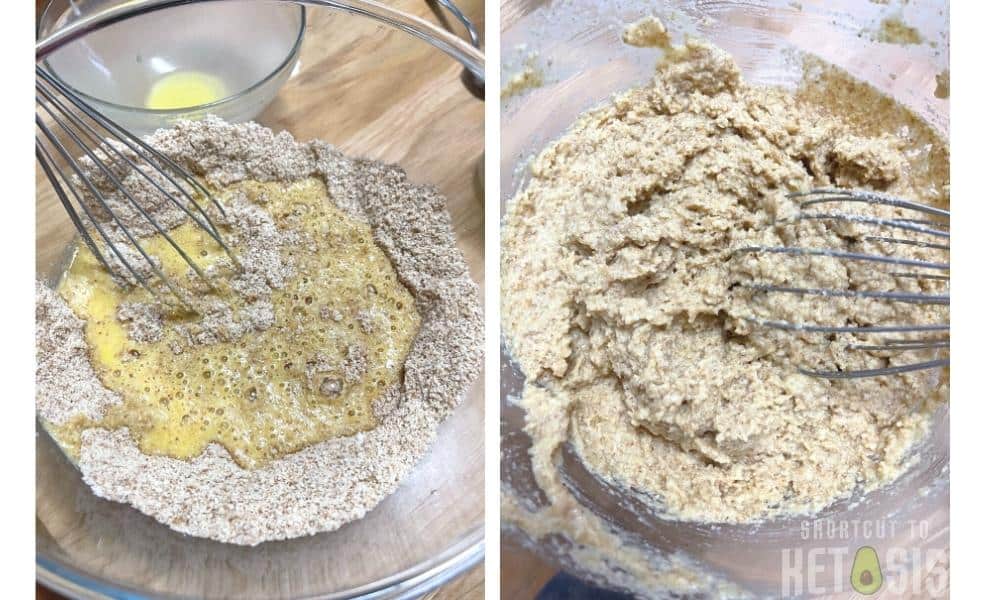 Once you have let the mixture rest, divide the mixture into equal parts and roll into a sausage type shape.
I had cocktail frankfurters on hand, so I made 8 mini keto hot dog buns. To make 4 larger hot dog buns, simply split the recipe into 4 instead. I've covered this below in the recipe instructions and the variances in baking times between larger and smaller rolls.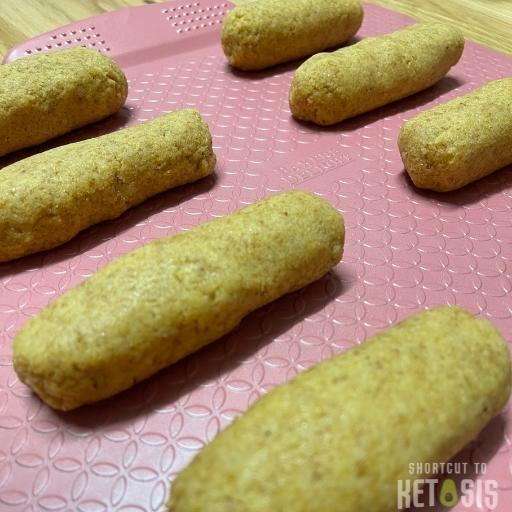 Now here's the boring part. As these keto hot dog buns have yeast, it's best to let them "prove" for around 1 hour. This will allow the yeast to activate fully. The buns should rise slightly, but not to the extend of normal bread rolls made with wheat flour.
The density of the almond flour, psyllium husks and golden flax meal don't allow for this.
You'll want to cover them with a tea towel (so they don't dry out), cling wrap or foil work well too. Make sure you sit the buns in a warm, draught free area.
Once you are satisfied with their size, bake in a moderate oven. As I made mini keto hot dog buns, I baked for around 15 minutes at 350F. Instructions are below for cooking times for larger hot dog buns.
You may also notice below my low carb hot dog buns have a glossy golden appearance. This is because I brushed them with an egg before baking. This is entirely optional.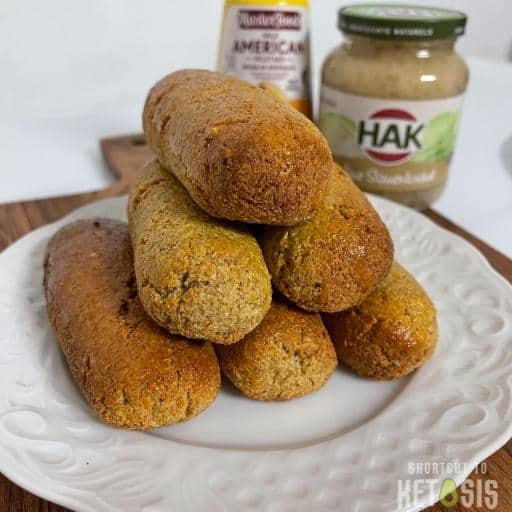 The Final Result:
A mini low carb hot dog bun, perfectly sized for a cocktail frankfurter. I added some sauerkraut and yellow mustard to the hot dog.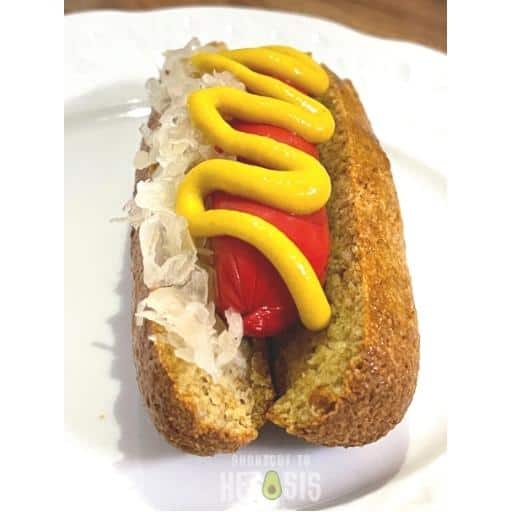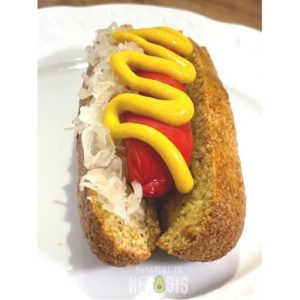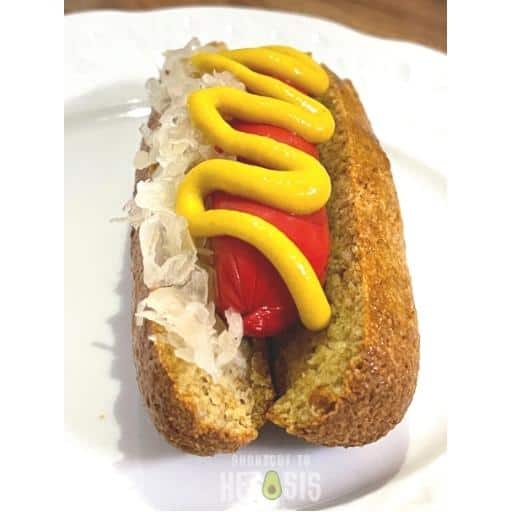 Keto Hot Dog Buns
Quick and easy keto hot dog buns that aren't made out of fathead dough. If you are looking for something different, give these low carb hot dog buns a try.
Ingredients
Step 1: Prepare the Yeast
½

cup

warm water

around 110°F (not boiling water)

2

tsp

dried yeast

2

tsp

erythritol

or other keto sweetener of choice
Dry Ingredients
1½

cups

almond flour

⅔

cup

golden flax flour

2

tbsp

psyllium husk powder

2

tsp

baking powder

¼

tsp

cream of tartar

2

tsp

gelatin
Wet Ingredients
3

eggs

(plus one extra for brushing on top of the buns, if desired)

¼

cup

unsalted butter

¼

cup

coconut cream

1

tbsp

apple cider vinegar
Instructions
Prepare the Yeast
Combine the yeast and erythritol in a medium sized bowl.

Add 1/2 cup warm water and let sit to bloom.
Prepare the Dry Ingredients
In a large bowl, mix together the all the dry ingredients.
Prepare the Wet Ingredients
In a large bowl, mix together wet ingredients.

Then mix in the yeast mixture with the wet ingredients. Stir to combine.
Mix the Dry and Wet Ingredients Together
Add the wet ingredients to the dry ingredients and whisk together.

Let the mixture sit for 5 minutes. The flours and psyllium husks will swell and absorb the liquid.

Divide the mixture into 4 equal parts and roll with your hands to make a sausage like shape. For mini hot dog rolls, divide the mixture into 8 rolls.

Sit the rolls on your baking tray and cover with a tea towel. Place in a warm area for around 1 hour to allow the dough to rise slightly.
After the Rolls Have Proved
Preheat your oven to 350°F.

Beat 1 small egg and brush the top of the rolls (if desired). This helps to make a golden brown color to the top of the rolls. You can omit this step if you prefer.

Bake the 4 large rolls for 15 minutes, then cover with foil.

Bake for a further 15 minutes or until cooked through.

NB: Halve the cooking time for smaller rolls and no need to cover with foil.
Notes
Carbohydrates in the nutrition profile above are total carbs. Less fiber, the net carbs per 1 large roll, or 2 smaller rolls is 6.7 grams.
Nutrition
Calories:
365
kcal
Carbohydrates:
17.4
g
Protein:
13.1
g
Fat:
30.4
g
Saturated Fat:
11.9
g
Cholesterol:
153
mg
Sodium:
717
mg
Potassium:
162
mg
Fiber:
10.7
g
Sugar:
3.7
g
Calcium:
211
mg
Iron:
3
mg