Looking for a delicious, family friendly keto chili dog casserole? You've come to the right place. This keto version of chili uses ground beef and skinless hot dogs to make a yummy chili dog bake that's not too spicy for the kids.
Here's what you'll need and how to make it:
Ingredients:
Ground Beef
White Onion
Beef Bone Broth
Canned Tomatoes
Hot Dogs
Minced Garlic
Chili Powder
Smoked Paprika
Ground Cumin
Salt and Pepper
Cheddar Cheese
Cook Your Ground Beef Well
An elderly Italian lady once told me the secret to excellent tasting Spaghetti Bolognese was to cook the ground beef until almost burnt. I tried this out the next time I cooked ground beef, and have been cooking my beef the same way ever since.
That's why you'll see in the image below, my ground beef looks very well cooked, with lots of tasty very well browned pieces in it. I cook the ground beef over a high heat until my kitchen smells like a steakhouse.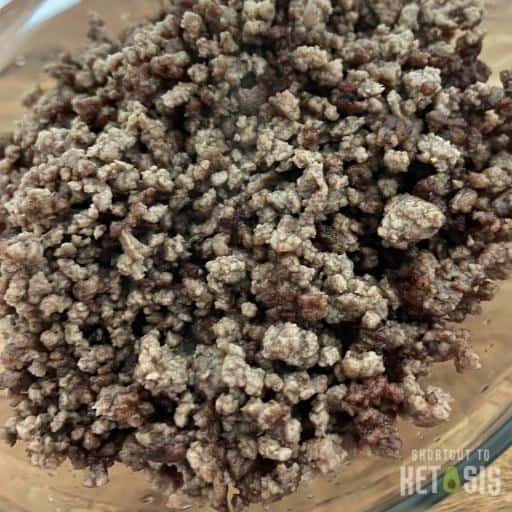 You don't have to cook your beef this way, but it's my preference – and my family have been raving over my ground beef meals ever since! It gives that depth of flavor to the meat that I never knew I was missing out on, until I tried it.
Once you've cooked your ground beef, remove it from the pan. Add in the onion and spices and pan fry for a few minutes until the onion starts to brown and the spices are fragrant.
Add in the bone broth and canned tomatoes, then add your cooked ground beef back into the sauce.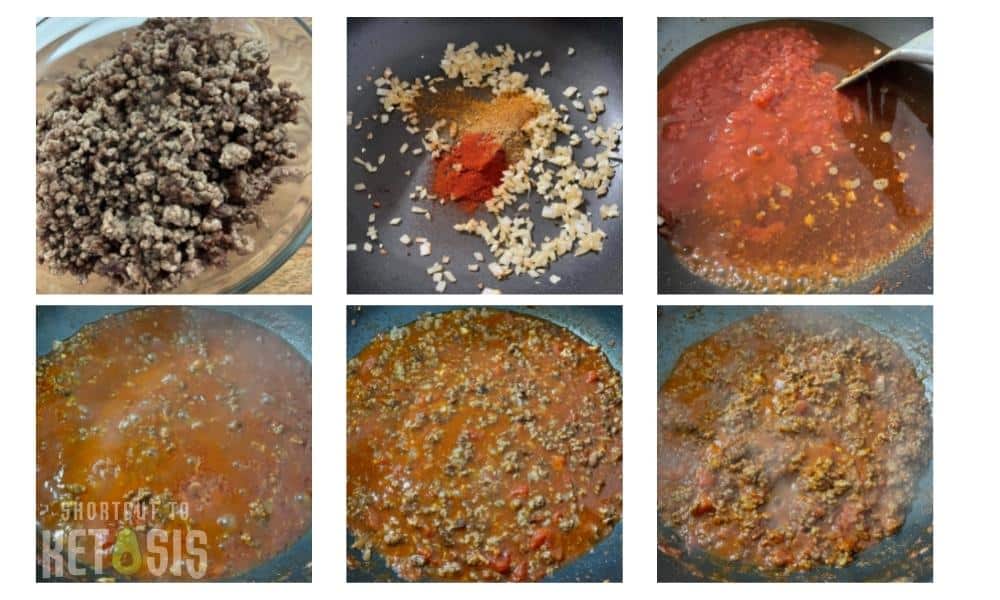 Turn the heat down to low and let the sauce simmer until it has reduced. This will take around 20 minutes or so. You can see in the images above how the liquid reduces down.
I made this in two dishes (one for now and one for later), so what you're seeing in the images below is half the recipe.
I chopped 4 skinless hot dogs in half and placed them in the bottom of my baking dish. (The recipe calls for 8, so if you are making all of this at once, simply use a larger dish than I have).
When the keto chili had reduced down, I topped the hot dogs with the meat mixture. Take a look below: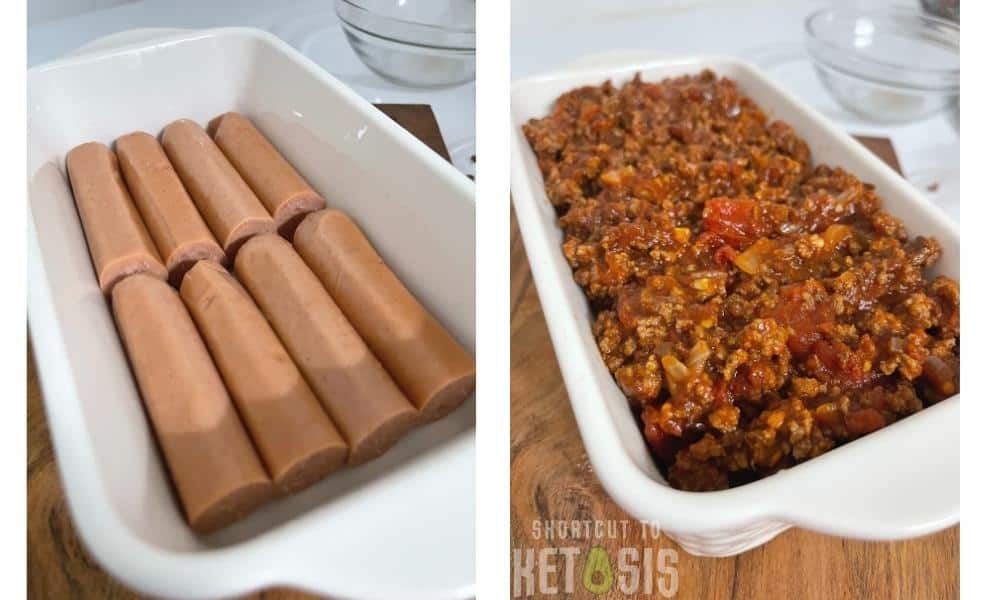 Top the hot dogs and meat mixture with shredded cheese and place in a preheated oven for around 15 minutes. This will allow the hot dogs to heat through and the cheese to brown.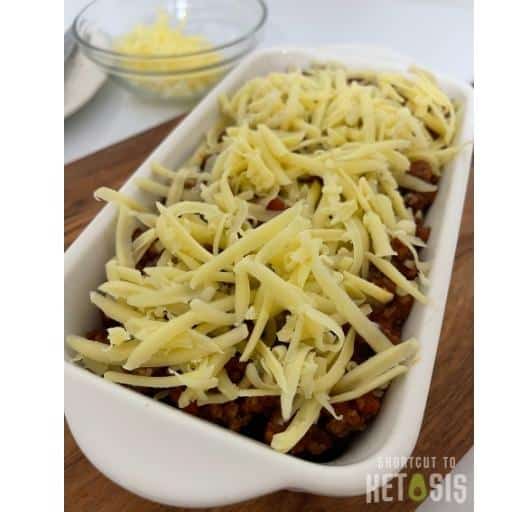 Here is the final result: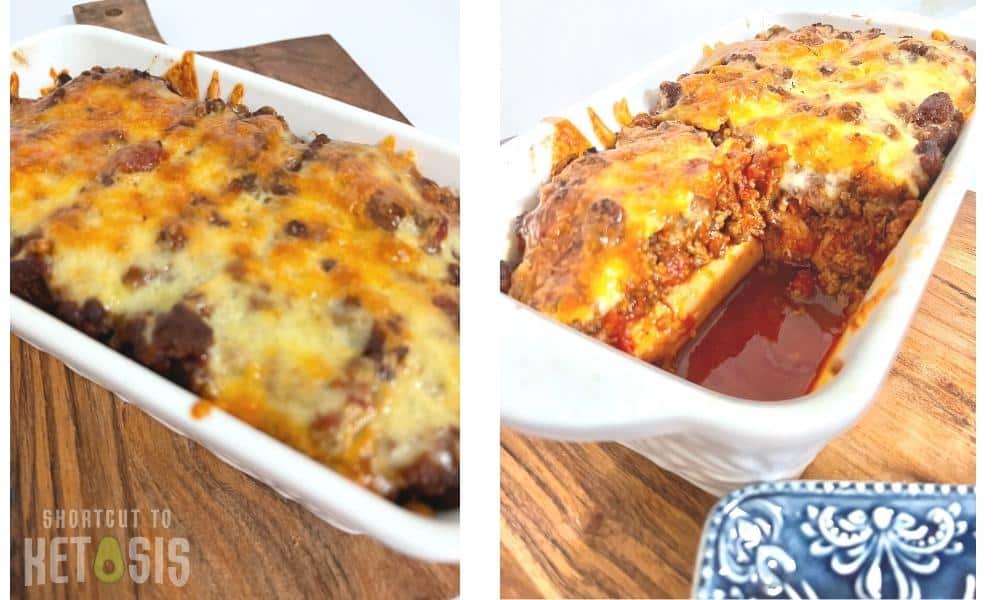 This was such a hit, I've already been asked to make this again! I hope you enjoy it as much as we did!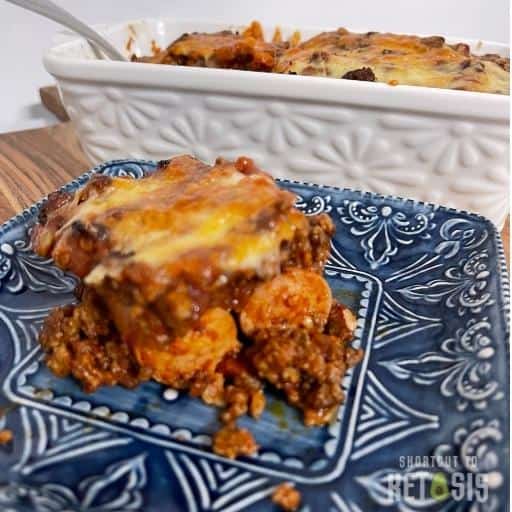 Related Reading: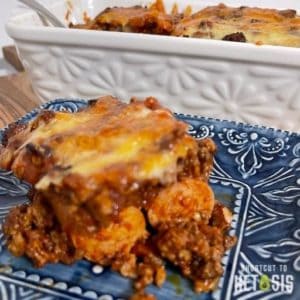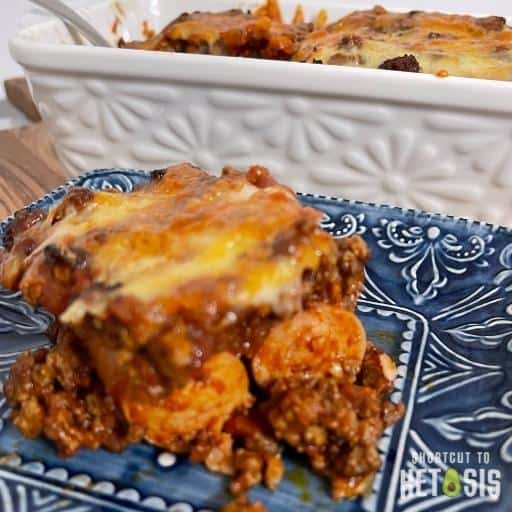 Keto Chili Dog Casserole
Chili beef atop of low carb hot dogs makes for a delicious keto chili dog casserole the whole family will enjoy.
Ingredients
1

pound

ground beef

½

white onion, chopped

1

tsp

minced garlic

½

tsp

ground cumin

2

tsp

smoked paprika

1

tbsp

chili powder

(more or less to taste)

1

can

diced tomatoes

1

cup

beef bone broth

(or beef stock)

8

beef hot dogs

1

cup

cheddar cheese, shredded
Instructions
Heat a large saucepan over high heat.

Add the ground beef, breaking it up as it cooks.

Remove from the pan and set aside.

In the same pan, fry the onion, garlic and spices together over a medium heat for 2-3 minutes, until the onion is browned and spices are fragrant.

Add the canned tomatoes and beef bone broth. Stir to combine.

Add the meat back into the pan.

Reduce heat to a simmer, and cook for around 20 minutes, or until the liquids have evaporated to your liking. Season with salt and pepper to taste.

Whilst the meat is simmering, pre-heat your oven to 350°F.

Lay the hot dogs on the bottom of a baking dish.

Spoon the cooked chili mixture on top of the hot dogs and top with shredded cheese.

Bake for approximately 15 minutes until the hot dogs are heated through and the cheese has browned on top.
Nutrition
Calories:
565
kcal
Carbohydrates:
9.7
g
Protein:
60.3
g
Fat:
31.2
g
Saturated Fat:
15
g
Cholesterol:
194
mg
Sodium:
1428
mg
Potassium:
60.3
mg
Fiber:
2.3
g
Sugar:
6.2
g
Calcium:
287
mg
Iron:
24
mg