Traditional Korean food isn't always keto friendly, but that doesn't mean you can't incorporate it into your ketogenic diet by swapping out some of the ingredients.
If you're feeling like Korean, take a look at these Korean keto recipes I've put together for you below:
Keto Korean Chicken Wings
These chicken wings are packed with flavor.
Cooking the wings in a skillet with very hot oil, then baking them in the oven ensures that the skin crisps very well. Once crispy and brown, they are deliciously doused with Korean-style, tangy hot sauce, and garnished with sesame seeds and green onion.
Serve with a keto friendly spicy mayo dipping sauce on the side such as the Chipotle Mayo from Primal Kitchen.
Per Serving: 257 calories, 20.8 g fat ( 4.4 g saturated), 3.9 g carbs, 0.6 g fiber, 13.4 g protein.
Korean Beef Recipe Keto
There are a lot of Korean beef keto recipes online, but this one is definitely the best of them.
It's a quick dinner dish that you can make with just a couple of ingredients but will satisfy even the picky eaters.
The delicious marinade and Korean Beef sauce gives the beef a lovely thick salty and sweet flavor.
It is slightly higher in carbs, so save this recipe for a cheat day, or eat in conjunction with intermittent fasting.
Per Serving: 364 calories, 15 g fat, 13 g carbs, 0 g fiber, 11 g sugar, 36 g protein.
Easy Keto Korean Ground Beef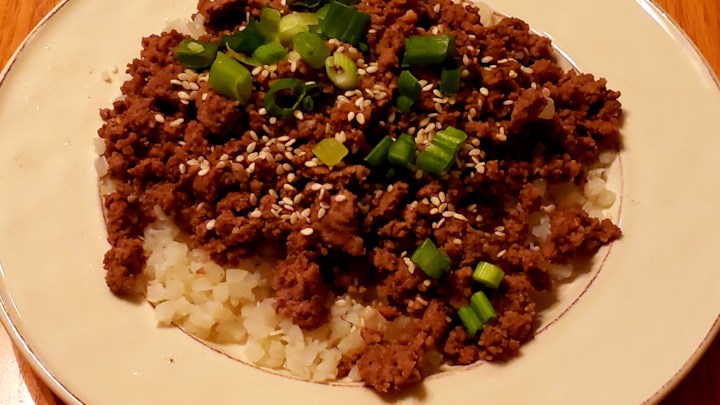 This dish will make a perfect dish for your weeknight meals. It is very easy and quick to make. Even your family and friends will love the flavors of this dish!
Make sure to grate your cauliflower with a coarse grater or your food processor's grater disc to get the rice-like texture.
Per Serving: 297 calories, 19.1 g fat, 8.9 g carbs, 1.8 g fiber, 5 g sugar, 982 mg sodium, 22.4 g protein.
Keto Beef Bulgogi
This beef bulgogi is a special twist of a marinated meat recipe staple of every Korean home.
To serve this dish for a perfect Bibimbap, put it over cauliflower rice and top with some good kimchi, fried or boiled eggs, and cucumber. Now you can enjoy a keto-friendly Korean dish any time!
Find the recipe at Perfect Keto.
Per Serving: 242 calories, 18 g fat ( 18 g saturated), 3 g carbs, 24.9 g protein.
Korean Meatballs
If you have never tried Korean food before, then this dish is the perfect start to get a taste of Asian-flavored meals.
The seasonings used for this recipe give the meatballs a bit of spicy flare. You can stick a toothpick on each ball and serve them as a snack or appetizer with decadent peanut sauce, it as your main meal.
What I like the most is they are very low in carbs and are also delicious eaten cold the next day. That's if there is any left of course!
Per Serving: 73 calories, 5.8 g fat, 0.8 g net carbs, 4 g protein.
Korean BBQ Beef Stuffed Bell Peppers
You will absolutely love the flavors of this Korean BBQ filled poblano peppers served on fried eggs.
They are sticky, spicy, sweet and absolutely scrumptious. The peppers make gorgeous, vibrant containers that hold the delicious beef.
Per Serving: 470 calories, 35 g fat, 6.3 g net carbs, 32.3 g protein.
Keto Bulgogi Beef Sushi Rolls
I adore the vibrant colors of this Korean take on a keto friendly sushi.
This kimbap without rice are the best sushi rolls. The nori are filled with delicious ground beef bulgogi and crunchy vegetables, such as English cucumber, carrots, butter lettuce, and pickled daikon radish or cucumber.
Serve with savory and sweet sauce. You can cook the bulgogi and prepare the veggies ahead of time; just roll the next day to prevent the nori sheets from being exposed to moisture and becoming soft.
Per Serving: 176 calories, 12 g fat ( 3 g saturated), 5 g carbs, 0 g fiber, 2 g sugar, 343 mg sodium, 11 g protein.
Spicy Pork Bulgogi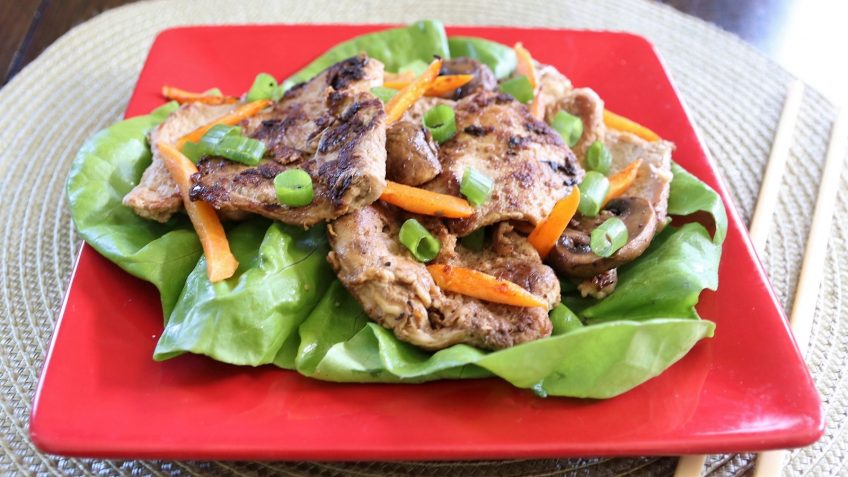 Thinly sliced pork loan marinated and cooked in a delicious keto friendly bulgogi sauce.
I'd swap out the carrot for red or yellow peppers. Wrap it all up in a large lettuce leaf and sink your teeth into this delicious Korean pork recipe!
Per Serving: 457 calories, 34.8 g fat, 5.7 g carbs, 1.1 g fiber, and 31.4 g protein.
Korean Zucchini Noodles Recipe
This version of the classic Korean Japchae Noodles is made keto-friendly by substituting the traditional sweet potato noodles with spiralized zucchini noodles and some carrots.
The ingredients for this dish are cooked separately, making sure the veggies stay crisp and preventing a mushy, soggy, zucchini noodles. Once all the ingredients are stir-fried, return to the pan and toss well, then season, garnish, and serve.
Per Serving: 308 calories, 17 g fat ( 2 g saturated), 20 g carbs, 3 g fiber, 14 g sugar, 1117 mg sodium, 19 g protein.
Korean Beef Bowl with Kimchi
This Korean-flavored beef bowl is an easy dinner dish that packs a super healthy punch. Trust Bulletproof to bring us such an awesome keto Korean beef bowl recipe! This recipe also incorporates Bulletproof Brain Octane Oil for an extra dose of healthy fats.
The natural probiotics in kimchi keep the gut healthy. Substituting white rice with rice broccoli lowers the carbs, increases the fiber content of the recipe and adds E, A, B6, B1, zinc, calcium, iron, and selenium, that helps the body achieve sustained ketosis.
Per Serving: 746 calories, 60g fat ( 27g saturated), 19g total carbs, 8g fiber, 1848mg sodium, 30g protein.
Kimchi Cauliflower Fried Rice with Egg
This dish is a super quick, easy 30-minute vegetarian dinner that with a couple of modifications makes it keto friendly. It's also bursting with delicious and amazing flavors; your whole family will love it!
No one will guess that you substituted the rice grains with riced cauliflower. You can use your preferred kimchi, plus its packed with other veggies as well.
The recipe calls for 1 cup of brown rice, which is why it has 34 grams of carbs. For a keto friendly version, leave out the rice and stick to cabbage and cauliflower. To keep the dish lower in carbs also substitute the peas and carrots for mushrooms, bell peppers and spring onions.
Did I just totally change the recipe? Maybe. But at the end of the day, we want the delicious flavors of kimchi without blowing out the carb count.
Per Serving: 265 calories, 10 g fat ( 3 g saturated), 34 g carbs, 8 g fiber, 9 g sugar, 411 mg sodium, 11 g protein.
Slow Cooker Korean Short Ribs
I have a love affair with my slow cooker every winter and this Korean keto dish is being added to my list of make ahead meals!
You don't have to sear the meat before placing in the slow cooker, but I like to do this as I feel it helps with the overall texture and flavor of the meat when cooked.
If you make this ahead for meal prep then leave it in the fridge for 24 hours, the fat from the meat will float to the top and can easily be scooped off. Being slow cooked the meat falls off the bones. If you want to thicken the sauce slightly as well you could add some xanthum gum to keep it keto friendly.
Per Serving: 819 calories, 55.63 g fat ( 21 g saturated), 5.77 g carbs, 1 g fiber, 2 g sugar, 376 mg sodium, 71.8 g protein.
Spicy Korean Pork Chops With Keto and NSNG Option
You can either use pork chops or beef steaks for this recipe; either one will work great.
If using pork, the extra fat will make the meat super juicy. Marinating the meat for at least 2 hours, preferably overnight makes them even more flavorful.
Save the marinade to serve as a glaze for the pork for baking in the oven until it caramalizes – yum!
Per 2 servings: 318 calories, 18 g fat ( 4.4 g saturated), 7.6 g carbs, 1.2 g fiber, 2.6 g sugar, 704 mg sodium, 30.69 g protein.
Conclusion
Most Korean recipes use soy sauce, sugar, or honey in their recipes, which give the dishes their distinctive Asian flavor and taste. Some of these ingredients though are not keto-compliant. Do not worry! You can easily substitute these ingredients with keto-friendly alternatives, such as coconut aminos for soy sauce.
The hardest thing you will have to replace is honey. However, you can easily swap it with VitaFiber, a tapioca starch syrup that will add that sweet flavor in your Korean-inspired dishes. It is also high in dietary fiber, prebiotics, and low in calories. Each teaspoon of serving has 4 grams carbs and 3.5 grams fiber, which only makes 0.5 grams of net carbs. Isn't that great?
With this tips in mind, you can easily turn traditional Korean recipes into keto friendly Korean recipes that you can enjoy any time of the day! Try out one of the recipes now!