I don't often crave carbs when following the keto diet, but occasionally I miss some of the treats I used to enjoy. These include english muffins, waffles and bagels.
It was a bagel kind of morning the other day – you know when you are hungry and you need something to eat, you don't want bacon and eggs, but you also don't have time to prep and create an elaborate keto friendly bread?
That's when I threw together some fathead dough, and rolled it out into a bagel shape. 10 minutes later I was enjoying my keto bagels. Here's how they turned out: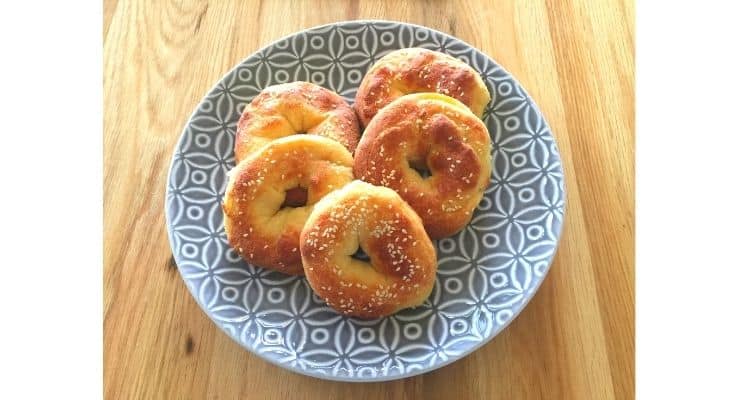 Jump to Recipe
This recipe makes 6, but I was hungry! And, I was lucky to get this quick picture before hands dived in and they were gone!
This recipe isn't unique to me, you'll find fathead dough recipes all over the internet. So go ahead and experiment with making your own keto bagels, they're quick and satisfying, to say the least.
What Are Keto Bagels Made Of?
These keto bagels are made from fathead dough. This is a mixture of mozzarella cheese, cream cheese, almond flour and eggs. There's a little bit of baking powder to help them rise. You'll find the step by step recipe down the bottom of the page.
I topped the bagels with some sesame seeds. As they have a cheesy flavor, you could easily top with other seasonings such as onion flakes, garlic flakes or powder, poppy seeds or sea salt; just to name a few.
What Does Fathead Dough Taste Like?
As the main base of fathead dough is mozzarella cheese, fathead bagels do have a slight cheesy flavor. It's not huge, but also not something that I want to go putting sweet toppings on.
Having said that, when my son saw them, he smothered it with thickened cream and low carb jam, just like you would a scone. He thought it was delicious, but then again, a hungry teenage boy will consume anything he hasn't had to make himself!
I would have tried this, but he scoffed down the entire fathead bagel before I could blink! Besides, savory was the flavor of my morning, and my keto bagel on its own was enough. I may have put a light spread of butter on my other half, just to look like I was putting something on it!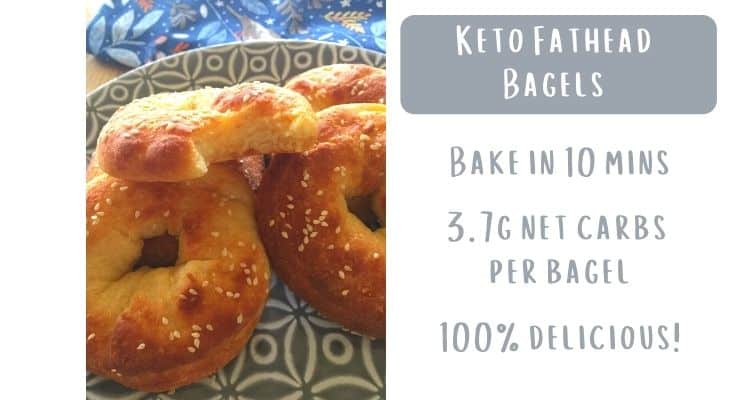 Can I Refrigerate Fathead Dough?
I've never kept my fathead dough around long enough to find out, but sources tell me it keeps anywhere between two and five days if kept in the refrigerator.
Keep in mind that you are heating cream cheese and mozzarella cheese plus adding in eggs, so I'd err on the side of caution and try to use it within 2 days.
My suggestion would be to make the keto bagels as per the recipe below, then freeze the bagels for future use, rather than trying to keep the fathead dough. If freezing, wait for the bagels to cool, then store in an airtight container with parchment paper in between so they don't stick to each other.
Defrost at room temperature, or in the microwave.
How to Store Fathead Bagels
Once your bagels have cooled, store them in an airtight container. I also put mine in the refrigerator. With a combination of cheese and eggs in the mix, it is best to keep them in the fridge. They will keep for a few days, if they last that long!
Net Carbs in Fathead Bagels
This recipe of keto bagels has 5.9 grams of total carbs and 2.2 grams of fiber. This makes for 3.7 grams of net carbs per bagel. Enjoy!
Keto Bagels | Delicious Almond Flour Fathead Dough
Soft, light and fluffy keto bagels made with the keto classic fathead dough. Quick to make, low carb and delicious!
Ingredients
227

grams

full fat mozzarella cheese

2

tablespoons

full fat cream cheese

1.5

cups

almond flour or finely ground almond meal

3

teaspoons

baking powder

non aluminum

2

large

eggs

1

tablespoon

sesame seeds

optional topping
Instructions
Preheat oven to 400°F (200°C)

Line a baking tray or sheet with parchment paper.

Weigh the mozzarella cheese in a microwave safe bowl. Add in 2 tablespoons of cream cheese.

Microwave on high for 2 minutes, stopping after 1 minute to stir the cheeses.

Whisk together the almond flour and baking powder. Add to the melted cheeses and stir to combine.

Add the eggs and stir again. The dough should come together in a ball. You may need to use your hands and knead a little until the consistency is smooth. (NB: If the cheese cools too much it will be hard to work with. Microwave in short 15-20 second bursts to reheat).

Divide the dough into 6 pieces and roll out like a thick sausage. Lay the dough on the parchment paper and bring the two ends together to form a circle. Repeat with the rest of the dough.

For a shiny crust, you can brush the tops of the bagels with a little beaten egg before baking (optional). Sprinkle over sesame seeds, or your choice of toppings (optional).

Transfer to your preheated oven and bake for 10-12 minutes until golden brown and firm.
Nutrition
Serving:
1
bagel
Calories:
172
kcal
Carbohydrates:
5.9
g
Protein:
6.9
g
Fat:
14.9
g
Saturated Fat:
3.3
g
Cholesterol:
65
mg
Sodium:
52
mg
Potassium:
290
mg
Fiber:
2.2
g
Sugar:
0.8
g
Calcium:
179
mg
Iron:
2
mg