You've made a delicious keto friendly stir fry or warm winter curry, but there's one thing missing. Rice. But don't despair. There are plenty of low carb rice substitutes that are available for the ketogenic diet.
Whatever you do, don't be tempted to cook rice and eat it when you are following a keto diet. Rice is an overload of starch, will spike your blood sugar and throw you out of ketosis.
Carbohydrates in White Rice
White boiled rice has 28 grams of net carbs per half a cup serving.
If you're thinking maybe low GI (glycemic index) rice could be an okay choice, think again. Low GI white rice has 33 grams of net carbs per 125 gram serving.
Basmati rice has 32 grams of net carbs per serve and Jasmine rice (my former personal favorite) has 19 grams of net carbs per half cup serving.
Needless to say, white rice is a no go on a ketogenic diet.
How Many Carbs in Brown Rice?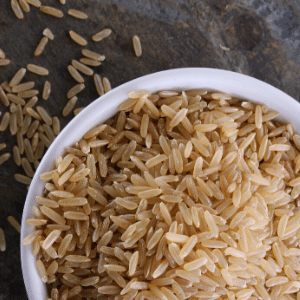 Brown rice isn't an alternative to white rice on a keto diet either. Long grain cooked brown rice has 21 grams of net carbs per 100 gram serving.
Black rice has 33 grams of net carbs per half cup serving (cooked) and wild rice has 16 grams of net carbs per half cup serving.
On a ketogenic diet, you aim to keep your net carbohydrate intake below 20 grams per day.
Whilst we have established that wild rice is the rice with the least carbs, rice in general is not a suitable food for the ketogenic diet.
What is the Best Low Carb Rice Substitute?
Cauliflower is a good vegetable that is often used as a low carb rice substitute for the keto diet.
Making rice out of cauliflower has been trending for quite some time and it is very simple to do.
Simply place fresh, uncooked cauliflower florets into your food processor and pulse for a few seconds.
Cauliflower rice has 3 grams of net carbs per 1 cup serve. A much healthier low carb rice substitute instead of white rice on a keto diet that won't kick you out of ketosis.
Cauliflower rice is delicious pan fried in butter and seasoned with salt and pepper.
Can You Buy Cauliflower Rice?
If you're short on time, you can buy pre-packaged cauliflower rice, such as this one:
Please be mindful of added sodium in pre-packaged foods. The package above is sold in lots of 6 with two servings per packet. This equates to just over $2 per serve. You can find it on Amazon here.
Low Carb Rice Substitutes That Are Not Cauliflower
If you're not a fan of cauliflower, or cauliflower is not in season, take a look at these low carb rice substitutes that are suitable for the ketogenic diet:
Miracle Rice
Miracle rice is a shirataki rice made from the flour of Konnyaku Imo roots (otherwise known as konjac) plant. Miracle rice is gluten free, vegan friendly, soy free and a suitable low carb rice substitute for the keto diet.
Made from 97% water and 3% plant fiber, miracle rice has a tiny 10 calories per serving. The total carbs are 3 grams and as miracle rice has 3 grams of soluble fiber, making the net carbs zero.
Miracle rice also contains calcium and a small amount of iron. Konjac is widely used in Japan and China and has been known in these countries for thousands of years.
If you haven't tried miracle rice, it can take some getting used to. Firstly, it is packaged in water and should be rinsed before being cooked. It is essential to pan fry it until any excess water is absorbed. If you follow the instructions on the packet you'll be fine.
Miracle rice will also take on whatever flavor you put with it, making it best used in stir-frys or with curries. Pan frying it in a little ghee is also lovely.
As far as the texture goes, miracle rice has more of a gel like texture. It doesn't feel or taste like rice, but does work well as a low carb rice substitute.
Skinny Pasta
Skinny pasta is another version of konjac noodles or konjac rice that is suitable to use as a low carb rice substitute on the keto diet.
What sets apart Skinny pasta from other konjac noodles is they don't smell. Some consumers complain that the water which the some low carb rice substitutes are stored in has a sort of 'fishy' smell. Skinny pasta has no smell.
On a side note, if you find any konjac noodles you purchase has a sort of smell this is normal. Rinse the low carb rice under cold water for 1-2 minutes. Then pan fry the low carb rice until the water is absorbed. This should remove any smell.
You can also add ghee when frying or a dash of coconut aminos if accompanying a stir fry. As konjac has no taste, it will take on the flavor of whatever you put with it.
Wonder Noodles
Firstly, don't believe anything that wonder noodles has to say regarding their product tasting 'fresh, tangy and tasty'. They also claim you can eat this product on its own.
This product is made from yam flour, which is likely to be konjac flour, given the low carb and low calorie values. Traditional yams have much higher calories and carbs than the nutrition information shows.
If you have read the information about konjac rice or konjac noodles, you will know that konjac has no flavor and a different texture to rice. Unless you like eating a bowl of tasteless, gel like substance that looks like rice, don't listen to their claims.
On the upside, this is simply another shirataki (konjac) low carb rice substitute that is suitable for the keto diet.
Personally, I'd try to get the skinny pasta or miracle rice before this product, but if you can't get either of those, Wonder Noodles are a keto friendly low carb rice substitute that is a suitable back up.
Is Couscous a Low Carb Food?
No. Couscous is not suitable for the ketogenic diet, due to its high carb content.
One cup of couscous contains approximately 36 grams of carbohydrates.
This is more than the 20 grams of net carbs per day recommended on the keto diet.
Is Quinoa Keto Friendly?
Quinoa has been labeled a superfood in recent years, but unfortunately, it is not a keto staple.
If you are very active and will burn off the carbs, you may be able to eat a very small portion of quinoa. A half cup serving of cooked quinoa has 17 grams of carbs.
Ideally, you'd want to eat no more than a quarter cup serving of cooked quinoa and combine it with a day where you eat lightly, or up the exercise.
Is There Any Rice That is Keto Friendly?
No. If you are serious about following ketogenic diet, you will need to eliminate all forms of rice. This includes rice in salads and sushi.
What is The Best Low Carb Alternative to Rice?
Ideally, using a fresh vegetable in place of rice is the healthiest option to get your macronutrients in.
Cauliflower is the most popular choice due to its texture and appearance.
Broccoli can also put in the food processor and made into a keto friendly rice.
Zucchini is best made into spirals for a low carb pasta alternative, however, you can grate zucchini and pan fry in some butter as a low carb rice substitute on the keto diet.
Spaghetti squash tastes amazing and is a great alternative to both rice and pasta on a low carb diet.
Rutabaga (otherwise known as swede) is another vegetable that can be used as a low carb rice substitute. Don't overindulge with this one however – one cup of rutabaga has 12 grams of net carbs. Ideally, you'll need to stick to a half cup serving or less.
If you don't have the time to rice vegetables or a really craving something that resembles rice and pasta, head for the shirataki or konjac rice or noodles.