I recently ordered two mixed boxes of Kiss My Keto bars. I'm a sucker for a good keto bar when I feel like something chocolaty or sweet, or I need to eat on the run.
Kiss My Keto bars are available to purchase in boxes of 12. Priced at $39.99 per box, this equates to $3.33 per bar. This is reasonable for a keto bar with such clean ingredients, like those found in Kiss My Keto bars.
You can buy boxes of mixed bars with either three chocolate varieties, or three white chocolate varieties. You can also buy a box of 12 of one flavor only.
Let's take a look at each flavor of Kiss My Keto bars…
Kiss My Keto Bars – White

Keto White Bars – 12 Count – $39.99
from: Kiss My Keto
There are 3 flavors in the white box. These are:
Birthday Cake
Maple Donut
Salted Caramel
Kiss My Keto Birthday Cake Bar
I was quite surprised by the crumbly texture of the Kiss My Keto bars. The last keto bar I'd eaten was a quest bar and I found it so hard to chew I threw it out.
That combined with the awful taste, it was a fairly easy decision to deposit the quest bar straight in the bin.
In contrast, The Kiss My Keto birthday cake bar had the texture of a soft crumbly, chewy cookie.
The flavor was quite similar to a vanilla flavored cake. Not too overpowering and not too sweet.
I could taste a hint of the stevia extract the birthday cake bar is sweetened with. I personally prefer erythritol or monk fruit for sweetening, but the stevia taste wasn't too bad.
I wouldn't let that discourage me from ordering these keto bars again.
Each Kiss My Keto birthday cake bar has 3 grams of net carbs. The total carbs is 16 grams, with 13 grams of that being fiber.
The Kiss My Keto birthday cake bars have added MCT oil, palm kernel oil and coconut oil. Total fat is 19 grams, of which 14 grams is saturated fat.
The palm kernel oil is used to make the white chocolate coating.
If you are a vegan following the ketogenic diet, the Kiss My Keto bars unfortunately won't be for you, as they contain whole egg powder, egg whites and whey protein.
Kiss My Keto Maple Donut Bar
The maple donut flavored bar was like a burst of flavors as I chewed. This was quite a surprise!
At first the Kiss My Keto maple donut bar tasted nutty. The bar contains almonds, cashews and cinnamon, so the nuttiness makes sense.
But then comes the maple, which is like a burst of sweetness that follows that nuttiness… and it's good.
I could actually see little pieces of almonds inside this bar. This is a testament to the quality of Kiss My Keto bars and the clean ingredients used.
The carbs, fats and fiber content are the same as the birthday cake bar, with 3 grams of net carbs per bar.
If you're a fan of donuts and maple syrup, I see no reason why you won't enjoy the Kiss My Keto maple donut bar.
Kiss My Keto Salted Caramel Bar
I'm generally a fan of anything caramel related, particularly when combined with sea salt.
The Kiss My Keto salted caramel bar was interesting. It was sweet, but not overly sweet. The salt balances out the sweetness quite well.
I could taste a hint of salt at times, others less so.
I could again taste the almonds and see almond pieces throughout the bar.
The texture was a little more drier and crumbly with the salted caramel bar. This could have been caused by me leaving the bars out of their packaging as I wrote this review?
Naturally, I didn't only take one bite out of each…
The flavor was more subtle with the salted caramel and would probably be preferred if you have less of a sweet tooth. Perhaps I was expecting the flavor explosion of the maple donut bar?
Having tried all 3 keto bars, I would most likely order the mixed box again. I could imagine getting overwhelmed with 12 bars of one flavor. Out of the three white bars the maple donut flavor would be my favorite so far.
Kiss My Keto Bars – Chocolate

Keto Bars – 12 Count
from: Kiss My Keto
These are the original Kiss My Keto bars, also available in 3 flavors:
Chocolate Coconut
Chocolate Cookie Dough
Chocolate Peanut Butter
I really thought I'd prefer the Kiss My Keto White bars over the chocolate bars, to the point where I wasn't going to order the chocolate bars at first.
It was only that Kiss My Keto offered an amazing deal on checkout to add the chocolate bars to my shopping cart that I ordered these. This deal was far too good to refuse!
From a marketing perspective, this is awesome of Kiss My Keto to offer a too good to refuse deal and I'm sure the up-sell rate would be huge. From a consumer perspective – best. decision. ever.
The chocolate bars are rich, decadent and overall… outstanding.
This special deal may have been to move older stock, as you'll notice the packing is slightly different to the newer white bars. The chocolate bars still had long dates and excellent quality.
Let's take a look at each Kiss My Keto bar individually…
Kiss My Keto Chocolate Coconut Bar
The first thing I noticed about the chocolate coconut bar was the difference in the consistency of the bar itself.
It was softer than the white bars, with less of a cookie like appearance and crumble, and more of a soft, chewy texture.
The coconut flavor was lovely, although somewhat overpowered by the rich chocolate coating.
The chocolate coconut bar has 4 grams of net carbs – 1 gram higher than all the other bars. I wouldn't let that bother me however, if I really wanted a rich decadent treat. I found it so rich, I'd probably only eat half.
The total carbs in the Kiss My Keto chocolate coconut bar is 17 grams, fiber is 11 grams and sugar alcohol 2 grams.
Total fat is 20 grams, of that 14 grams is saturated fat. This would come from the coconut oil, cocoa butter, medium chain triglycerides and almonds.
All the Kiss My Keto Chocolate bars contain unsweetened chocolate. If you are not accustomed to unsweetened chocolate this could be a bit of a shock to begin with, it is very rich. But not bitter, like dark chocolate can be.
Kiss My Keto Chocolate Cookie Dough Bar
This would have to be my favorite so far out of all the Kiss My Keto bars.
The cookie dough taste was something I was expecting from the white bars.
The rich chocolate coating and cookie dough inside makes for an amazing flavor combination.
There were also chocolate chips within the bar and like with the white bars, I could see small almond pieces.
The Kiss My Keto chocolate cookie dough bar has 19 grams of fat, 9 grams of protein and 3 grams of net carbs.
This bar is sweetened with a combination of erythritol and purified stevia extract. Perhaps that's why it's my favorite so far, with a better balance of sweeteners?
Kiss My Keto Chocolate Peanut Bar
At first bite of the Kiss My Keto chocolate peanut bar you are hit with a delicious peanut taste. This is then followed by the rich chocolate coating.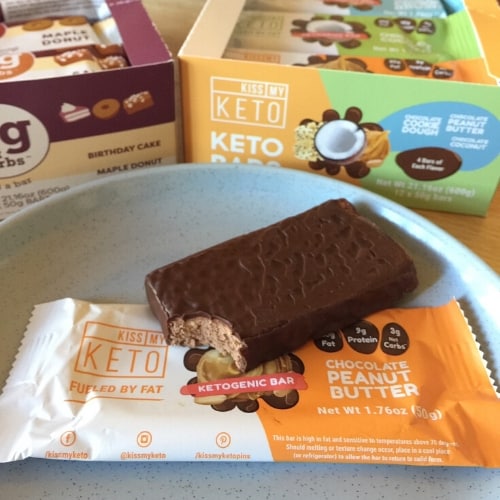 If you are a fan of peanut butter and chocolate, I'll be surprised if you don't like this bar.
The peanut flavor comes from peanut oil and sea salt. Like the other Kiss My Keto bars, there were again, little pieces of almonds throughout.
I really liked the small pieces of almond throughout the bars. Some consumers have commented they didn't like this.
If you're someone who likes something ultra smooth, be prepared for a few bits and pieces here and there.
Personally, I think there's nothing worse than eating pre-packaged foods and not really knowing what has gone into the product.
Seeing a piece of almond or almond shell within the bar made me happy. The ingredients say almonds – and look there they are!
The nuts also give the bars a little crunch at times. This, combined with the other quality, gluten free and soy free ingredients make the Kiss My Keto bars a superb choice.
Would We Buy Kiss My Keto Bars Again?
Absolutely! Although I preferred the chocolate flavored bars over the white bars, I would definitely purchase both boxes again.
Here's a round up of what most impressed me with the Kiss My Keto Bars:
Gluten free, soy free and loaded with natural ingredients
Added MCT oil for a healthy boost of fats
Great variety of flavors, although I liked some better than others, there wasn't one that I wouldn't eat again
Consistency – not too chewy, not rock hard, easy to eat
Not too high in protein – these keto bars are actually designed for the ketogenic lifestyle, not just a protein bar with keto slapped on the packaging.
Kiss My Keto Bars Top Tip
Keep your Kiss My Keto bars in the fridge.
With natural ingredients including coconut oil and MCT oil these bars will melt and become oily at the first sign of warmer temperatures.
This doesn't affect the quality of the bar. A good idea is to keep your Kiss My Keto bars in the fridge if you can. If you're on the go, perhaps a little lunch box with an ice brick?
This will help keep the oils firm and you'll be left with far less mess.
I also found that the chocolate bars melted much faster than the white bars did.
Where to Buy Kiss My Keto Bars
You can purchase Kiss My Keto Bars direct from Kiss My Keto Offer International Shipping

Kiss My Keto also offer quite reasonable international shipping to most countries.

I have had Kiss My Keto products shipped to Australia, which took approximately 3 weeks and cost around $30 USD. This was over $100 USD worth of Kiss My Keto products.

If you're in Canada, United Kingdom, Western Europe, Australia or New Zealand Kiss My Keto will ship to you. There are some Eastern European countries which Kiss My Keto do not ship to, please review the shipping page prior to ordering.
Affiliate Disclaimer: The links within this article are affiliate links and we will earn a small commission from Kiss My Keto if you make a purchase. This helps Shortcut Keto to purchase more products to review and give the best value we can to our readers.
We have not been sponsored by Kiss My Keto for this post and purchased these products ourselves to write this Kiss My Keto bar review. The opinions expressed within this article are our own. If you have any questions, please don't hesitate to get in touch.