Raspberry Ketones are a form of weight loss supplements. But, do raspberry ketones really help you lose weight?
Let's take a look at the science behind raspberry ketones and the weight loss supplement Raspberry Ketone Plus.
Do Raspberry Ketones Really Help You Lose Weight?
Research into the effectiveness of raspberry ketones has found that raspberry ketones are absorbed very quickly by the body.
A study of the bio-availability and metabolism of raspberry ketones in mice found that raspberry ketones were absorbed within approximately 15 minutes after consumption.
The raspberry ketones were then converted by the body into structurally-related metabolites (SRMs) and microbial phenolic acid metabolites (PAMs). These SRMs and PAMs were detected in the brain, plasma and white adipose tissue (ie fat).
The study found that the bio-availability of raspberry ketones in obese mice was almost double in comparison to lean mice.
This is because raspberry ketones, when converted into the structurally related metabolites and phenolic acid metabolites then deposit themselves in 'lipid-rich' tissues, ie fat.
The study also showed that in obese mice the elimination of the raspberry ketones was delayed, meaning, they stayed in the body longer.
In short, the larger amount of weight you have to lose, the more beneficial raspberry ketones will be for you.
Raspberry Ketones Benefits
I found another study published where weight loss supplements containing raspberry ketones were tested in humans.
The participants were obese, but otherwise healthy. A mixture of men and women and took the supplements for 8 weeks in conjunction with diet and exercise.
Significant differences were observed between the participants that took the raspberry ketone supplement, in comparison to those that took the placebo. The participants did not know which one they were taking.
Here is a snapshot of how much better the participants did when taking raspberry ketone supplements, than those who took the placebo:
400% Increase in Weight Loss

278% Increase in Fat Loss

425% Increase in Lean Mass

1000% Reduction in Waist Girth

425% Reduction in Hip Girth

575% Increase in Energy

​
I've linked to these studies above and more studies below, so you can read and interpret this information yourself, if you wish.
Other Proven Results of Raspberry Ketones
Increased fatty acid oxidation and suppression of lipid (fat) accumulation in fat cells found in connective tissue

(

click here

for source)

Reduction of long chain fatty acids in the liver resulting in prevention and

improvement of obesity and fatty liver.

(click here for source)

Appetite Suppression

(

click here for source

)
Raspberry Ketones & The Keto Diet
If I can go back to the studies above for a moment, as I feel it is important to note that the diets that tested the raspberry ketones were calorie restricted, not a ketogenic diet.
The diet was based on 40% carbohydrates, 30% fat and 30% protein, which converts to a whopping 195 grams of carbohydrates, 147 grams of protein, and 87 grams of fat per day!
It is also noted that on this diet of 40% of carbohydrates per day blood glucose increased slightly in both groups at the end of the 8th week, as did the total cholesterol levels for the placebo group.
The researchers state that the differences were not statistically significant, however, for someone like myself who values the benefits of the ketogenic diet, this simply confirms for me that the traditional low fat, high carbohydrate diet isn't good for you.
The other key takeaway I noted from this study is there were no statistically significant differences in body weight, fat mass and lean mass during the first 4 weeks.
In short, supplementing with raspberry ketones isn't a short term or fast weight loss solution. Particularly when you are following a diet of 40% carbohydrates.
It would be interesting to find a study where raspberry ketones were used in conjunction with a ketogenic diet.
Because raspberry ketones have such an effect on fat, and on the ketogenic diet you are burning fat for energy, it seems like a no brainer that raspberry ketones would have a more beneficial effect when combined with a ketogenic diet than a low fat diet. This is simply my opinion however, not a scientific fact.
Do Raspberry Ketones Put You In Ketosis?
No. Raspberry Ketones have a beneficial effect on fat metabolism. They may assist with appetite suppression, but they will not put you in ketosis, nor are they designed to.
If you are looking for a product to put you into ketosis within 60 minutes, take a look at Real Ketones, or other exogenous ketone supplements.
How Effective Are Raspberry Ketones?
The effectiveness of raspberry ketones will depend on your individual circumstances.
As we've already established in the clinical trials, raspberry ketones are more effective on obese patients, that is, those with higher fat levels.
As raspberry ketones increase fat oxidation, the more fat you have to lose, the more effective raspberry ketones are likely to be for you.
This may also depend on the type of fats you eat.
Longer chain fatty acids have to be processed via the body's lymphatic system where as medium chain fatty acids are absorbed directly into the liver for conversion into ketones.
When Should You Take Raspberry Ketones?
Raspberry Ketones should be taken with meals.
Raspberry Ketone Dosage
Raspberry Ketone Plus recommend taking 2 capsules daily with a meal. The two capsules should be taken at the same time.
Raspberry Ketones are best used with a sensible diet and exercise program. If you're choosing not to follow the ketogenic diet (or even if you are) and wish to take raspberry ketones, be mindful of the choices you make.
Just because it has been established that raspberry ketones have beneficial effect on fat cells, doesn't mean you can eat a highly processed junk food diet full of the worst possible fats and take raspberry ketones to try and counteract this.
The same goes for the keto diet, supplementing with raspberry ketones doesn't mean you can eat that extra fat bomb…
What Are The Side Effects of Raspberry Ketones?
There were no reported side effects found in the clinical trials mentioned above.
One article discussing weight loss supplements in general mentions raspberry ketones and two possible safety and/or drug interactions for diabetic patients and those taking the anti blood clotting medications such as warfarin.
The key takeaway is if you have a pre-existing medical condition, consult your Doctor before taking any supplement.
Even if you don't have any pre existing medical conditions, you may still want to involve your physician in your weight loss journey.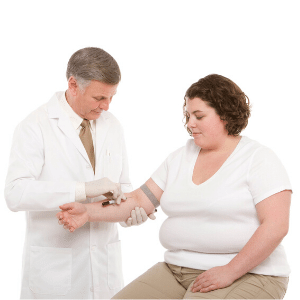 About Raspberry Ketone Plus
Raspberry Ketone Plus is a vegan friendly, vegetable based raspberry ketone supplement made in the USA.
Raspberry Ketone Plus has 2 main ingredients – raspberry ketones (500mg) and african mango (300mg). The third is a proprietary blend of green tea extract, caffeine anhydrous, apple cider vinegor powder, kelp and grape seed extract (400mg).
Other ingredients are cellulose (the capsule), rice flour, magnesium stearate and silicon dioxide. See the supplement nutritional information below. Note the serving size is two capsules, so the milligrams quoted is based on two capsules.
Firstly, if you're following a ketogenic diet and considering Raspberry Ketone Plus, it is important to know that African Mango Irvingia Gabonensis) is not actually a mango.
African Mango looks like a mango and this is where it gets its name from. It is the seed of these fruits that is most often used.
"The fatty acid component, which is the majority of the irvingia gabonensis seed, appears to be highly saturated and mostly medium chain triglycerides (similar to coconut oil although with a lesser content of short chain fatty acids and more long chain fatty acids)"

Examine.com
The general consensus is that more studies are needed (of course), however, so far african mango supplements have been shown to have a positive effect on blood glucose, LDL cholesterol and a reduction in food intake, which in turn saw a weight reduction.
Studies also showed it slowed gastric motility, so anyone who suffers from diarrhea with MCT oil may find this product offers a solution of getting in your medium chain triglycerides without the side effects.
Green Tea has many health benefits including possible improvements in insulin sensitivity, increase in fat oxidation and reduction in LDL cholesterol.
Caffeine is a known nootropic and helps to increase mental stimulation, improve physical strength and endurance. Caffeine has also been associated with increase in fat oxidation.
Apple Cider Vinegar has been linked to weight loss and body fat reduction.
Kelp is a species of seaweed which has anti inflammatory properties.
Grape seed extract helps to improve blood flow, has cardiovascular benefits, antioxidant and anti-inflammatory properties and is good for brain health.
Conclusion – Are Raspberry Ketones Worth Buying?
Overall, based on the research, the combination of natural ingredients Raspberry Ketone Plus are all beneficial for good health. I believe Raspberry Ketone Plus is worth buying.
Based on the clinical trials of raspberry ketones, there wasn't a lot of body fat reduction or weight loss in the first 4 weeks. If you are planning to try Raspberry Ketone Plus, we recommend doing so for at least an 8 week period.
Raspberry Ketone Plus also offer one free bottle when purchasing 2 bottles of raspberry ketones in one transaction. This equates to a 3 month supply.
What I Like About Raspberry Ketone Plus:
Made in the USA

No committing to subscriptions

Natural Ingredients
Ships to 23 Countries Worldwide (international shipping is $9.95 USD)

Made in an FDA Registered Facility
If you are interested in trying Raspberry Ketone Plus, click on the image below to be taken to the sales page. This is an affiliate link and I will earn a small commission (at no extra cost to you) if you purchase.
You may also be interested in my review on an alternative raspberry ketone supplement – Raspberry Ketone Max.