We've all heard something about Raspberry Ketones in one way or another. Lately, though, it has become a very trendy weight loss supplement. There are so many Raspberry Ketone supplements out there now, it is tough to choose the right one.
Ask me, I tried a whole lot of them to help me with my ketogenic journey. While it is a keto supplement, users seem to be divided when it comes to results. There are those that claim that it works like magic and those that say that it has nothing to do with reaching ketosis.
From my personal experience, Raspberry Ketone Max is by far the best when it comes to weight loss. The results with some of the other raspberry ketone supplements were mixed – some having little or no effect at all and some seeming like nothing more than raspberry sugar mints.
Considering all the hype about these supplements out there, you might be wondering if the supplements live up to the hype and if they are worth taking. Let's go through what I experienced with Raspberry Ketone Max and see.
What's a Raspberry Ketone?
Raspberry Ketones started out being the primary component of most raspberry flavored food and drinks. It is naturally occurring and commonly found in raspberries, cranberries, and blackberries.
These berries contain a minimal amount of the raspberry ketones, though and so those using these ketones as flavoring or as a scent have to add in synthetically produced raspberry ketones.
Now, however, there has been a lot of attention paid to the ketones because people believe that they will help in the weight loss department. So far, this has not been proven.
And, contrary to what the name may suggest, because it is not an exogenous ketone, it will not help you reach ketosis, nor will it help to raise the ketone levels in your body.
What types of ketones are out there?
There are three types of ketones out there – ketone salts, ketone esters, and ketone oils. Non-ketones are also going to be discussed under this heading.
​Ketone Salts
Ketone salts are exogenous ketones bound to salts like sodium, potassium, and calcium. They help the body achieve rapid ketosis, and are also better absorbed by the body because of the salts they are bound to. Of all the exogenous ketones, ketone salts taste the best.
Ketone Esters
Ketone Esters are raw ketones. They are not bound with any salt and are taken in in their most natural form. However, they taste horrible, and they can cause GI distress. They are effective but less well absorbed and also not as widely used commercially.
Ketone Oils
Ketone oils are indirect exogenous ketones. They help increase the body's metabolism so that it can reach ketosis faster and more naturally. Usually, we see them as MCT Oil or in powdered form.
Non-Ketone Supplements
Non-ketones have the ketone label but aren't exogenous ketones. They support the keto diet and weight loss, but do not directly put you in ketosis. Raspberry ketones are an example of this.
What is Raspberry Ketones Max?
Raspberry Ketone Max is a supplement that you take that claims to reduce hunger, speed up your metabolism and therefore assist with weightloss.
You should take raspberry ketones in conjunction with the ketogenic diet, exogenous ketone supplements and exercise program.
When you order your first shipment of Raspberry Ketone Max, you'll be automatically signed up to get free membership access to their results-based online fitness program, at no additional cost. Here you'll find customized exercise programs, diet plans, fitness tracking systems, and much more.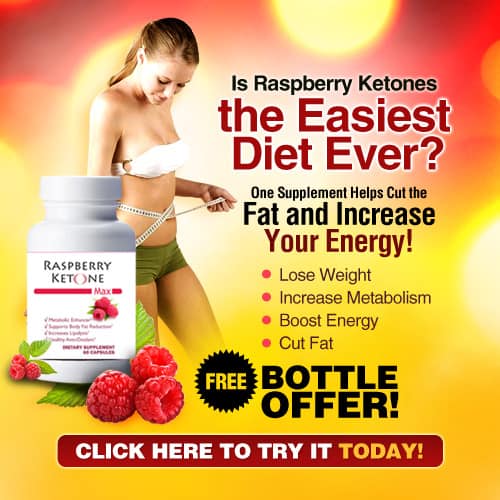 What's in the Raspberry Ketones Max?
Raspberry Ketones Max has five main ingredients:
Raspberry Ketones
Green Tea Standard Extract
Chromium
Caffeine
L-Theanine
Aside from these five main ingredients, it also contains microcrystalline cellulose, magnesium stearate, and gelatin capsules. These added ingredients are what make up the capsules.
What do I get from these ingredients?
Raspberry Ketones are the main fat-burning ingredient. It is believed to help the body burn fat and produce hormones called Adiponectin that regulate metabolism and blood-sugar levels. Adiponectin is produced when fat is burned.
Green Tea Standard Extract is taken from green tea. Green tea has proven health benefits and is a metabolism booster. Since it boosts metabolism, it helps the body burn off carbs and fats thus helping in weight loss. It is also a potent antioxidant. Green Tea contains massive amounts of polyphenols, compounds that reduce the risk of cancer, type II diabetes, neurodegenerative disorders, and cardio vascular diseases. It also contains catechin which is a disease-fighting flavenoid and antioxidant.
Chromium is a naturally-occurring mineral that assists in regulating blood sugar and that can help to reduce food cravings.
Caffeine is a known stimulant. When taken in reasonable amounts, it has many health benefits. Caffeine is popularly added to weight loss pills and supplements because it is known to generate thermogenesis.
In simpler terms, when you have caffeine, it helps the body burn more energy when it is at rest. It also helps suppress hunger for a short time, which is why so many adults are good with no more than a cup of coffee for breakfast.
L-theanine is an amino acid that is primarily found in tea. It doesn't if it is black or green tea, it has L-theanine in it. It is a counter-stimulant that acts against the caffeine found in the tea. In other words, it helps the body and the mind relax and improve mood and behavior. It's technically known as a calming amino acid that helps improve sleep and boost concentration and alertness.
Why are they called raspberry ketones?
Most of us are probably already taking in trace amounts of raspberry ketones in the food we drink and the products we use on a daily basis. As already explained, raspberry ketones were originally used as a flavoring or scent agent.
And, despite the name, most raspberry ketones we ingest are produced in a lab, and not naturally occurring. It would be ridiculously expensive to use the real thing because you would be looking at about $20,000 to extract about a pound of the compound from berries.
Assuming that each raspberry contains around 2mg of raspberry ketones, you would need around 227,000 raspberries to produce a pound of the compound. And that is a lot of raspberries!
The Science Behind Raspberry Ketones
There is very little research to back up the weight loss benefits that raspberry ketones are said to have. Below are some links to clinical studies I have found, which offer further scientific reading:
The general consensus is that raspberry ketones may help with decreased food intake and increased metabolism, thus assisting with weight loss. Most testing however, is on mice and rats and further investigation and human clinical trials are needed.
Raspberry ketones have been generally recognised as safe (GRAS) since the 1960's. Having said that, the quantity of raspberry ketones in supplements far outweigh the GRAS recommendation.
When tested, the raspberry ketones were shown to increase the breakdown of fat, lipolysis and produce a hormone known as adiponectin. It increases the rate at which the body burns fat only because it makes the fat cells more sensitive to a fat-burning hormone called norepinephrine. Norepinephrine is generally found in high-protein food like meat, cheese and wheat germ.
So, while the raspberry ketones don't actually cause you to burn fat, they can facilitate the process, especially if you are eating a low-carb, high-protein diet.
How Much Do Raspberry Ketones Cost?
The prices below are in US Dollars. The more you buy, the more cost effective it is per bottle, with options one and two below offering free additional bottles.
There are 60 capsules in a bottle, which is one months supply.
Raspberry Ketone Max advertise you can try a risk free bottle – which really means that if you purchase either the tier one or tier two package below (either package that offers free bottles), you can return any unused bottles for a refund if you are not satisfied with the first.
Opened bottles cannot be returned, so if you purchase the single bottle of raspberry ketone max in the tier 3 option, there is no refund once the bottle is opened.
My Take on Raspberry Ketones
My personal experience with using Raspberry Ketones Max was that I did feel like my body burned more fat than it did before. For me, it was a positive effect. Maybe it was the raspberry ketones in combination with the other ingredients that made it effective for me.
For me Raspberry Ketones Max delivered what was claimed – it helped me slim down – something that was not easy for me. But I also think it is valuable because of the other health benefits.
It is rich in antioxidants and, for me at least, the health benefits made it worth considering all on their own.
That said, it's not a perfect supplement. I don't like the amount of caffeine in the formulation and I don't feel that there is enough L-theanine in it to offset the effect of the caffeine.
When taking the pills, I feel as though I have just had a sugar rush and also started feeling really tired after working out.
I feel that some caffeine is a good thing but too much messes with my sleep and leaves me with an overwhelming feeling of tiredness when it wears off. The thing with maintaining ketosis is you shouldn't get those crashes when using fat as fuel.
I also felt that my body eventually started to build up a tolerance for the raspberry ketones and that they seemed to stop working after a while. Again, this is just my personal feelings – there has been little research into the long-term effects of using raspberry ketones.
If you are going to take raspberry ketones, Raspberry Ketone Max is just one of many options of raspberry ketones. For another option, take a look at my review of Raspberry Ketone Plus.
What I Like
Faster metabolic rate
Appetite suppressor
Rich in antioxidants
Powerful blood sugar and blood pressure regulator
Helps regulate fat and cholesterol
What I Didn't Like
Large amount of caffeine
Stopped working after a while
Weight loss results are variable
Temporary energy boost
If you are interested in giving Raspberry Ketone Max a try, click the button below to be taken to the sales page. This is an affiliate link and I will earn a small commission on any sales (at no additional cost to you).