The speed keto diet is a combination of the ketogenic diet and intermittent fasting, put together for you in an easy to follow 30 day plan.
There are three diet plan options when following speed keto:
Original Speed Keto – which combines the keto diet and intermittent fasting, for maximum weight loss in the shortest amount of time.
Speed Keto Eating – follow the speed keto diet plan, without intermittent fasting.
Vegan or Vegetarian Speed Keto – the speed keto diet plan, no intermittent fasting available in a vegan option or vegetarian option, or both.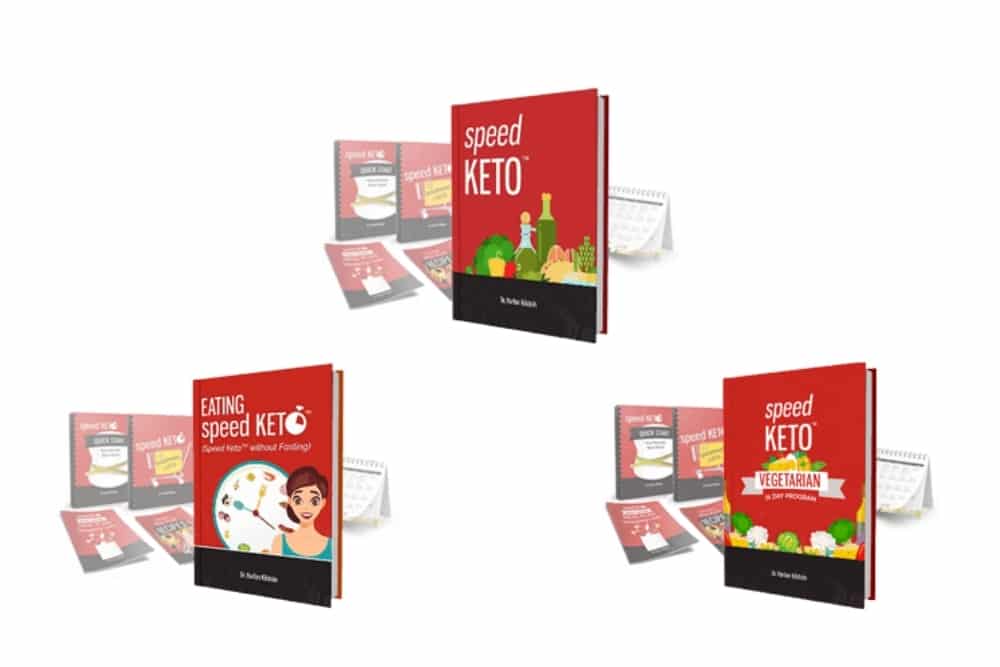 The 30 day plan is purchased as a package for a one time fee, which includes a step by step guidebook on metabolism hacking, tips to keep weight off, comfort food snacks that take away hunger (and are perfectly ok to consume on the speed keto diet), avoiding cravings and much more.
Then there's the speed keto quickstart guide, which is completely beginner friendly, and has additional tips on how to avoid common pitfalls, how to get the fastest results and general quick tips on how things work on the speed keto diet.
The speed keto calendar is probably one of my favorite items in this package. It is a printable calendar that shows you what to eat every day. No menu planning, macro counting or wondering if what you are eating is correct.
Weekly speed keto shopping lists that can be downloaded to your phone, or printed out to take to the supermarket.
There's also bonus products for when you've finished your 30 day speed keto plan, that gives you an additional two weeks of meal plans, recipes and shopping list. Of course, many people choose to repeat the 30 day speed keto program again to continue on their weight loss journey.
What is the Difference between Speed Keto and Keto?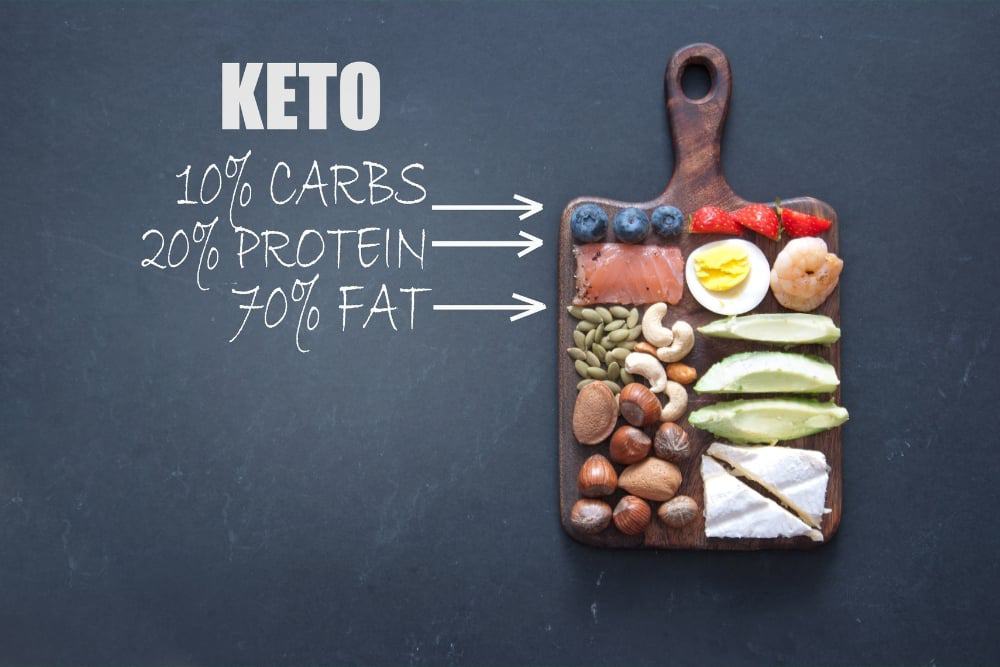 Speed keto is a guided program. It tells you exactly what to eat each day, and you can choose between combining intermittent fasting or not to optimise weight loss.
Speed Keto promotes that you do not have to count macros – calories, carbs, grams of protein or fat, which is quite often where some people can struggle to stick to the keto diet.
Speed keto is still the keto diet. But if you're like me and like to follow a plan and take the guesswork out of what to eat each day, this is where speed keto can help.
To get the most out of speed keto you would need to pair it with intermittent fasting, by choosing the original speed keto option.
I really like that there are different options, and the creator of speed keto, Dr Harlan Kilstein, is upfront in offering both variations of the program.
Realistically, not everyone can adapt to intermittent fasting (as beneficial as it can be), and some people may not want to fast.
Can Speed Keto Help me Lose Weight?
Absolutely. But you will need to follow the program.
Dr Harlan Kilstein has made speed keto as simple as possible with no counting carbs, fats or proteins. These are known as your macros.
But that doesn't mean you can eat fat bombs all day and still lose weight.
Follow the speed keto program, without any extra snacks or increased portion sizes and you will lose weight. The program is also backed by a 90 day money back guarantee.
Dr Kilstein is also quite realistic about the amount of weight you could expect to lose when following the various Speed Keto programs.
Is There A Sample Speed Keto Menu?
Here's an idea of what you would expect to eat when following the speed keto program:
Mustard Salmon
Lamb Meatballs
Beef Brisket in Sauce
Herb Tuna Skewers
Baked Chicken Fajitas
Minute Steak
Turkey and Beef Burger Patties
Does Speed Keto Really Work?
If you follow the speed keto program, I believe it will work for you.
There are plenty of testimonials from happy keto dieters who have used the speed keto program to break through weight loss plateaus, or when getting started on the keto program.
Like any weight loss program, you have to stick to it. Personally, I don't find keto that difficult, as I have found keto sugar replacements, keto bread recipes and yummy foods that I love that are within the restrictions of the keto diet.
At the end of the day, you have to make it work for you. If you haven't tried keto before, you may find the transition a little hard. But the key here is not not give up and keep going with the program.
Is Speed Keto Worth It?
What I like about speed keto, is it is a one time fee for the initial program, which you can keep forever.
At the time of writing, the cost of the program is $39 USD.
Is it worth it? For me, yes. But that has to be an individual choice.
Dr Kilstein also offers a 90 day money back guarantee if the program is not right for you.
How Much is Speed Keto?
At the time of writing, Speed Keto is a one off payment of $39 USD. Click here to join the program.
Can You Buy the Speed Keto Book by Dr Harlan Kilstein?
When purchasing the Speed Keto program, you have the option to add on the program in a paperback version as well for an additional $19.95 plus shipping.
If you are outside the USA, international shipping is around $10.
There is no option to purchase the book without purchasing the Speed Keto digital program as well. If you are interested in purchasing, click here to buy.
What is the Speed Keto Fasting Schedule?
Speed Keto Original combines the keto diet and intermittent fasting. If you are familiar with intermittent fasting, you'll know that there are various fasting times.
Speed Keto works on the 20:4 fasting method, also known as the OMAD fasting method.
This is one meal a day, eaten over a 4 hour window. You do not eat for the other 20 hours a day, but you can (and must) drink fluids.
How Do I Get Started on Speed Keto?
Click here to join the speed keto program. You can join anytime and follow along at your own progress.
Don't forget that you can choose from the Intermittent Fasting Speed Keto plan for fast weight loss, or the Eating Speed Keto plan, which is more like traditional keto.
For vegans and vegetarians, you can purchase either a vegetarian speed keto plan, or vegan speed keto plan for $39 USD. For an additional $10, you can upgrade and purchase both vegan and vegetarians plans.
There is no intermittent fasting plan for vegans and vegetarians, to ensure that you consume the correct and safe amount of protein each day.
What Other Programs are Similar to Speed Keto?
If you're not sure about the Speed Keto program, click below for a free 7 day trial from our friends at Tasteaholics. The creators of these meal plans are also the authors of Keto Diet for Dummies.