When you are just getting started on the keto diet, cutting out bread and bread products like wraps can seem difficult. But it doesn't need to be. This keto wrap recipe makes 6 wraps, which are less than 1 gram of net carbs per wrap.
They are also far more economical than buying commerically made wraps and with only 5 ingredients they are not at all complicated.
Soft and pliable, these keto wraps are made from high fiber flaxseed meal. I used these wraps when making keto steak fajitas and they were a hit with the whole family, even my carb loving son, who confessed they were "way better" than he thought they'd be.
These keto friendly wraps are nothing more than flaxseed meal, coconut flour and xanthan gum with a pinch of salt. Using boiling water and a little butter or ghee, the wraps form a dough which is easily rolled out.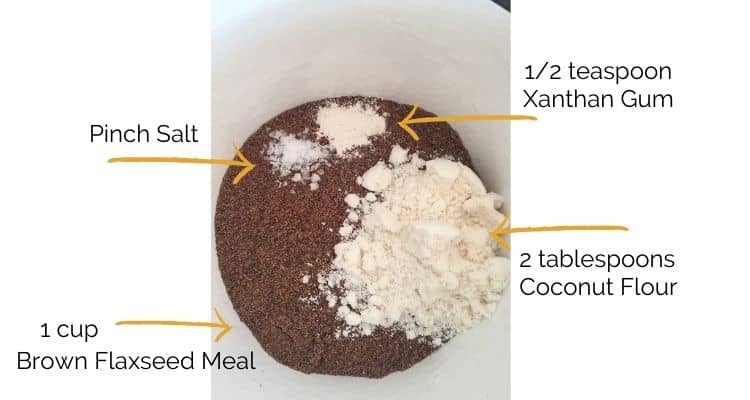 Tip: As you can see from the image above I used brown flaxseed meal. I'm a huge advocate for using what you have, and not buying special ingredients. If you have golden flaxseed meal use that instead. The wraps will be more golden in color than my dark brown wraps ended up being. Nutritionally, there's little difference between brown or golden flaxseed.
After mixing the dry ingredients together, I added the cup of boiling water to a bowl with the butter. I used unsalted butter, as I had added salt to the dry ingredients. Once the butter had melted, I poured the mixture on top of the flaxseed mix and stirred with a spoon.
Vegans, naturally, switch the butter out for vegan butter.
The flaxseed will absorb the water and form a dough. Once the mixture has cooled enough to touch with your hands, form into a ball.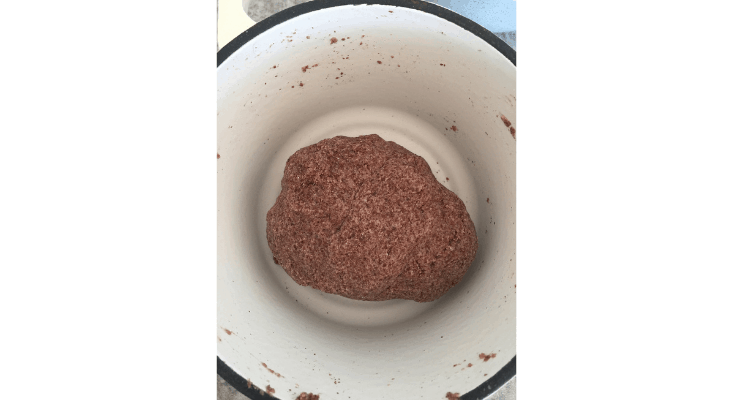 You can roll this ball into a sausage like shape and cut off 8 even pieces, or break off the dough for each wrap directly from the ball. I wanted to do as little rolling as possible, so I broke off pieces from the ball.
Placing the dough between two sheets of parchment paper (makes for easier rolling), roll out into thin layer. You can cut by hand, or use a saucepan lid to measure out a circle for a round shape.
I highly recommend using a lid or something round to cut the shape of your wraps – I decided to cut mine by hand, and it wasn't the perfect circle we're used to seeing. It seems my ability to cut an even circle by hand isn't as good as I thought!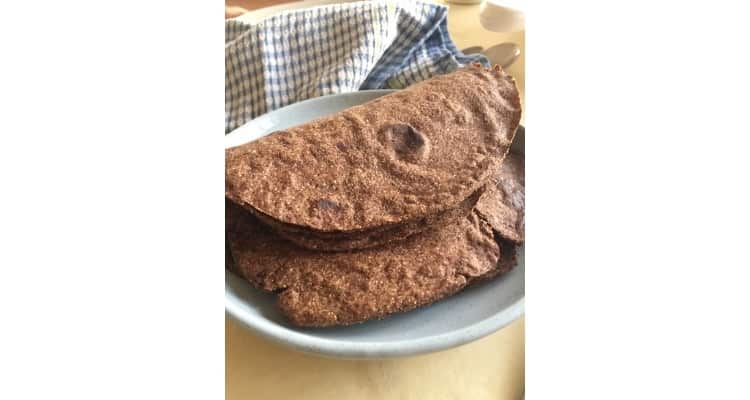 Given I've used brown flaxseed meal, the wraps have ended up darker than usual. The taste was lovely however, and both of my teenage children had no complaints!
Skipping back to the wraps, you'll want to roll them out as thinly as possible, but thick enough that they won't break apart. Some of the thicker sections of my wraps cracked as they weren't as pliable as the thinner sections. You can see that in the image above.
I almost didn't put these up online! I'm a much better cook and writer than I am food photographer, so you'll have to trust me when I tell you they tasted much better than they looked!
Here's how they turned out:
Thank you to my lovely wife for holding the wraps whilst I happy snapped!
As I mentioned above I almost didn't post this recipe, not because it wasn't delicious but moreso because they don't look so "perfect"! But, I decided against holding these back – at least you guys know they're real!
I did remake the recipe using golden flaxseed flour however, which you can find here.
So, are you ready for this easy keto wrap recipe? Let's get started!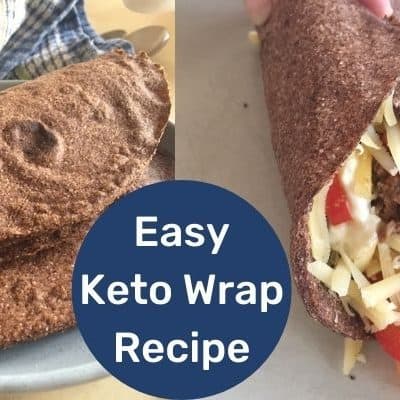 Keto/Low Carb Tortilla Style Wraps
Nutritious and quick to make these easy keto wraps are soft and pliable. I made mine with brown flaxseed meal (hence the dark color) and fajita style beef, veggies, sour cream and cheese. It was a mexican style delight!
Instructions
Place all dry ingredients (flaxseed meal, xanthan gum, coconut flour and salt) into a heatproof bowl.

Pour one cup of boiling water into a separate small bowl. Add in the tablespoon of salted butter and mix until melted.

Mix the water in with the dry ingredients. Mix together with a spoon.

When the mixture cools enough to handle, use your hands to mix the dough into a ball.

Preheat oven to 355°F (180°C). Break the dough into 6 pieces.

Roll out each piece of the dough in between parchment paper. The wraps should end up around ⅛ inch thick and about 8 inches in diameter.

Pan fry the wraps over a medium heat for 2-3 minutes on each side. Enjoy!
Nutrition
Serving:
1
wrap
Calories:
104
kcal
Carbohydrates:
6.4
g
Protein:
4.2
g
Fat:
8.1
g
Saturated Fat:
2.1
g
Cholesterol:
5
mg
Sodium:
222
mg
Potassium:
1
mg
Fiber:
6.1
g
Sugar:
0.1
g
Calcium:
2
mg