Finding low carb snacks to eat on the ketogenic diet can often be a tough feat. When you are out and about and need a quick snack, you risk throwing yourself out of ketosis if you don't choose wisely.
Good organization and preparation really is the key to maintaining ketosis and living a ketogenic lifestyle. That's where keto subscription boxes come in.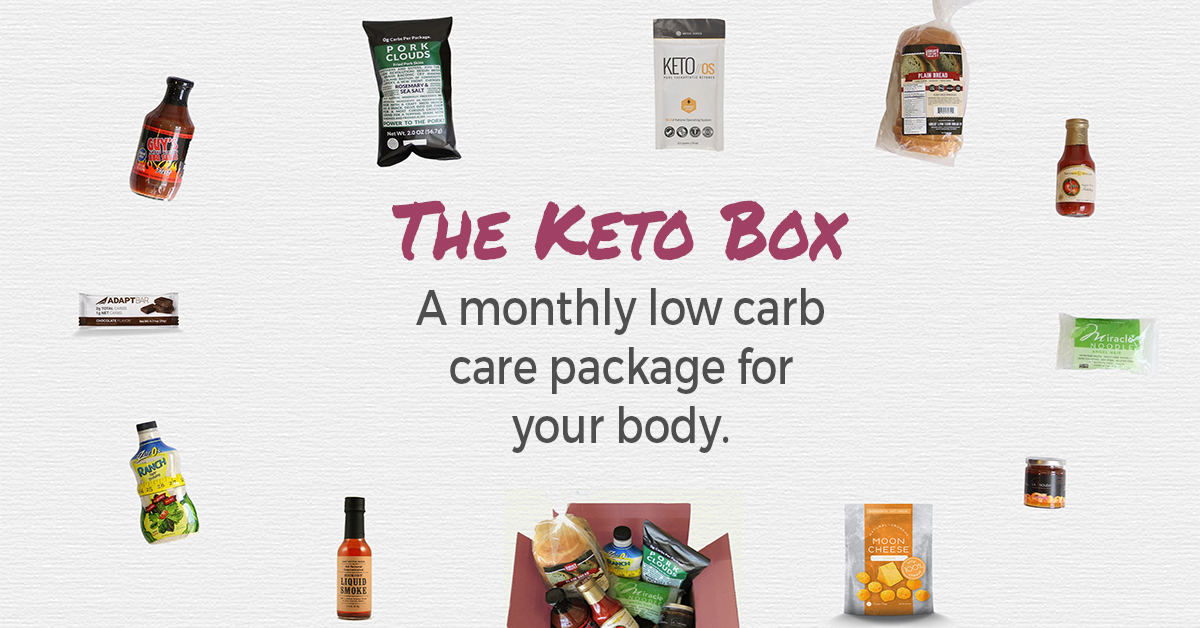 How Much Is The Keto Box?
The Keto Box is available from $36 per month, with free shipping within the US. The Keto Box offers two prepaid plans and a month to month plan:
| Plan | Cost |
| --- | --- |
| Month to Month | $40 per month |
| 3 Month Plan | $38 per month (prepaid) |
| 6 Month Plan | $36 per month (prepaid) |
Subscriptions renew on the 15th of every month. The keto boxes are shipped on the 5th of every month, directly to your door.
Shipping is free within the US, and costs $15.99 to ship to Canada. Unfortunately, The Keto Box does not ship outside the USA and Canada at this stage.
What Is In The Keto Box?
There is a variety of keto snack foods contained within the keto box, such as keto bars, keto cookies and keto drinks. Some boxes also contain keto pasta, keto baking mixes and keto sauces.
The February 2020 keto subscription box contained a whole jar of keto walnut butter, as well as instant keto cereal.
The March 2020 keto box featured keto brownie bites, keto chips and a keto friendly cake.
This keto box also had a bottle of keto friendly Choc Zero Caramel Syrup, which on its own, retails for just under $10.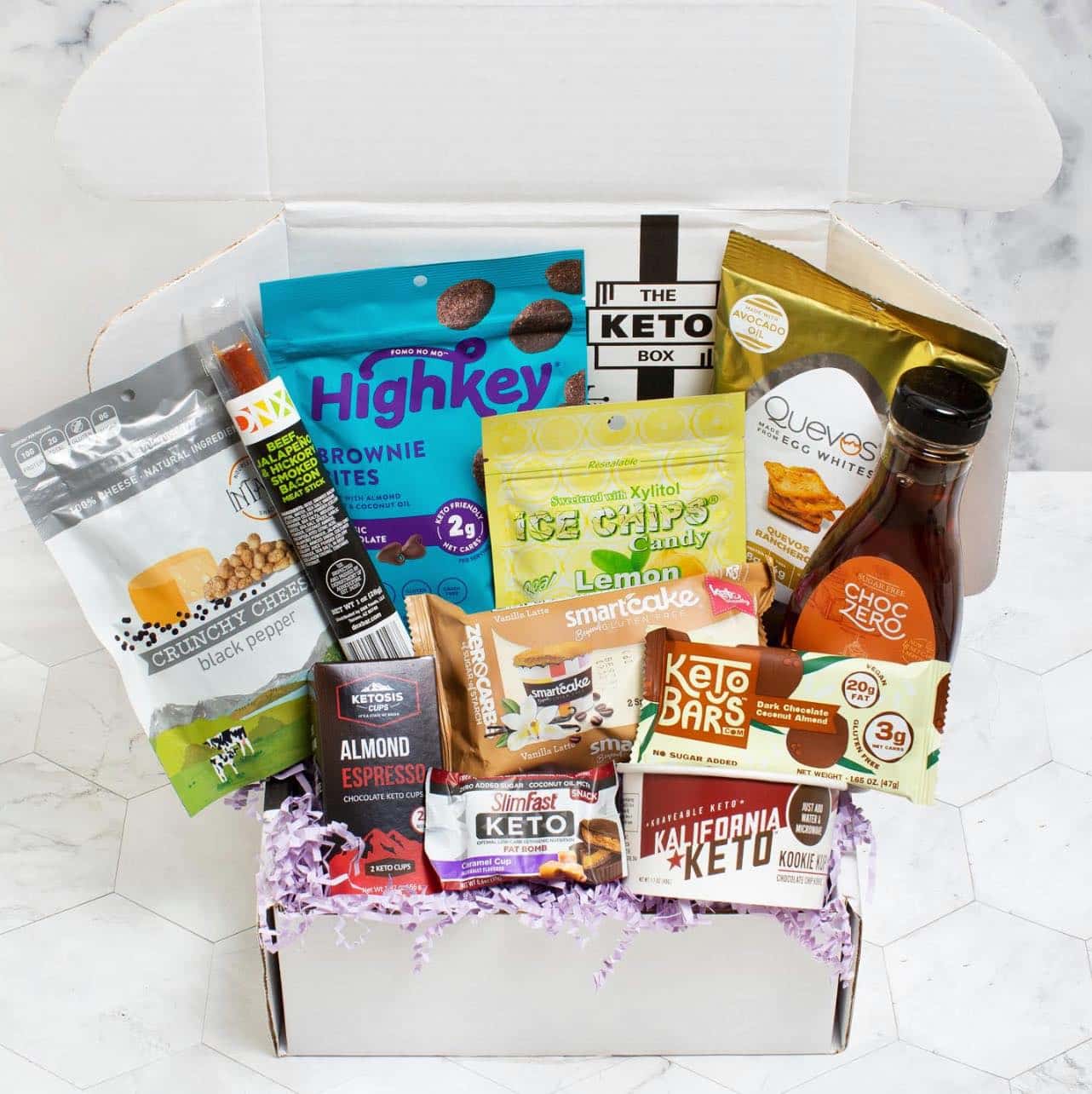 You can also buy previous months boxes at discounted rates, depending on availability. At the time of writing, The Keto Box was offering December 2019, January 2020 and February 2020 keto subscription boxes at $30 per box.
At an average of 10 keto friendly foods per box, this equates to an average cost of $3 per item in the box (for the discounted subscription boxes) or $4 per item for the current box.
Either way, this is fantastic value for keto products. It is also a great way to try out keto snack foods, condiments, sauces and different branded products in small quantities.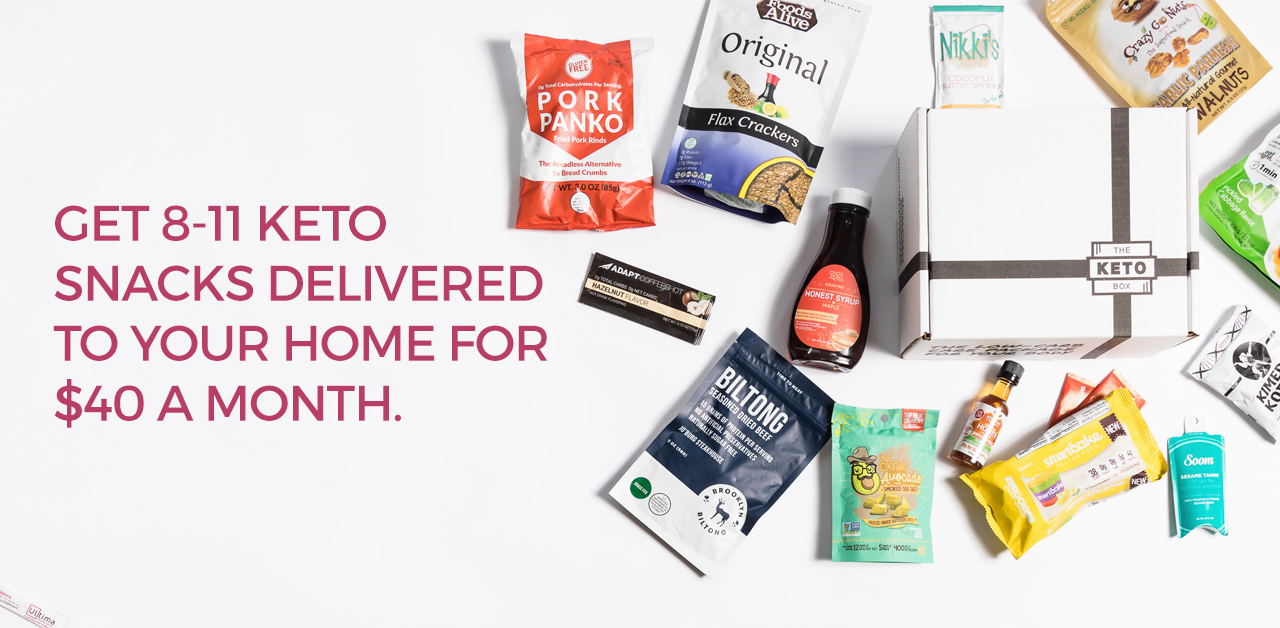 The Keto Box promote there will be 8 to 11 full size keto snacks or products within the subscription box. The latest offer on The Keto Box website (May 2020) promotes 10 plus items in each box.
We counted 13 products in the February 2020 box, and 11 products in the March 2020 box – including a brownie mix to bake a whole batch of brownies, not just one single serve product.
If you were buying this product on its own, here's what you'd be paying:
One of the benefits of buying a keto subscription box, is it saves you having to buy a whole tub of something.
For example, a keto supplement powder, which in itself can cost the same amount as the keto subscription box. Many a time have I purchased a ketogenic supplement only to realize I don't like the taste and have subsequently thrown it in the bin.
Keto Meal Plans
To help keep you on track, The Keto Box also includes a 28 day meal plan.
The Keto Box customer service will also give you a call after your second subscription box to help guide you along your ketogenic diet journey.
Is The Keto Box Worth It?
Definitely! As we discussed above, this is a really cost effective way to test different keto friendly foods each month, without having to order individual products.
The Keto Box aim to keep each keto snack food under 5 grams of net carbs per serving.
Given the subscription box is designed specifically for the ketogenic diet, the Keto Box also try to avoid any items that contain non-keto friendly sweeteners, to ensure you always remain in ketosis.
How Do You Order a Keto Subscription Box?
From the Keto Box website, choose the SUBSCRIBE, or SIGN UP button (depending on the page you are on) to choose your preferred subscription.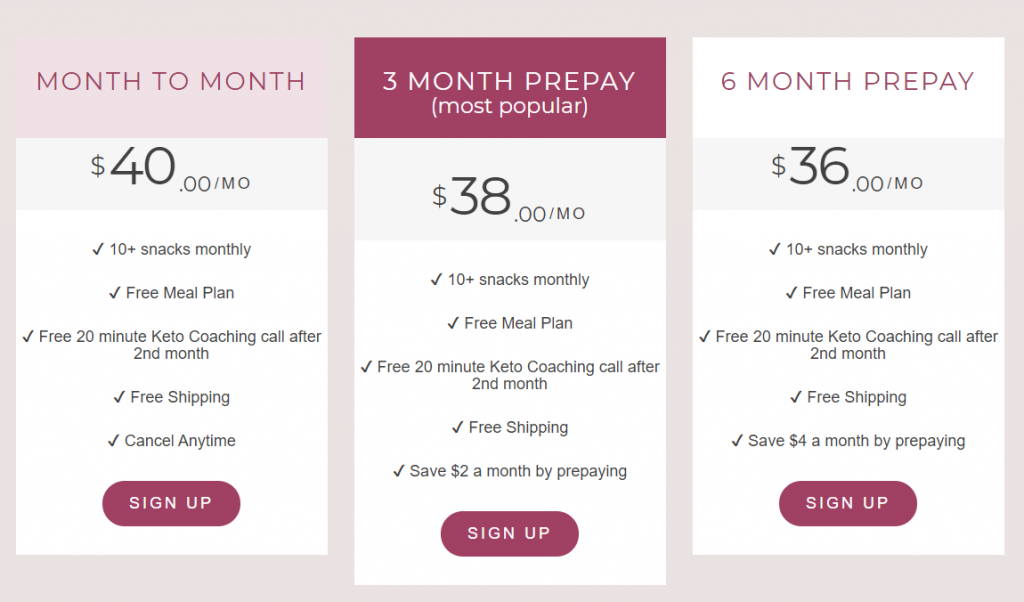 From the home page, you can also click on BUY PAST BOXES to secure discount keto boxes, which is even more cost effective.
Please be aware however, food products have expiry dates. There may be a shorter shelf life when buying older boxes.
This is no different to buying a discounted product in the supermarket, and if you're anything like us, your keto goodies get eaten within the month anyway!
How Do I Cancel My Keto Box?
If you need to cancel your keto box, you need to do so BEFORE the 15th of each month. The subscription automatically renews on 15th at 12am.
If you wanted to cancel your subscription box (month to month plans only) and didn't get to do so prior to the 15th of the month, you will need to email The Keto Box customer service.
The Keto Box will give you a 3 day grace only and you MUST contact them by email: [email protected].
Conclusion
We really enjoyed The Keto Box and feel a subscription box such as this gives good value for money with full size keto goodies and a great selection.
The downside of a keto subscription box is you cannot choose your products. If you like to try new items and expand your keto horizons a monthly subscription box is a good place to start.
After 3 to 6 months of keto snacks, you should have a good idea of what snacks you prefer and can then switch to ordering those products individually, if you prefer.
We love the convenience of having items delivered to our door, and have been inspired to try new keto recipes with some of the condiments and products we have received.
With no ongoing commitment if you choose the month by month plan, you can cancel anytime, and the discounted bundles of previous months are a great way to test out keto snacks, at a cheaper price.
So, what are you waiting for? Try out The Keto Box via the link below: