KetoLogic are makers of keto meal replacement shakes, as well as other keto related foods and supplements.
This week I've been experimenting with Ketologic Keto Meal. These are keto meal replacement shakes. I've used these as a replacement for either breakfast, or if I've had a keto coffee for breakfast, having the shake at lunch.
If you're not sure whether to try these keto meal replacement shakes or not, take a look at my Ketologic Keto Meal review below.
Can You Have Meal Replacement Shakes on Keto Diet?
You can have meal replacement shakes on a keto diet, but it is best to stick to the specific keto meal replacement shakes, like those by Ketologic.
Not all meal replacement shakes will be suitable for the keto diet due to their sugar content. Keto specific meal replacement shakes will meet your daily macros and are low carb.
KetoLogic Keto Meal
I tried the KetoLogic Keto Meal Replacement shakes in both chocolate and vanilla flavors.
The first thing I noticed was how smooth the shakes were.
KetoLogic Keto Meal was in no way powdery or gritty. Just smooth tasting and easy to drink.
I mixed up the keto meal replacement shakes on chilled water.
You can also mix the shakes on unsweetened almond milk, unsweetened coconut milk, with water and a dash of heavy cream (for extra creaminess) or add into your coffee.
KetoLogic Keto Meal Flavors
KetoLogic make their keto meal replacement shakes in 4 flavors. These are Chocolate, Vanilla, Strawberry and Salted Caramel.
I purchased chocolate and vanilla to try. I have not been compensated in any way by KetoLogic for this review.
Both the chocolate and vanilla flavors mixed together with water extremely well. They were incredibly smooth to drink with no chalkiness, grittiness or powdery taste.
This is what both the chocolate and vanilla ketologic meal powder looked like when I opened them: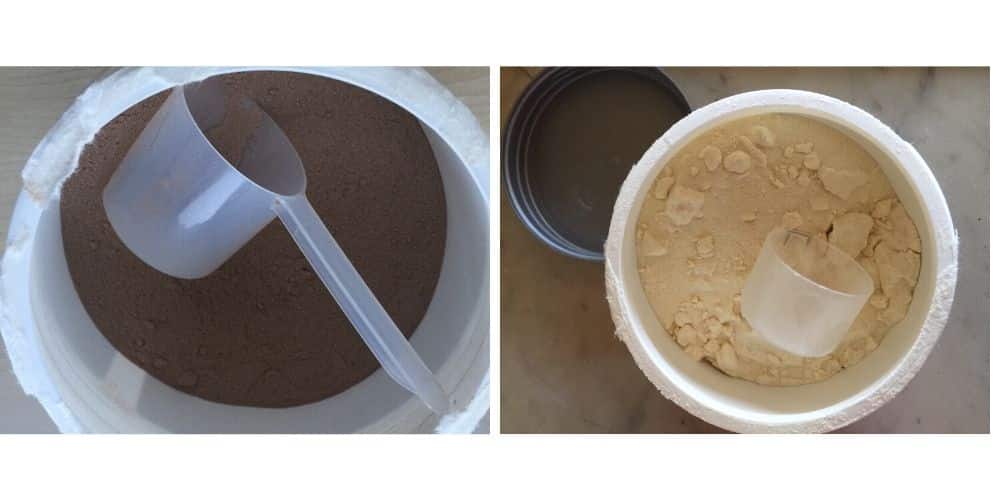 It is important to remember also that the containers won't look completely full when opened. The ingredients settle over time, you need room for the scoop and to fit your hand in to scoop up the powder without it overflowing out of the container.
One of the biggest complaints we see about keto powders is the container size and consumers getting the impression they are getting more product than they really are.
Keto powders are sold by weight, so please read the labels on the containers carefully and look at how many servings per container.
KetoLogic KetoMeal Taste – Vanilla
I tried the KetoLogic vanilla flavor first. Upon opening it smelt incredibly sweet, like icecream.
KetoLogic recommend mixing the meal replacement shake with 8 to 12 ounces of water. My first thought with the vanilla flavor meal replacement shake was it tasted super sweet, with a slight aftertaste from the stevia.
For my next vanilla shake I tried adding a pinch of salt to combat the sweetness. It was better, but I still struggled to drink the entire serve of this flavor.
I also tried adding a dash of cream to the vanilla shake, and at another time, a teaspoon of instant coffee. The cream was an improvement, as it added a little creaminess to the shake. The instant coffee mixed with the vanilla shake tasted terrible and I threw this one out.
KetoLogic have a recipe on their website for chocolate icecream using the ketomeal meal replacement shake powder. As I'm not a fan of the vanilla shake, I'm going to adapt the chocolate icecream recipe for vanilla icecream.
I'll update this post with the outcome!
KetoLogic KetoMeal Taste – Chocolate
I moved on to the chocolate flavored shake and am pleased that this was a completely different experience! The chocolate flavored meal replacement shake mixed with chilled water tasted great.
There is still a very mild stevia aftertaste, but you will get used to this. I have added a dash of heavy cream for some added creaminess and this was delicious!
For the most part however, the KetoLogic Chocolate meal replacement is good on its own mixed with water. The shakes keep me feeling satisfied for 2-3 hours as well.
As the shakes have all the nutrients you need for the keto diet, it is best to try and drink with water to avoid the extra calories. This is particularly important if weight loss is your goal.
You can also mix these shakes with unsweetened almond milk or unsweetened coconut milk. This would definitely make them more creamy.
What is the Best Keto Meal Replacement?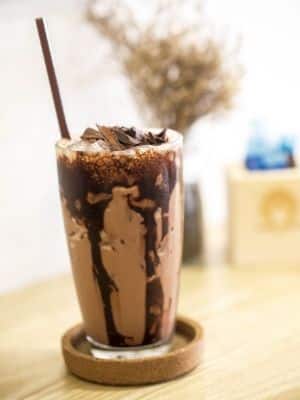 From the two flavors of KetoLogic shakes I tried, chocolate was definitely the best for me.
Please keep in mind if you haven't tried keto shakes before, they're not like drinking a sugar loaded milkshake, and nor are they intended to be.
They are a formulated meal replacement with all the macro nutrients your body needs for the keto diet.
They taste like a diet meal replacement shake. I would happily continue to drink the chocolate flavored keto meal in place of breakfast daily.
How Many Keto Shakes A Day?
You can consume up to two KetoLogic Keto Meal replacement shakes per day. I would recommend starting with one shake per day and build up.
As the meal replacement shakes contain MCT Oil it is best to start small. If you haven't had MCT oil before you may experience gastrointestinal upset with larger doses. Learn more about MCT Oil side effects here.
KetoLogic Keto Meal Nutrition Facts
KetoLogic Keto Meal replacement shakes have 7 grams of net carbs per serve, when mixed with water. This is a little on the high side for net carbs.
You will need to eat a clean whole food keto diet the rest of the day when using these shakes. No snacking!
These shakes are not suitable for vegans on a keto diet, as they contain whey protein and non fat milk powder.
Here is the nutrition facts for the chocolate meal replacement shake, as shown on the ketologic website:
Where to Buy KetoLogic Keto Meal
KetoLogic Keto Meal is available to purchase direct from KetoLogic, at Target and on Amazon. Here are the links to the products available at each store:
Keto Meal Direct from KetoLogic
KetoLogic ship to the USA, UK and South Africa. KetoLogic sell the larger 20 ounce tubs of ketomeal on their website, in all 4 flavors.
KetoLogic Amazon
KetoLogic Keto Meal is available in all four flavors at Amazon. These are the larger 30 ounce containers, which has 20 servings per container.
Conclusion
The KetoLogic KetoMeal shake in chocolate was the winner for me.
Depending on the price of the tub, the cost per serve of KetoMeal is between $2 and $3.50 (USD). This is comparable to Keto Science, Nature Fuel Keto and on the upper end of the pricing scale, Smirk Keto and Complete Wellness Keto Meal.
KetoLogic is slightly more expensive than Left Coast Performance.
I primarily use keto meal replacement shakes as a breakfast option. I have noticed a slight weight loss increase over the last week using the KetoLogic meal replacement shakes once a day.
What I like the most about KetoLogic shakes, is they are a true meal replacement, with all the vitamins and minerals you need.
Some keto meal replacements are only contain a handful of vitamins and minerals such as this one. Yes, it is cheaper, but perhaps it is a case of you getting what you pay for when it comes to keto meal replacements.
Be sure to fuel your body with the right nutrients to keep you healthy when following the ketogenic diet. If you choose an inferior meal replacement shake, you may also need to supplement with a keto multivitamin.
Purchasing a complete keto meal replacement shake such as KetoLogic would then be a better choice.