Although Calgary may not be the largest city in Canada, the demand for keto-friendly meals and restaurants is huge! More and more restaurant chains, local restaurants, cafes, and bistros are now offering keto meals or meals that can be adjusted to become keto-friendly.
But what are the best keto restaurants in Calgary? The top keto restaurants in Calgary include River Café, Gallagher's pub, Just Sweet Enough, and Ten Foot Henry.
If you are looking for low-carb meals including pizzas, bread, and desserts that won't impact your keto diet, keep reading and consult our list of the 19 top keto spots in Calgary below!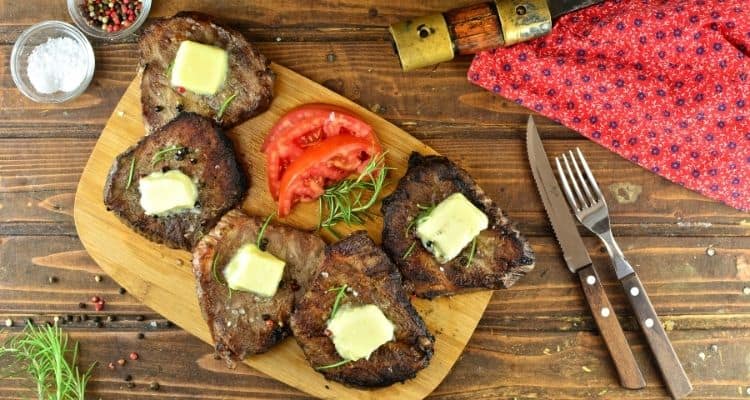 Top Pick #1 – Gallaghers Pub and Eatery – Ph: (406) 516-1650
With a designated keto menu including delicious keto pizza, Gallagher's Pub and Eatery is our top choice for casual keto dining in Calgary.
Best day to go is on a Thursday where they offer 25% off most keto items on the menu.
Located in McKnight Towne Square, some of the keto favorites include the spicy chicken and bacon pizza, keto chaffles, caesar salad and burgers that are all keto friendly.
Dressings are on the side, they include macros on their menu, have keto-friendly drinks, and let their customers know that those who are strict keto should be wary of deep-fried items and any sauces with mayo.
This great neighborhood pub is open daily. Here are the opening times:
Closed Mondays
Tuesday to Friday from 11am
Saturday from 12pm
Sunday from 3pm to 9pm
Happy hours daily from 3pm to 7pm and all day Sunday
You can find Gallagher's Pub and Eatery at 5010 4th St NE, Calgary. They currently offer dine in, curbside pickup and no contact delivery.
Top Pick #2 – Marko's Kitchen – Ph: (403) 252-8328
Marko's Kitchen's motto is fresh, wholesome and homemade. They cater for keto dieters with low carb appetizers such as cheesy broccoli balls made from almond flour, have sides such as zoodles, konjac noodles and spaghetti squash.
Combine this with the BBQ platter from the main menu and you've got yourself a keto feast! For something lighter, there are also cauliflower and cabbage based salads.
Open from 11am Tuesday to Sunday at 5708 1 St SE, Calgary.
Keto Bakeries in Calgary
Just Sweet Enough Bakery – Ph: (403) 240-4486
This is keto bakery in Calgary is heaven if you are after dessert or something sweet. Cookies, cakes, brownies, dessert pies, tarts, sandwich cookies, cupcakes… you name it! If they don't have something, they are also incredibly accommodating and will try to make what you are after.
Whilst you are there you can also pick up a selection of low carb grocery items like syrups, chocolate and sauces.
Find Just Sweet Enough Bakery at 138 50th Avenue SE, Calgary.
Michaela's Cooking – Ph: (403) 803-6037
This at-home baker offers keto friendly options for those who want to support independent and local entrepreneurs.
She also sells homemade German bratwurst, low-carb bagels, keto donuts, slices and desserts. She is constantly expanding her range and now includes oat fiber bread and bread rolls, low carb wraps and I noticed some vegan options on her price list too!
Message her on her Facebook page and check out her posts to see where and what she is selling on a given day. I also spied keto ice cream balls on her page – yum!
Lakeview Bakery – Ph: (403) 246-6127
This is primarily a gluten free bakery, but also has low carb options. A great place to buy low carb bread and buns. They also make dairy free options, organic options and vegan alternatives.
Their website isn't much to look at, so you really need to see the bakery for yourself. Note that there are a couple of steps to get into the bakery. Call ahead if you are disabled, they have been known to come outside to you.
Find this low carb bakery at 131-2515 90th Ave SW, Calgary.
Keto Bread Calgary
The owner of keto bread Calgary, Jonathan, worked with a bread scientist to create a high protein low carb bread that is light, fluffy, chewy and delicious. He also does a selection of keto friendly cupcakes and cheesecakes which look amazing. I wish I still lived in Calgary to try these!
You order your products online anytime. Cut off for delivery the same week is 4pm Saturdays. Sunday is delivery day, which is a flat $5 fee to Calgary.
The address listed on his website is 1007 55 Ave NE, Calgary.
Cafe Wisk – Ph: (403) 455-9475
Cafe Wisk are currently offering takeout only due to Covid-19 restrictions. They are a low carb bakery famous for their signature leanbacks, which is a low carb dessert.
We recommend opting for the butter pecan leanback for the lowest carb choice. Cafe Wisk has also been featured alongside Gallaghers keto friendly menu by CBC.
Find Cafe Wisk at 1314B 9 Ave SE, Calgary.
Keto Restaurants Calgary – Dine in Options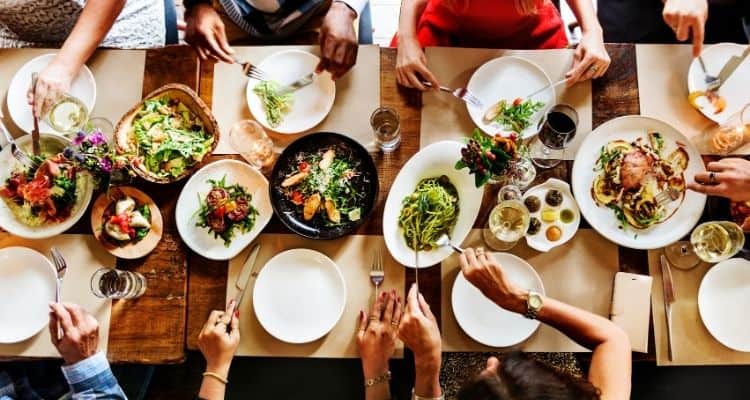 Gaucho Brazillian BBQ Calgary – Ph: (403) 454-9119
Brazillian BBQ meats at their best, with a selection of salads. There are sides also, but nothing keto friendly. Their ingredients and meats are locally sourced, so you can feel good about supporting the community as you dine.
Gaucho has adapted for Covid-19 restrictions and you can now dine in here again for dinner (not open for lunch at the time of writing).
You can also order takeaway, with a current special (April 2021) of 20% off for takeout orders. Use the code #pickup when ordering.
Their address is 5920 Macleod Trail SW #100, Calgary.
Big T's BBQ and Smokehouse – Ph: (403) 284 5959 (McMahon)
As a BBQ and smokehouse that focuses on meats, you can pretty much adapt most of their meat selection to fit within the keto diet. I would suggest dinner here rather than lunch or brunch, as most of their daytime menu has a bucketload of carbs with it (think cornbread, waffles, hashbrowns, buns).
There are gluten free items on the menu and if you stuck with the pullled pork, brisket, ribs or smoked chicken breast you're safe.
Be sure to ask about the sauces (maple bourbon sounds delicious, but can you imagine the sugar content?), stick with the garden salad.
There are three locations in Calgary, including the farmer's market. Check out their website for each location address, phone number and full menu online.
Keto Friendly Restaurants Calgary – Takeout Options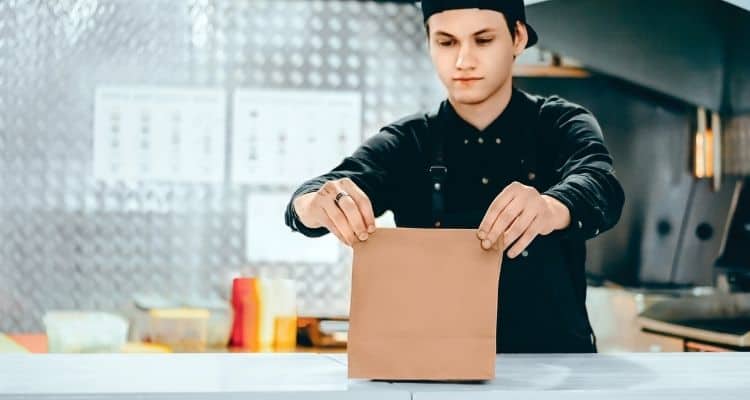 Ten Foot Henry – Ph: (403) 475-5537
With Covid-19 restrictions in place for 2021, Ten Foot Henry are currently serving takeout from 4pm to 9pm every day of the week.
There is an array of keto friendly vegetable dishes and main meals including salmon, boy choy and avocado, charred cabbage, and grilled striploin with hedgehog mushroom.
Find Ten Foot Henry at 1209 1st Street Sw, Calgary.
Five Guys Calgary – Ph: (403) 252-3373
If you're after a freshly made burger try Five Guys. With three locations in Calgary, they offer lettuce buns (upon request) instead of bread based buns for their burgers.
Their mayo, mustard and hot sauce are all carb free. Bacon and burger patties are also zero carb.
Stay away from the traditional sauces such as BBQ, ketchup, relish and their steak sauce. Instead pack your burger with eggs, mushrooms and a little bacon.
Check out their website for a complete nutritional profile and ingredients list of all foods, sauces, syrups. Their transparency is admirable.
Vegetarian Keto Restaurants in Calgary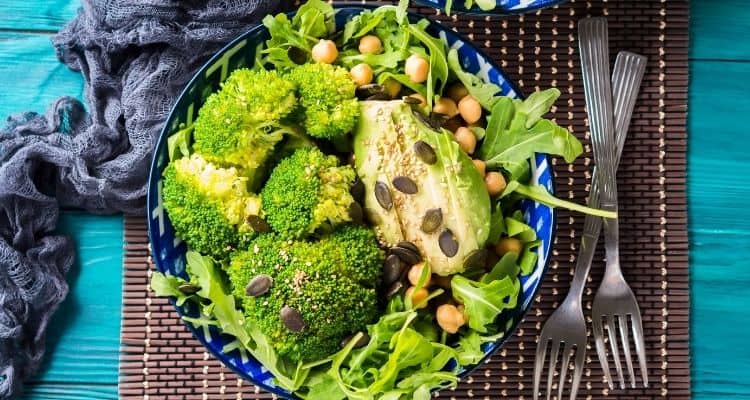 The Coup
This vegetarian restaurant is very dedicated to using ethically and locally sourced ingredients, as well as giving back to the community. You can dine in or order takeout.
The kale caesar salad is amazing, but it does contain carrot. Ask for no croutons as well. The squash and goat cheese salad is also an option. If heading out for brunch, the only real option for keto is the grilled treehouse sandwich – minus the sourdough bread of course.
Visit The Coup at 924 17th Avenue SW, Calgary, AB
Keto Pizza Delivery Calgary
Jon's Pizza – Ph: (403) 236-2226
You can turn any 10 or 12 inch pizza on the menu into a keto friendly pizza with a base that is made out of 4 different types of mozzarella cheese. Unfortunately, Jon's haven't disclosed the macros.
The reviews on the keto pizza's are good. Service and wait times can be a little hit and miss.
Pick up your keto pizza from 20-20 Douglas Woods Dr SE, Calgary or order online for delivery.
Gallagher's Pizza Delivery
Our #1 choice for keto restaurants in Calgary is Gallaghers, not only for their awesome keto menu, but they also do keto pizza's as well. Scroll back up the page to check out their details.
We are currently updating this post for 2021. The eateries above have been updated. More to follow soon!
---
Keto Store Calgary
Spud
This ingredient delivery service has options for those who are gluten-free, vegetarian, and/or vegan. All their ingredients are seasonal and locally sourced, and all their packing materials are recyclable! Simply shop for your ingredients online and your products will be delivered to you in a reusable bin that is picked up at the time of your next delivery.
Community Natural Foods
This natural grocery has three locations in Calgary (typically open from 9AM – 9PM on weekdays) and has great items for all those with dietary restrictions. You can also purchase any supplements or vitamins that you require from this store, as well as ethically sourced cosmetics and home items.
They also have a Keto Klub that provides a forum and community for those looking to get into or understand keto better. They also discuss recipes that are keto-friendly, such as low-carb duck ramen!
Sunnyside Natural Market
This is another natural grocery option in Calgary, owned and operated by a family dedicated to providing local and organic ingredients for your family's meals. They are located at #10 338 10th St NW and open on weekdays 9AM 0 8PM, Saturdays 9AM – 7PM, and Sundays 9AM – 6PM.
Again, natural groceries are great places to seek ingredients for cooking keto at home and are typically locally owned, so you simultaneously support your community as well!
Keto Meals Calgary
Nutri-Go
This Calgary-based meal service delivers as man meals as you wish on a biweekly basis. You can choose which meals you would like on their site, and all their meals are made by a chef. Their food is never frozen and are ready in the microwave in 3 minutes or less.
The nutritional information of all their meals is available online, so you can cater your meals by your dietary needs, restrictions, and/or preferences. All their meals have 5oz of protein. We suggest the chicken with double seasonal veg, or the fiesta chicken.
Chef to Table
This is another Calgary meal service that delivers weekly, fresh-cooked meals. Not all their meals are great options for those with dietary restrictions, so this is a better option for those looking to have a meal service a couple times a week. We recommend the fall harvest salad or the herb roast chicken thighs without the sweet potatoes.