[sc name="RSP Nutrition BHB CTA Section v1″]
RSP Nutrition Keto BHB Capsules Review
*Please note that I received a free test package to review this product but it does not affect my opinion as I value the trust of my readers. This article also contains affiliate links which helps support the website.
One thing most people complain about when taking exogenous ketones is the unpleasant taste of most of the drinks on the market.
I know that I am not the biggest fan of them either.
RSP Nutrition must've seen all these complaints and decided to do something fix it. That's where beta-hydroxybutyrate ketones (BHB) capsules comes into play. It positions itself as the high-quality ketone supplement that you can easily take wherever you go.
Taking Keto BHB capsules has helped me in a number of areas. First it gave me more focus and energy in the morning. Sometimes I find it hard to get myself going without a cup of coffee. So taking Keto BHB has helped me with my energy levels throughout the day.
Another thing that it has helped me with is intermittent fasting. I try to go 12-16 hours each day without eating (I said I TRY – sometimes I get weak
) so taking Keto BHB has made it much easier to wait until lunch time before I have my first meal.
Things To Consider Before Buying An Exogenous Ketone Supplement
Before you buy a ketone supplement you must ask yourself the following questions so that your not wasting your money:
What Is RSP Nutrition Keto BHB Capsules?
RSP Nutrition Keto BHB capsules are different from most exogenous Ketogenic supplements on the market as it is made for people who can't be bothered with mixing drinks and can be taken anywhere you go.
Let's face it, we all have busy lives and being on a strict low carb diet like a Ketogenic Diet can make things even more complicated.
If you are on the road a lot, or have vacations coming up it can be very difficult to keep a Ketogenic Diet from crashing to the ground.
That is why having an easy to take exogenous ketone supplement like RSP Nutrition Keto BHB comes in handy. It also comes in veggie capsule form– which means that if you are on a vegetarian Keto diet this is a supplement that is safe to take.
RSP Nutrition Keto BHB capsules promise that it's beta-hydroxybutyrate ketones are made with top quality ingredients that will give you all the benefits you would expect from naturally occurring ketones found in your body.
RSP Nutrition Keto BHB Capsule Features
Accelerated Ketosis
Keto BHB Capsules contain beta-hydroxybutyrate ketones that allows your body to get into ketosis quicker than dieting alone. This is helpful for beginners just starting a Ketogenic Diet as it may help alleviate the usual side-effects of changing to a low carb diet, such as getting a keto flu.
Getting into ketosis quicker is also useful for people that are on a Ketogenic Diet, and get kicked out of it accidentally (or not accidentally ;)) by eating something high in carbs like bread or pasta. We all get tempted sometimes to break our diet, so having an exogenous ketone like Keto BHB Capsules helps keep you on track.
Another benefit to exogenous ketone is that it is also an appetite suppressant. This is one of the more powerful effects that I found taking Keto BHB – it made intermittent fasting much easier.
Boosted Focus and Energy
Keto BHB Capsules provides you with ketones that your body naturally produces when it is in a state of ketosis. Ketones help give you more energy and better focus so that you can get things done more efficiently. It can also help you in your workouts and give you more endurance in your runs.
Simple, Easy to Take Exogenous Ketones
RSP Nutrition's BHB capsules are a different way of taking beta-hydroxybutyrate ketones. Instead of mixing them in a drink, all you need is some water and your good to go. This is good for people that don't like getting shaker cups dirty or for people that are constantly on the go.
Also because it's in capsule form, there is less added ingredients to the ketones – this is good for people concerned with added ingredients in other ketone supplements.
GMP Certified Ingredients
Good manufacturing practice (GMP) is a system for ensuring that products are consistently produced and controlled according to quality standards. It is designed to minimize the risks involved in any pharmaceutical production that cannot be eliminated through testing the final product.
RSP Nutrition is tested and manufactured in a GMP certified lab which says a lot about their quality controls. This is a great feature for those that are concerned about what they are putting in their body.
Veggie Capsules
Keto BHB Capsules are veggie made so that it is safe to consume for those on a ketogenic vegetarian diet. I thought the keto diet was hard on its own, I can't image how difficult it must also be to a vegetarian!
What Are Other People Saying?
Keto BHB is a new product so we took a look to see what other people thought of the easy to swallow capsules. Unlike some of the more popular Keto:
Really does work. Surprised! I will be getting this product again, most definitely. The energy levels I feel, the satiety and ability to fast for long hours every day are simply amazing. There are no crashes, which can often happen with sugar and carbs. This has been a fantastic tool for weight loss and managing type two diabetes
Mother Effingby Amazon
RSP always provides great products that make a difference in my performance. When taking them before my workouts I've seen an increase in endurance and energy. I definitely recommend this product.
Cassie DickersonAmazon
After only taking this product for two weeks I've already dropped 4 pounds of body fat. What's better is that while even doing fasted training my mental clarity, focus and strength have all improved. RSP is a brand of products that I've trusted throughout my transformation and have never been disappointed. I'm glad to see their innovation stay in line with what I have come to expect from one of the few brands I trust.
William S. Bellamy Amazon
How Does RSP Nutrition Keto BHB Compare To Others?
Keto BHB Capsules has some pretty well-known competition, let's take a look at how it stacks up:
Pruvit Keto OS vs Keto BHB
Pruvit Keto OS is the granddaddy of all Ketone supplements. This controversial exogenous ketone has a lot of supporters but also a lot of haters online. One of the most common complaints is the not so pleasant taste. I do not find it as bad as others, but some people really dislike it.
Also some people also do not think the BHB formula is as powerful as it's competitors.
Keto BHB doesn't have any of problems as the BHB formula boosts ketone levels and it doesn't require you to taste it. Keto BHB is also cheaper to use than Keto OS, and you can buy the product from Amazon easily.
​Perfect Keto vs Keto BHB
Perfect Keto is a popular exogenous Ketone supplement that comes in 5 flavours (as of this writing) and has a lot of fans online due to its tasty flavours. It's BHB formula is high quality and people have had good results in getting into Ketosis quickly.
Perfect Keto comes in a Beta-hydroxybutyrate salt powder that can be mixed in any type of liquid. Keto BHB also has a powerful formula, but it is easy to take as it is in a capsule, and doesn't need to be mixed in anything.
Perfect Keto however is pricer than Keto BHB as it comes in 30 servings while one bottle of Keto BHB has 60 servings.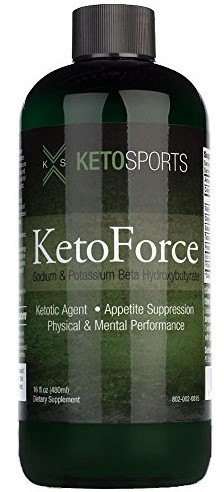 KetoSports Keto Force vs Keto BHB
Keto Force is a liquid form of exogenous ketone body beta-hydroxybutyrate (BHB) which makes it different than the other two products above. While Keto Force doesn't have the advertising budget of a Pruvit Keto OS or Perfect Keto – it is a potent ketone supplement.
But like the others, it also needs to be mixed into a drink (or be taken like medicine with your nose plugged).
Keto BHB doesn't have this problem and it is similarly priced to Keto Force but comes with double the amount of servings
RSP Nutrition Keto BHB Capsules Review Summary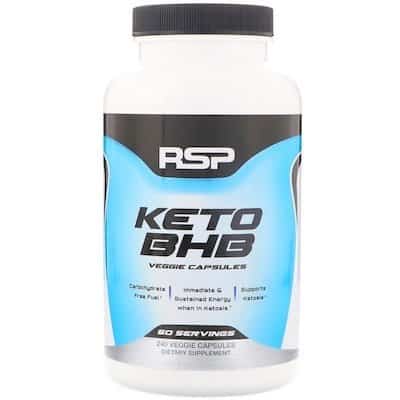 If your looking for an exogenous BHB ketone supplement there are many choices now on the market and choosing one can be difficult. If you are just starting a Ketogenic Diet, or need helping getting back into ketosis RSP Nutrition Keto BHB is a great place to start.
It's BHB complex gave me a good boost in energy and focus. It also did a great job in suppressing my appetite in the morning.
But perhaps the best feature is its great value. One bottle will give you 60 servings, or 2 months of exogenous ketones. So if you don't mind taking pills, Keto BHB is a great new ketone supplement option.
What I Like
Easy To Take

Works Well With Fasting

Improves Energy

Great Value
What I Didn't Like