Looking to find out how much caffeine is in Keto OS? This is a subject that many people have when deciding if they should buy KETO OS.
We have done a lot of research to find out how much caffeine is in Pruvit Keto OS? The answer we found is that the caffeine content in Keto OS is about that of a cup of coffee. This gives you an extra boost of energy with each drink.
The Keto OS "Charged" is "charged" with caffeine, while there is a caffeine free version Keto OS as well.
Take a look at our review of Keto OS and have a look at what people are saying about this drink. Seeing what others have to say can help when determining which Keto Supplement is right for you and your body.
Caffeine Content in Keto OS
From all the information out there, caffeine doesn't seem to affect the bodies natural ability to go into Ketosis, in fact, some say drink Keto OS in Coffee.
However, Caffeine on Keto OS is, there is one thing to keep in mind and that is the number of other things you place in the coffee.
Also, Caffeine is a natural diuretic, so it will reduce the amount of water your body holds. There are many different things that are diuretic, there are also diuretic foods so make sure to avoid those if you are also taking caffeine.
With that said, during the Keto Diet, it is recommended that you drink a lot of water, and so, the additional Caffeine will have an effect on the hydration of the body. Keep all this in mind when using Keto OS.
Caffeine and Keto OS seem to have a bit of debate out there. For some people, Caffeine and the low carb lifestyle doesn't seem to affect them.
However, for some people, they seem to have a stronger reaction to the caffeine once their bodies are in Ketosis. This is something that is different for everyone. It can cause some people to release high levels of cortisol, so it should be monitored by a doctor.
How Much Caffeine is in Keto OS Black Label?
Pruvit advise the caffeine content of their black label drink mixes are the equivalent to a 16 ounce cup of coffee.
They do not give an exact figure of caffeine. Pruvit advise the caffeine is hydrous caffeine. According to healthfully.com hydrous caffeine contains up to 8.5% water, where as anhydrous caffeine contains less than 0.5% water.
How Much Caffeine is in Keto OS NAT?
Pruvit advise the caffeine amount in their Keto OS NAT drinks are the equivalent to a 12-16 ounce cup of coffee. They do not give the exact figure or percentage of caffeine broken down in their drinks.
They do however, state that Keto OS Black Label has 30% more caffeine than Keto OS NAT. If Keto OS Black Label has the equivalent caffeine to a 16 ounce cup of coffee, that would make the caffeinated Keto OS drinks equivalent to a 12.25 ounce cup of coffee (approximately).
The caffeinated versions of Keto OS NAT are labeled CHARGED and the non caffeinated versions are UNCHARGED.
How Much Caffeine is in Keto OS PRO?
Both the Chocolate Swirl flavor and Orange Dream Keto OS Pro are caffeine free. If you wanted to add caffeine to these shakes, you could add a half a teaspoon of instant coffee when preparing. Add more to taste if needed or add a shot of brewed coffee if you prefer.
Remember – less is more! You can always add more, but you can't take it away! If you decide to experiment with flavors and turn your chocolate swirl shake into a mocha, start with a little and taste.
I don't recommend adding coffee to the orange dream flavor, but if you're game to give it a try, let me know how it turned out!
How Much Caffeine is in Keto UP Drinks?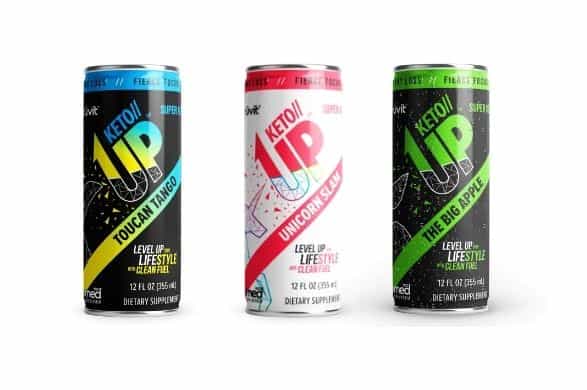 Pruvit Keto UP is a newly released ready to consume keto drink. The caffeine in Keto UP is the equivalent of an 8 to 12 ounce cup of coffee.
Again, Pruvit do not disclose exact figures or percentages of caffeine in this drink.
Is There Caffeine in Pruvit Signal OS?
Caffeine is not listed as an ingredient in Pruvit Signal OS capsules. This includes both the morning and evening capsules.
Is There Caffeine in Pruvit Mito Plex?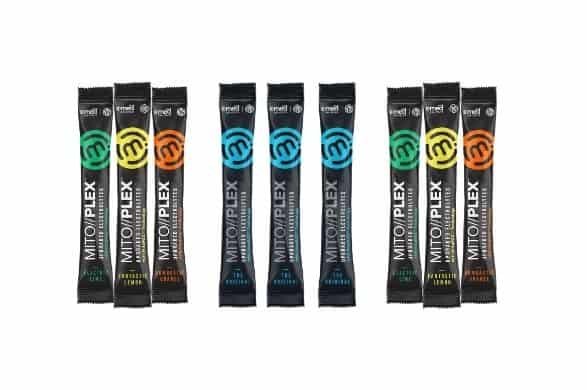 Caffeine is not listed as a Pruvit Mito Plex ingredient. Mito Plex is another new product from Pruvit which can be used alone or mixed with either Keto OS NAT or Keto OS Black Label.
What is Keto OS?
Keto OS stands for Keto Operating System, it's a digestive system that the body goes into when it wants to burn fat instead of sugars. Ketosis is when your body burns Ketones for fuel through a process called Ketogenesis. Ketone bodies are produced by the liver during periods of starvation or lack of carbohydrates.
Your body produces nature ketones, however, you can ingest ketones through ketone salts and that is what is used in Keto OS. Keto OS is produced by a company called Pruvit and can be a life changer.
This is a supplement, combined with a lifestyle change of cutting out the carbs and exercise, may help you lose weight. It is not a weight loss supplement however.
There are many different flavors of Keto OS. Pruvit have recently brought back their Hibiscus Lemonade, and in 2021, there are now 20+ varieties of Pruvit products.
More About Keto Operating System OS
Keto Operating system OS was launched in 2013 by Pruvit. It is used to put your body into Ketosis and help it burn more fat than sugars. The product is based on Ketosis diet, which, is similar to the Atkin's diet with high fats and low carb. It is called Keto OS, for Operating system, as it claims it will put your body into Ketosis in a 1/2 hour from drinking it.
Biologically speaking, the body only produces ketones during fasting periods in a natural way. However, the Keto OS can trick the body into going into Ketosis quickly for a more effective weight loss. These come in standard small packages or a jar for several drinks.
Is Pruvit Worth It?
Pruvit have the advantage that their products taste great. The downside is that they are quite expensive. Pruvit also create a lot of hype around their products giving them fancy names (like C-MED), which is really just a herb used in traditional medicine. More info on this in my Ketond vs Pruvit review.
Personally, I prefer Real Ketones products. Their ketone drinks have a higher level of ketones than Pruvit OS NAT, cost about half the price, and their Prime D+ product has BHB's with included MCT oils and Vitamin D all in one product, unlike Pruvit.
I've covered this further in my post on Real Ketones vs Pruvit which you can read here, or click on the image below to take a look at Real Ketones products.