Curb your appetite, reduce keto flu symptoms and boost you into ketosis with a delicious keto shake.
In this post, we are looking at exogenous ketone supplements in powdered form. From citrus to chocolate keto powders offer great versatility when following the keto diet.
You can make these up as keto drinks on their own or add the powder to boost other drinks such as coffee or smoothies. Some keto powders can be used to make delicious desserts.
Lets take a look at our top choices for keto powders for 2020:
Keto Supplement

Ingredients
Benefits
Where to Buy

Perfect Keto

Ingredients: High-quality Beta Hydroxybutric (BHB), Stevia, MCT Oil (Unflavored), Calcium, Magnesium, Citric Acid, Natural Flavors
Great flavors, highly blendable, proven to raise ketone levels from 0.8-1.4 mmol, effective suppression of appetite, energy booster, recommended by doctors
Amazon.com

Pruvit Keto OS NAT

Vitamin B6, Vitamin B12, Calcium, Magnesium, Sodium, R-Beta hydroxybutyrate, L-Taurine, Fermented L-Leucine, Inner Bark of Uncaria Tomentosa, Erythritol, Malic Acid, Natural Flavor, Rebaudioside A (Stevia Extract), Caffeine, Xantham Gum
Mental clarity, appetite suppression, supports healthy cell function, promotes repair and recovery of your body, aids ketosis.

Gluten free and vegan flavors available.

Amazon.com

Key Nutrients Key Keto

Beta-hydroxybutric Acid (BHB), Citric Acid, Malic Acid, Natural Flavors, High purity steviol glycocides, silica
Energy booster, appetite suppressor, improved mental energy, raises blood ketone levels, vegan, caffeine free, made in the USA, lab tested.
Amazon.com

Keppi Exogenous Ketones

Sodium Beta-Hydroxybutyrate, Calcium Beta-Hydroxybutyrate, Magnesium Beta-Hydroxybutyrate, Iron, Medium Chain Triglycerides, Cocoa Powder, Natural Flavors, Stevia Leaf Extract, Silicon Dioxide, Monk Fruit Extract
Mental Focus, raises blood ketone levels, increased energy, reduce or avoid keto flu symptoms, made in USA, lab tested.
Amazon.com
Best Exogenous Ketones – Our Reviews
Perfect Keto Base
Perfect Keto was developed by Dr. Anthony Gustin who made the formula for maximum efficiency to get into ketosis. As a bonus, Perfect Keto is also certified organic. Therefore not does not use chemical flavorings but instead it uses stevia to add sweetness and added depth of flavor.
Perfect Keto is more expensive than some of the exogenous ketone drink supplements, but not as expensive as Keto OS.
Each serving is great for suppressing the hunger and provides an extra amount of needed energy.
The BHB or beta-Hydroxybutyric acid component works well in helping your body raise ketone levels—which in this case has been proven and tested to go up in an average of 0.8-1.4 mmol—giving your body that nice extra boost of energy.
It really functions like endogenous ketones since it raises ketone levels to help your body enter ketosis quickly.
Perfect keto is also great for keto diet beginners since it helps in aiding your body to get familiar with burning body fat for energy. It also lessens keto flu symptoms and makes getting through the keto side-effects much easier.
Perfect Keto Base Exogenous Ketone Supplement
Versatile, tastes great and well known. A popular choice for the keto diet.
Pros
Tastes GreatWhether mixed with water, in your coffee, or almond milk and heavy cream, Perfect Keto has a delicious taste and versatility.
Helps with Keto Flu SymptomsProven to raise your BHB levels to kick start ketosis fast and keep you in a state of ketosis.
15 Calories Per ServeThis is one of the lowest calorie BHB mixes and has a relatively low sodium content in comparison to others – 670mg of sodium per serve
Cons
Temporary Gastrointestinal Upset

Until your body gets used to this product (1-2 days) it may cause GI upset. Stay close to a bathroom, or start with smaller quantities and increase over time.

PriceThis is not the cheapest exogenous ketone supplement, but, you get what you pay for. Quality and results.
Conclusion:
The Perfect Keto bases are a really well rounded exogenous supplement that will help you reach ketosis fast and stay in ketosis. You need to follow the keto diet to fully maximize the benefits of this product, and restrict your carbs. This product works, tastes great and can be used in a variety of ways. Mix with water, make a milkshake, add to your coffee or use it in cooking for some yummy keto desserts.
Pruvit Keto OS NAT
N8 MAX NAT™ BLEND, C-Med 100®, KETO//OS® NAT™… If you're confused by all the acronyms, don't despair. Here's a run down:
You may have heard of Pruvit Keto OS MAX, prior to the release of Pruvit Keto OS MAX NAT. NAT simply means 'nutritionally advanced technology' as Pruvit have designed their supplements using a naturally fermented process to achieve bioidential ketones.
This means, this therapeutic ketone supplement is the closest to the same ketones made by the human body naturally.
Pruvit breaks this down well in this short you tube video:
C-MED 100 – Is Pruvit's name for the inner Bark of Uncaria Tomentosa, a plant more commonly known as cat's claw. This herb has been trialed in osteoarthritis patients with good effect in pain reduction during activity.
This study may support the Pruvit's claims of healthy cell function, maximizing cell debris removal and rapid repair and recovery of your body through extending DNA telomere length.
If you're bodybuilding and doing keto, this might be important. For the average consumer (myself included) I don't see the benefit of this.
Please note cat's claw is contraindicated in pregnancy. If you are pregnant, or planning to become pregnant, do not use this supplement. Cat's Claw is also contraindicated in autoimmune disorders and Leukemia.
Pruvit promote using these supplements twice a day. Available in both a caffeinated blend and non-caffeinated blend which is best suited to take late afternoons or evenings to ensure regular sleep patterns.
Pruvit OS was once popular among the keto community. The downside is it comes with a hefty price tag, averaging between $6 to $8 per serving.
Pruvit Keto OS MAX NAT
Used to be popular, natural ingredients, incredibly overpriced.
Pros
Latest Innovation with Natural Fermentation The only keto supplement that appears to be bioidentical to the human production of ketones
Tastes GreatAvailable in a variety of flavors, the taste is excellent
Keto Drinks on the goThe sachets are handy to tuck into your bag for an on the go keto drink.
Cons
Price

Averaging between $6-8 per serve, Pruvit Keto OS Max Nat is one of the most expensive keto supplements on the market.

High in Carbs

At 5 grams of carbs per serving, this is a little on the high side for a keto drink. If you're aiming to stay under 20 grams of net carbs per day, there is not a lot of room for food with this supplement.

If you're aiming for under 50 grams of net carbs per day, this would be ok.
Conclusion:
The keto powder sachets are convenient to tuck into your bag and take with you if you need a quick boost. I don't understand the hefty price tag though, at double the price of Perfect Keto, if not more.
I've included it on the list of best keto powders as they are good supplements, with no fillers or artificial preservatives. At 45 calories a serve and 5 grams of carbohydrates, this fits with a keto diet well. If you're extreme carb cutting (under 20 grams of net carbs per day) this keto drink is not your best choice. Other than that, what let's Pruvit down is the price.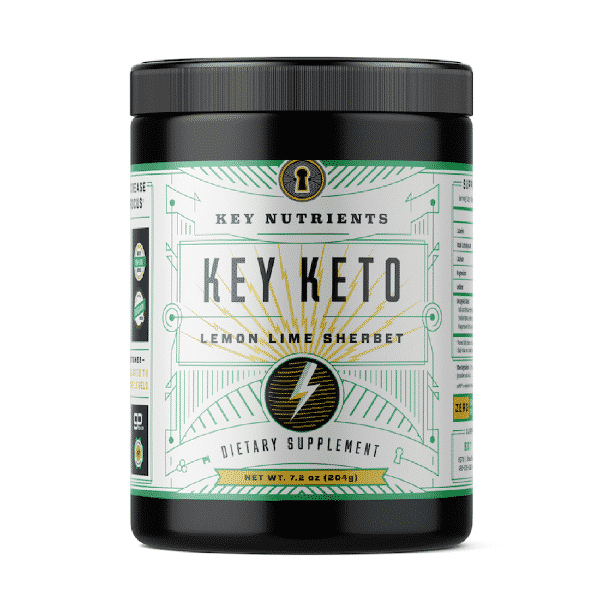 Key Nutrients Key Keto
I really had a hard time choosing between Lemon Lime Sherbert or Strawberry Lemonade when reviewing this keto powder drink, both flavors are amazing!
At approximately $2 a serving, this is a really affordable keto supplement which gives you an instant boost and puts you into ketosis.
It contains no artificial ingredients, is vegan friendly and the ratio of calcium, magnesium and sodium is really balanced.
​​​​​​​​Key Keto is sweetened with stevia, which most keto powders are. I loved that it has 11.1 grams of beta-hydroxybutyrate per serving and as it does not contain any caffeine, is suitable to drink in the afternoon as well as the morning.
Key Keto is made in the USA and lab tested. The lemon lime sherbet flavor is surprisingly refreshing, albeit a little on the sweet side and I could taste the stevia. You can overcome this with the addition of more water or ice, and make sure you drink it cold. Having said that, it mixes really smoothly and is not at all gritty or powdery when made up.
Key Keto can be purchased in bulk tubs of 15 servings for the lemon lime sherbet flavor, or 20 servings for the Strawberry Lemonade – which equal around $2 to $2.20 per serve.
If you'd like to sample the product before buying a whole tub, click here to grab a sachet from Key Nutrients. It's not the most cost effective way to purchase, but a great way to try before outlaying for a whole tub.​​​​​​​​
Key Nutrients Key Keto Powders
Lemon Lime Sherbet or Raspberry Lemonade – Great Price, Great Taste
Pros
High Quality IngredientsNo nasties and an excellent balance of BHB salts
Cost EffectiveAveraging at $2 to $2.20 per serve, this is a very cost effective keto powder.
Smooth Mixing & Tastes GreatMixes smoothly, for no grittiness or chalky drinks​
Cons
Temporary Gastrointestinal Upset

Until your body gets used to this product (1-2 days) it may cause GI upset. Stay close to a bathroom, or start with smaller quantities and increase over time.
Conclusion:
This is one of my favorite keto powders. What makes it even better (and I'm yet to mention) is Key Keto has less than 1 gram of carbs and less than 5 calories. Vegan friendly, non GMO, caffeine free, lab tested at an FDA, NSF and GMP certified facility. As with all keto supplements, it can cause diarrhea when you first take it. Start with half a scoop instead of a whole scoop if you are concerned.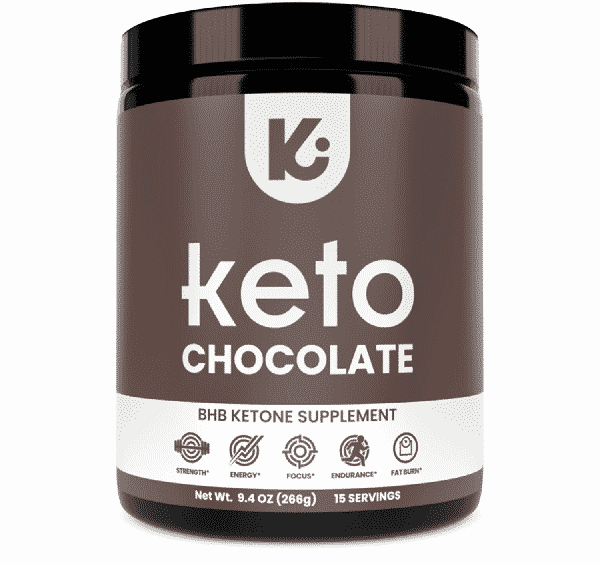 Keppi Keto Chocolate
If you're a chocolate lover, like myself, trying to find a palatable chocolate keto drink isn't an easy task.
Whilst I want them to taste like a creamy glass and a half dairy milk style chocolate drink, the reality is much different.
I was pleasantly suprised when I tried Keppi Keto Chocolate BHB supplement. It doesn't come close to sugar laiden regular chocolate, but if you are a fan of dark chocolate and sea salt, you'll probably like this.
Keppi differs from the other exogenous ketone supplements mentioned above as it has the addition of MCT oil in the mix.
Keppi is sweetened with stevia and monk fruit, making it a little higher in calories than other choices – sitting at 50 calories per serve. Total fat is 2.5 grams and total carbs are only 1 gram, making it a great choice as a supplement when following a strict carb restricted diet.
Giving you an instant ketone boost, Keppi helps to increase energy levels and increase blood ketones, with the 12 grams of BHB salts per serving.
With no fillers, binders or anything artificial, you can mix the Keppi Chocolate supplement in with your coffee, almond milk, hot water and heavy whipping cream for a hot chocolate or make it up with cold water.
Keppi Chocolate Keto Powder
Natural, Low Carb, Sea Salt and Chocolately Goodness – with such versatility and added MCT Oils.
Pros
Great TasteFor chocolate lovers, especially fans of dark chocolate, the flavor is fantastic. If you don't like dark chocolate and sea salt, this may not be for you.
Quality IngredientsMade in the USA, with a good balance of salts, added MCT oil and 12 grams of BHB's per serve. GMO Free and no nasties.
Value for MoneyAt approximately $2 per serve, this is one of the most cost effective keto powders offering this level of BHB's.
Cons
More Info on MCT's Needed

It is great to see a supplement that combines BHB salts and MCT oils, but which MCT's? Serious keto dieters may want to know the breakdown.

Temporary Gastrointestinal Upset

Until your body gets used to this product (1-2 days) it may cause GI upset. Stay close to a bathroom, or start with smaller quantities and increase over time.
Conclusion:
Keppi is comparable to key nutrients key keto powders in serving size, price and quality ingredients. Keppi also offer a lemon lime flavor which I haven't yet tried as I was super keen to try the chocolate. When I do try the lemon lime, I'll update this site with a comparison between the two.
I really liked the versatility of Keppi, just like the Perfect Keto products. With the keto chocolate drink you can make so many different varieties – hot chocolate, chocolate milkshake, mocha etc. The flavor is strong, so start small and build up and this should help with any GI upset that is common with keto supplements.