If you are looking for the best MCT oil for keto, you have come to the right place. I consume MCT oil daily in my coffee and have tested many different MCT oils and powders.
Buying a quality MCT oil is important. Some MCT oils have a slight aftertaste, some are mixtures of various medium chain triglycerides and others are pure chains. Whether you choose a MCT oil capsule, powder or liquid is personal preference.
Take a look at my MCT oil comparison below, as I discuss different MCT oil brands and what I have found to be the most effective MCT oil when following the keto diet.
Best MCT Oil for Keto – A Quick Summary:
Bulletproof Brain Octane Oil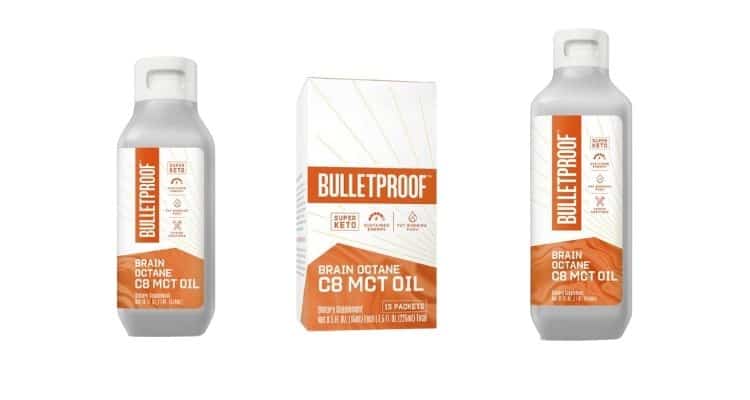 Bulletproof Brain Octane Oil is pure C8 Oil (Caprylic Acid) and one of the best MCT oils on the market for 2021 and beyond.
The pure C8 oil is readily absorbed into the liver for quick conversion into ketones to keep you burning fat, feeling full and staying focused for hours.
I really enjoy Bulletproof Brain Octane Oil as it is tasteless, odorless and incredibly versatile. Use it to:
Make Bulletproof Coffee
Combine it with balsamic vinegar for a yummy keto friendly salad dressing
Add it to a keto shake or smoothie
Brain Octane Oil should not be confused with Bulletproof XCT Oil, which for 2021 has been rebranded to Bulletproof MCT Oil.
Bulletproof MCT Oil is a combination of C8 and C10 MCT oils. This isn't a bad thing, however, if you want the absolute best for energy and brain power, Brain Octane Oil is the winning choice.
Pros
Well-suited as a coffee creamer alternative
Sustainably sourced
Triple-distilled and lab-tested
No fillers
Stimulates the brain and metabolism
Well suited for ketogenic diets
Cons
Pricey. You are paying for a quality product and the Bulletproof Brand. If you take up a subscription, you can save money on costs.
The lack of lauric acid (C12) may cause gastrointestinal upset in some users if you take too high a dose. Start with a small dose once a day and work your way up.
Bulletproof Brain Octane Oil is available in a 16oz bottle, 32oz bottle (most economical way to purchase) and a box of 15 individual servings, which would be great for traveling with or keeping at work.
Kiss My Keto 100% C8 MCT Oil
Kiss My Keto is a great alternate to Bulletproof for 100% C8 MCT oil at a cheaper cost. It is also tasteless and comes with a handy pump top, which is much less messy than pouring out of a bottle. Note – 3 pumps equals one tablespoon!
The glass bottle keeps the MCT oil fresh and free from any flavor distortion, which can happen with some plastics.
You can also add Kiss My Keto MCT Oil to keto shakes, smoothies, salad dressings, keto soups (just add after cooking) and of course, make a bulletproof coffee or tea!
At around $9 a bottle cheaper than Bulletproof Brain Octane Oil (depending on special offers etc), Kiss My Keto MCT Oil C8 Brain Fuel has been much loved around the keto community for the past few years.
Pros
Pure C8 MCT Oil
Glass bottle with handy pump
Better price than Bulletproof
Stimulates the brain and metabolism
Well suited for ketogenic diets
Subscription options available which save you more on repeat orders
Cons
The lack of lauric acid (C12) may cause gastrointestinal upset in some users if you take too high a dose. Start with a small dose once a day and work your way up.
Best MCT Oil Powder
MCT Oil powder is a great alternative if you struggle with the gastrointestinal side effects of pure MCT oil. There are two MCT Oil powders which I really enjoy – Perfect Keto MCT Oil Powder and Kiss My Keto; Keto Creamer.
Kiss My Keto – Keto Creamer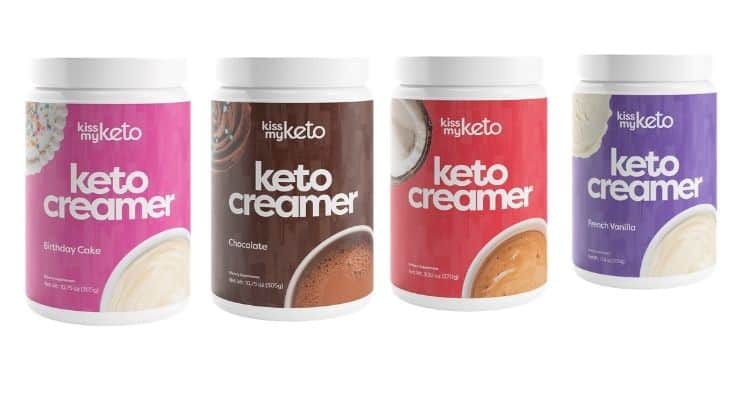 MCT Powder is a combination of all the medium chain triglycerides and available in either an unflavored powder form, or flavored powder form.
The Kiss My Keto MCT Powder is called Keto Creamer. You can add it to hot or cold drinks. It is most commonly used in keto coffee or keto shakes and smoothies.
I'm a lover of the chocolate flavor, but if you've got a particular sweet tooth, you may prefer the birthday cake (think sweet icing and sprinkles) flavor, or french vanilla (reminiscent of sweet vanilla icecream) flavor.
Of course, if you prefer no flavor, you can still reap the benefits of MCT Oil Powder by using the unflavored variety. It is cheaper than the flavors, but also is slightly smaller, as no extra ingredients are added to flavor the powder.
What I like is these MCT Powders add creaminess to your coffee, shake or smoothie.
Here are the differences between the flavors, grams of MCT Powder and carbs per serve:
Unflavored = 9 grams MCT Powder, 0 net carbs per serve
Birthday Cake = 9 grams MCT Powder, 0 net carbs per serve
Chocolate = 10 grams MCT Powder, 0 net carbs per serve
Vanilla = 10 grams MCT Powder, 1 gram net carbs per serve
There is approximately 30 servings per container, at a cost per serving of between $1.26 to $1.60. At the time of writing (January 2021) there are some excellent specials at Kiss My Keto, bringing the cost down to only $0.86 cents per serve.
You can also subscribe to regular shipments and save 12.5% on repeat orders, which is a great discount.
Perfect Keto MCT Oil Powder
Perfect Keto are makers of excellent keto supplements and have a huge variety of MCT Oil Powders. I have featured them here for the variety of flavors, although on a personal note, I find the flavors quite sweet and not as creamy as Kiss My Keto.
My recommendation would be to start with vanilla or chocolate flavors, before you branch out and experiment with the others! I'm a big caramel lover, but found the salted caramel far too sweet to drink.
The flavors are also much higher in carbs than Kiss My Keto, and when you are restricted to 20 grams of net carbs per day, every carb counts!
Here are a list of flavors:
Unflavored MCT Powder 10 grams, 1g carbs per serve
Vanilla MCT Powder 10 grams, 3g carbs per serve
Chocolate MCT Powder 10 grams, 4g carbs per serve
Peanut Butter MCT Powder 10 grams, 4g carbs per serve
Cinnamon Toast MCT Powder 10 grams, 4g carbs per serve
Salted Caramel MCT Powder 10 grams, 3g carbs per serve
Matcha Latte MCT Powder 10 grams, 3g carbs per serve
There are approximately 20 servings per container of Perfect Keto MCT Oil Powder. This is approximately $1.85 per serving. You can also save 15% if you subscribe for repeat deliveries. Perfect Keto also offer delivery options every 30 days, 45 days and 60 days.
Best MCT Oil Supplement
Perfect Keto MCT Oil Softgels is the best choice for MCT supplements, because of the generous 70% C8 MCT oil. The remaining 30% is C10 MCT Oil.
MCT oil capsules or supplements are excellent for those who don't like to add MCT oil to their tea or coffee, or use MCT Oil powder.
If you're commuting or traveling, MCT Oil supplements are convenient to take with you for all the benefits of MCT Oil without the mess.
Kiss My Keto MCT Oil Capsules comes in as a close runner up to Perfect Keto, simply because they have a ratio of 60% C8 MCT Oil and 40% C10 MCT Oil.
Best Emulsified MCT Oil – Onnit
Onnit is a worthwhile mention when it comes to their range of keto friendly products.
I haven't featured Onnit on this list of best MCT oils previously, as the Onnit MCT Oil is a combination of C8, C10 and C12 medium chain triglycerides.
But Onnit are makers of quality supplements that are very popular with athletes and ketogenic dieters alike.
Of particular mention are these vegan friendly, non dairy, gluten free, palm oil free, caffeine free, soy free and sugar free keto creamers in the form of emulsified MCT Oil.
There are 6 amazing flavors of Onnit Emulsified MCT Oil, which all have 1 gram of total carbs per serve:
Creamy Vanilla
Creamy Strawberry
Mocha
Creamy Coconut
Cinnamon Swirl
Almond Milk Latte
Almond Milk Latte is delicious in coffee!
Onnit also offer a generous 15% discount if you subscribe to regular delivery, which you can choose between 2 weeks, 1 month, 2 months or 3 months.
MCT Oils for Ketosis | A Buyer's Guide for 2021
If you're new to the ketogenic diet, you may be wondering what MCT oil is and what benefits it offers for the keto diet. Here is some general information, with some links to other articles on our website with more information.
What are Medium-Chain Fatty Acids?
Medium-chain fatty acids, or medium-chain triglycerides (MCTs), are extremely nutritious saturated fats.
They move from the gastrointestinal (GI) tract to the body's portal system without being modified like other fats.
After which, they are oxidized by the liver. This alternative process enables the body to rapidly turn the MCTs into energy.
Medium-chain triglycerides have many health benefits including increasing hormones that decrease your appetite and increase the feeling of fullness. They are directly absorbed from the gut to the liver, and don't need to pass through the body's lymphatic system like long chain triglycerides do.
Medium chain triglycerides (MCT) also remain fluid at room temperature. Although MCT oils are derived from coconut oil, they are generally made up mostly of C8 and C10. In essence, C8 has eight atoms and C10 has 10 atoms. The shorter the chain of atoms and molecules are, the easier the oil permeates through the body.
The BMJ sums this up well:
"A bolus dose of MCTs likewise can give rise to ketone production in hepatocytes—even in the context of ample glycogen availability—because medium-chain fatty acids can stream into hepatic mitochondria efficiently, where they are rapidly converted either to ketone bodies or to CO2″
What Does the Body Do with MCTs?
MCT oils contain four medium-chain fatty acids. These typically include C6, caprylic acid known for short as C8, capric acid, known for short as C10, and lauric acid, which is known as C12.
On a side note, many manufacturers will list the percentage of each of these medium chain fatty acids on their products. Each of these medium chain fatty acids (MCFA) has a unique nutritious quality that is beneficial to the body.
Some of the key benefits of the medium chain fatty acids in MCT oil is their ability to decrease malabsorption. What this means, is they are metabolised quickly once ingested by the body, with a short half life.
Also, as a medium chain triglyceride is smaller than a longer chain triglyceride, they physically cannot store as many fatty acids in them. This results in increased weight loss, increased mental clarity, increased metabolism, and more.
This is because the body uses oxidized MCTs, or ketones, for energy. Since individuals on the keto diet only metabolize ketones for energy, MCTs are an imperative dietary supplement for them.
The benefits of burning ketones over carbs are enormous for individuals both on and off the ketogenic diet.
In fact, many consumers of MCT oil have reported having reduced brain fog, increased fat loss, and more sustained fullness.
On top of that, people may experience reduced inflammation, improved hair and skin conditions, and/or more-balanced insulin levels.
What Makes a Good MCT Oil?
MCT oil is typically extracted from distilled coconut oil. While regular coconut oil contains a modest amount of medium chain triglycerides, MCT oil is typically a highly concentrated formula.
Please note: Lower-grade MCT oils are sometimes sourced from palm oil. While palm oil is also rich in MCFAs, the harvesting of palm oil is known to cause major environmental destruction.
The best MCT oils are harvested from sustainably grown organic coconuts that have been distilled in a purifying way. In fact, most popular MCT oil brands only use water, steam, and heat to garner their energy laden formulas.
As such, many brands tend to have large amounts of C8 along with a more modest volume of C10. On top of that, some high-end oils contain a novel amount of lauric acid, which offers less side effects for the body than the other medium chain triglycerides.
Lauric acid (C12) is the longest of the medium chain triglycerides and therefore takes longer to achieve ketosis.
Good MCT oils do not contain additives, preservatives, fillers, or other non-beneficial ingredients.
However, many premium products are fortified with sugar-free flavors. Contrary to this, some oil formulas have no flavor at all.
The addition of flavor is merely a customer preference. There are quality versions of both flavored and flavorless MCT oils on the market.
Most oils come in traditional liquid form and can be mixed in or drizzled on to a variety of food and drinks.
However, some manufacturers also boast fine-ground powders and capsules that enable an alternative mode of consumption.
How is MCT Used?
Many people choose to consume a tablespoon or two of MCT oil each day. More often, people typically mix the MCT with their coffee, a smoothie, or other food. In fact, the potential food and drink combos for MCT are virtually limitless.
Individuals following the ketogenic diet will often use MCT oil to compliment a low carb diet, with or without intermittent fasting. It is important to note however, that MCT Oil will break a fast.
MCT oil is generally part of a daily regime. This sort of regular consumption of MCT oils can result in amazing health improvements.
Ways to Use Your MCT Oil
Add it to Your Morning Cup of Coffee
Bulletproof coffee is a popular consumer product that contains grass-fed butter, MCT oil, and coffee. It is often the morning drink of choice when following the ketogenic diet, in place of breakfast.
Add it to a Keto Smoothie
MCT is a great pre-workout or post-workout substance. Add it to an ice-cold protein-rich smoothie to get your blood flowing for before your next gym session.
Add it to Salad Dressing
MCT oil can be used as a substitute for traditional cooking oils, but not for high heat cooking. Pop some into your favorite salad dressing for a high-fat meal that will give you tons of sustained energy.
Drink it Straight
A tablespoon or two of pure MCT oil is often the perfect way to start your morning. Just be sure to find one that has a decent drip-free bottle for easy pouring. Otherwise, you may be forced to purchase an oil dispenser or risk losing precious quantities of this essential oil with each pour.
Potential Side Effects of MCT Oil
If you choose to take MCT oil by the spoonful, on its own, or too high a dose of MCT oil than your body can handle at once, it may cause gastrointestinal upset and diarrhea.
Gastrointestinal upset and diarrhea is less noticeable with medium chain triglycerides that contain higher amounts of lauric acid (C12). This is because higher amounts of lauric acid makes the MCT oil the closest structure to coconut oil.
If you are just starting out with taking MCT oil, consider starting with small doses, mixed in with food and make sure you purchase an MCT oil that is higher in C12. As your body adjusts, you can then switch to the oils containing more C8 and C10 medium chain triglycerides and larger doses of MCT oil less frequently.
Benefits of the Ketogenic Diet
While its evident that MCT oil offers loads of health benefits, it's important to consider its specific role in the ketogenic diet. MCT oil is important to those looking to achieve ketosis because it is one of the most efficient sources of ketones or caprylic acid.
That is because ketones make it easier for the body to reap the benefits of burning fats, rather than carbohydrates, for energy. The ketogenic diet enables people to rapidly lose fat and weight. It can also help stave off hunger.
While the benefits of the ketogenic diet are numerous, it can be hard for the body to stay in the ketogenic state if you eat the wrong foods.
MCT can help curb your desire for carbs in order to prolong the benefits of the keto diet.