Looking for an in-depth Keto Fuel review? There are tons of exogenous ketones on the market that promise to help you lose weight fast. However, most of them only waste your time, money, and effort, because they don't deliver the results they promise.
Keto Fuel is designed for dieters who are just beginning a Ketogenic diet and sometimes find that using supplements to achieve ketosis is easier than doing it through nutrition alone.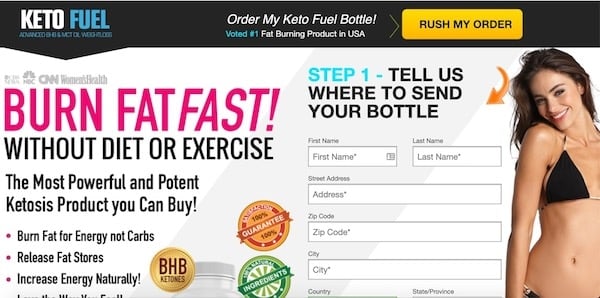 While ketosis can be achieved with dietary changes alone, keto supplements, like Keto Fuel have flooded the market making it difficult to tell which products are legitimate or not.
Thats why at Shortcut to Ketosis we look at each product in-depth, and today we will take a no holds barred look at Keto Fuel, so you can decide if it will help in your quest for weight loss.
What is Keto Fuel?
Keto Fuel is a food supplement geared to help you reach your weight loss goals and improve your physical performance.
A product of Body Fuels FX, Keto Fuel also aims to help you maintain a healthy weight while minimizing side effects of doing so via the keto diet.
How does Keto Fuel work?
This supplement works based on the process of ketosis. Ketosis is a natural back-up system the body uses in times of low-carb intake to generate energy by utilizing fats instead of carbs. Keto Fuel includes ingredients that both facilitate ketosis (coupled with a low-carb diet) and help prevent the side effects a low-carb diet can cause.
If you can get into ketosis, and stay there, you will be able to lose weight, experience an improvement in body energy, and see an increase in your body's overall performance.
How Much Does Keto Fuel Cost?
You can purchase Keto Fuel on the manufacturer's website. A bottle costs $50. You can choose your favorite flavor from the several available including cinnamon, coffee, vanilla, chocolate, pumpkin spice, and plain. Each container has 20 servings or about a month's supply of Keto Fuel.
Why I use Keto Supplements
When I first started on the Ketogenic Diet, the keto supplement market had maybe one or two products. Being a keto cookbook author, I thought it was all B.S anyway. Why not just eat a clean keto diet?
Yikes I wish I was a little more open minded! They made getting into and staying in ketosis so much easier.
That's why I am so fascinated by how the keto supplement market has evolved and how exogenous ketones like Keto fuel perform because I want to make sure I am taking the best supplements possible.
What's Inside Keto Fuel?
Keto Fuel is composed of a variety of ingredients that are geared to ensure you get a balanced diet and burn excess fat. These ingredients will help improve the body's energy by correcting any electrolyte imbalances.
Let's take a look at some of the main Keto Fuel ingredients:
Beta-Hydroxybutyrate (BHB)
BHB is the primary component of Keto Fuel. It is one of the three forms of ketones that your body generates when it utilizes fats to produce energy instead of carbs. While the body contains numerous types of ketones, 78 percent of those ketones are BHB.
BHB is in the form of salts that trigger metabolic activity in your body. When you add extra BHB to your system, it will accelerate fat burning. You will get a significant improvement in your energy levels as a result.
Studies have shown that BHB has a wide range of benefits to the body, including the following:
Boosts cognitive function
Helps combat cancer
Enhances heart function
Neutralizes inflammation
Improves insulin sensitivity
Accelerates fat loss
Prevents bone deterioration
Combats oxidative stress
Improves workout performance
Improves your quality of life, increasing lifespan
Calcium, Sodium and Magnesium
When you are just starting to get into ketosis, you may develop an electrolyte imbalance. This imbalance can result in fatigue and brain fog. Calcium, sodium, and magnesium play a significant role in ensuring you have extra energy.
They also ensure your body is adequately hydrated. Moreover, sodium helps to ensure you have an easy time transitioning to a keto diet. It helps to prevent issues such as headaches and nausea, which affect many people in their initial days of using Keto Fuel.
Calcium, on the other hand, also promotes weight loss. It is an integral component of the ketosis process. That's why it's advisable to consume considerable amounts of calcium regularly while on the keto diet. Keto Fuel makes getting enough calcium easy.
Silica
Silica is responsible for the texture and consistency that Keto Fuel needs to function optimally. It's worth noting that it is not one of the essential active ingredients. Nonetheless, it has a role to play.
Caffeine Anhydrous
The primary purpose of this ingredient is to provide energy, as it is, well, caffeine.
Medium Chain Triglyceride
Medium chain triglycerides (MCT) provide the body with the healthy fats it needs to function effectively when on the keto diet. MCT is also broken down easier by the body to provide quick energy.
Stevia
Stevia is a natural sweetener. It gives Keto Fuel a pleasant taste when eating it. Stevia doesn't have any adverse side effects.
What Are the Benefits of Keto Fuel?
Keto Fuel provides the body with exogenous ketones. These are ketones not produced in the body which helps your body reach ketosis and lose fat. Additionally, it supplies fat to help you meet your daily macronutrient requirement. It also provides some of the vitamins and minerals your body needs for optimum function.
Before you buy any supplement make sure to consult with a doctor or health practitioner. That said, let's explore some of the potential benefits of Keto Fuel
Weight Loss
Weight loss is the primary benefit that you will get from using Keto Fuel. As earlier stated, the supplement takes excess fat in your body and burns it to create energy.
Conversion to Energy
During ketosis, fat becomes the body's main source of energy. Keto Fuel can help jump start ketosis leading to the conversion of body fat into tons of energy for the body. Instead of using energy products to boost your energy levels, Keto Fuel does it by utilizing fats that are already present. Keto Fuel won't bring foreign energy sources to your body. It will simply convert fat to energy.
Reduction of Fat in Affected Areas
The fat burning effect provided by Keto Fuel occurs throughout the body. As a result of ketosis, Keto Fuel can help with weight loss when used in conjunction with diet and exercise.
Improved Cognitive Functions
Keto Fuel can supply energy to all the body's working systems. This even results in the improvement of your cognitive capacity.
Quicker Recovery from Workouts
Immediately after working out to burn fat and lose weight, you will typically experience fatigue. Keto Fuel will convert the burned fat into energy. Consequently, you will feel revitalized immediately after your workout session.
Keto Fuel saves you the need to rest for prolonged periods after your exercise. You will get rejuvenated quite fast and can go on with your other activities.
Maintenance of Lean Muscle
With its fat burning capabilities, Keto Fuel plays a great role in the creation and maintenance of lean muscle mass. With Keto Fuel, you get the opportunity to achieve the kind of slimness you desire.
Combat Keto Flu
Getting into ketosis may cause health issues such as headaches, diarrhea, and bloating. Fortunately, Keto Fuel is fortified with minerals that promote digestion and help avert issues such as bloating and diarrhea. These minerals also help to keep your body hydrated, and hence help minimize headaches.
Mood Improvement
Thanks to the fact that you are getting a steady supply of energy throughout the day without experiencing a rise in blood sugar levels, you will be free from mood swings. A foul mood usually is an indication of excessive consumption of carbs. Keto diets, on the other hand, are known to be effective in improving moods.
Catalyze the Ketosis Process
BHB promotes a rapid breakdown of fat cells to help the body to reach ketosis faster.
Is Keto Fuel Right For You?
Generally, keto fuel is an effective weight loss supplement that delivers a wide range of benefits. Nonetheless, not everyone will get the same results. If you are into eating a healthy, balanced diet, and gets sufficient energy from food, you may not need Keto Fuel.
However, if you want high amounts of clean energy in a short time, Keto Fuel can work well for you. It might also come in handy if you are a beginner in the weight loss journey. That said, let's take a more in-depth look at those who may want to purchase Keto Fuel:
Beginners Experiencing Keto Flu
When the body is trying to get accustomed to burning fats instead of carbs for energy, it may go into a panic mode. This results in symptoms such as fatigue, irritability, brain fog, and headaches. The most effective way to combat these symptoms is using a supplement, such as Keto Fuel.
Individuals Looking to Be More Focused Mentally
Sometimes brain fog can stand in your way to achieving your potential. When that happens, you can use Keto Fuel to rejuvenate your brain. With increased ketone levels, you can stay focused for hours.
Athletes
If you are an endurance runner, you can reap immense benefits from the energy burst delivered by the Keto Fuel. The best thing is that the energy from ketones requires minimal oxygen allowing your body to work harder for an exceptionally long period.
Individuals Looking to Achieve Their Health Goals Fast
Whether you want to lose weight or reach other health goals, using supplements is normally the faster route. If you get your Keto Fuel dosage right, you will be able to get results much faster than you would with other weight loss solutions.
Before you invest in Keto Fuel, you should realize that different people frequently achieve different results. You shouldn't expect to get the same results as a friend or colleague who introduced you to the supplement. The results depend mainly on your genetic and chemical composition.
Does Keto Fuel Have Side Effects?
There are no reports of side effects associated with Keto Fuel in general. However, the individual ingredients of the supplement may cause some detrimental side effects, including the following:
Fatigue
Nausea
Headache
Dizziness
Are There Alternatives to Keto Fuel?
There are several Keto Fuel alternatives you can consider using. These include:
Real Ketones
Perfect Keto BHB Base
Pruvit Keto OS
Keto Trim BHB Capsules
It is worth noting that Keto Fuel alternatives are largely similar. So, your choice will mostly depend on the preferred brand, target ingredients, preferred flavor, and price.
Pros and Cons of Keto Fuel
The Pros:
Boosts energy levels
Helps neutralize the symptoms of keto flu
Can help fat more quickly
Helps with ketosis process
Promotes weight loss
Boosts mood
The Cons:
May result in mild nausea
Unpleasant taste
Bottom Line
Keto Fuel is one of the most effective weight loss supplements you can get on the market today. Almost everyone who follows a ketogenic diet and works out regularly can benefit from it. This supplement is composed of all-natural ingredients. So, you don't have to worry about any adverse side effects.
Many people may consider the supplement to be quite expensive. However, it is worth every dime you spend on it, considering how effective it is. Many people have attested to its effectiveness. If you are looking for an effective and efficient way to lose weight, you can't go wrong with Keto Fuel. It is currently one of the top-rated keto supplements for weight loss on the market.
Keto Fuel supplement earned the following ratings based off my in-depth research:
Quality of Ingredients: 7
Effectiveness in Weight Loss: 7
Taste: 7
Cost vs. Value: 6
Total Value Rating: 7 out of 10