Whether your on the keto diet or not, having good quality cookware is a must have for any family. No one can afford buying new pots and pans every couple of years.
I should know, because as I was experimenting in the kitchen, that is exactly what happened to me.
Stainless-steel cookware offers many benefits, from durability to easy cleaning. Its popularity has an unfortunate downside, though—the market is flooded with options, and not all of them are quality products.
When I choose to invest in a new set, it took me a good deal of research to find one worth my hard-earned cash.
To save you the same struggle I had, I've whipped up this guide to the five best stainless-steel cookware sets on the market in 2019.
This 10-piece cookware set comes with a 3-qt sauté pan with lid, 1.5- and 3-qt saucepans with lids, 8-qt stockpot with lid, and 8- and 10-inch frying pans.
Pros
Five-ply bonded construction –This set is constructed with alternating layers of steel and conductive aluminum, making it possible to have even heat distribution when cooking. This construction also allows for faster heat transfer.
Non-stick –A highly polished stainless-steel finish ensures food doesn't stick, thus making cleaning easy.
Sturdy handles –The handles are also made of stainless steel rather than plastic to ensure long-term durability.
Cons
Special cleaner –Stainless steel requires a special cleaner to remove stains that often form from high-heat use.
Handles transfer heat – The handles on this set, being stainless steel, do transfer heat, and there's no coating to protect your hands. This is true of all the sets in this review, so I won't continue to list it as a con every time, but it's worth keeping in mind. You'll need to use oven mitts or get pan handle covers.
This 12-piece stainless steel cookware set contains the following items: 1.5-, 2-, and 3-qt saucepots, a 10-inch sauté frying pan, a 1.5-qt saucepan, and a 5.5-qt stockpot. All the above come with a tempered glass lid.
Pros
Tempered glass lids –The tempered glass lids allow you to easily monitor the progress of your meal without having to move the cover and open the pot.
Dishwasher safe– Cleaning is made easy with a dishwasher safe guarantee. This feature helps to save you a lot of time.
Durable material –The set is made of 18/10 stainless steel reinforced with an aluminum disc for even heat distribution.
Cons
Poorly Attached handles –Some users have complained that the riveting that holds the handles on is low quality, and as a result, the handles break off after a short period.
This 10-piece cookware set by Magma contains a 5-qt stockpot, .5-, 2-, and 3-qt saucepans (including interchangeable lids), a 9.5-inch frying pan, and a 9.5-inch sauté pan, which also have interchangeable covers.
Pros
Interchangeable lids– Some items in the set have interchangeable lids. This feature minimizes fuss when your cooking—no digging for that one top that fits.
Bungee cord– As a bonus, a bungee cord is included in this set to help to make storage much more convenient and secure.
Marine-grade stainless steel– The set is made purely from marine grade stainless steel that is 18/10 mirror-polished for durability.
Cons
Not non-stick –With this cookware, prepare for some rigorous scrubbing. It's not non-stick.
With this ten-piece, you get a 3-qt sauté pan with a lid, 6.5-qt stockpot with a lid, 8- and 10.5-inch French skillets, and 1.25- and 2.5-qt saucepans with lids. The lids are elegantly crafted stainless steel rather than glass.
Pros
Effective heat distribution– This set has two layers of aluminum that sandwich a layer of copper, thus ensuring effective heat distribution.
Stainless steel polish –A durable polished finish helps hide scratches from metallic utensils while making cooking easier in the process.
Dishwasher safe –While handwashing is generally recommended for pots and pans, you can throw these in the dishwasher.
Cons
Small pan is tippy –The smallest pan in this set is a bit tippy if the contents aren't heavy enough to counterbalance the handle.
This 12-piece set from Cuisinart, a well-known name, contains 8- and 10-inch open skillets, 1.5- and 3-qt saucepans with lids, a 3.5-qt sauté pan with lid, and an 8-qt stockpot with lid. You also get an extra steamer lid.
Pros
Tight-fitting lids –Compared to many other cookware sets, this set comes with tight-fitting lids to help to preserve moisture and nutrients during cooking.
Oven safe– The cookware set can comfortably be used in the oven with temperatures up to 550F.
Triple-ply construction– Triple-ply aluminum construction allows for faster for more efficient conduction and retention of heat as well. This feature makes cooking much faster.
Cons
Non-durable skillets– Over time, the skillets in this set warp. They are inexpensive but don't have great longevity.
Stainless-Steel Cookware Sets Buying Guide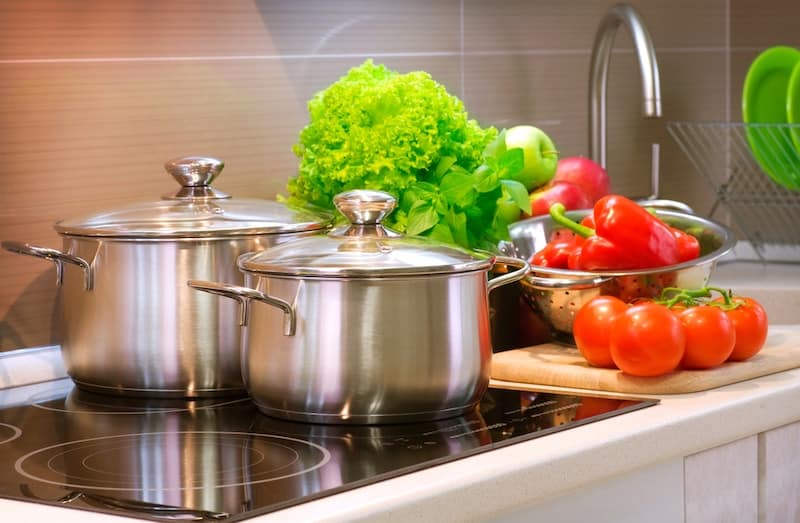 Now that you've seen the top five stainless-steel cookware sets, let's have a look at a few things you should consider when shopping.
What Makes a Good Stainless-Steel Cookware Set?
Material Used
Stainless cookware sets are popular because of their durability. However, most manufacturers nowadays do not make products purely from stainless steel. They use other materials to improve durability, usability, heat conduction, and even appearance. Pay close attention to the steel thickness and added materials. For instance, plastic handles tend to hurt durability.
Number of items
Think about the meals that you cook and the items you use to make them. You can save a lot simply by opting for a set that includes everything you need—and nothing that you don't. Likewise, consider the size of the items included. Do you need to feed a small army, or are you a table of one? Size matters.
Budget
You'd think that being the same material stainless-steel cookware would have a pretty narrow price range, but that's far from the truth. Prices vary based on the manufacturer, steel thickness, additional materials, set size, accessories included, and more. The reason you want to take all the points I mentioned above this one into account come primarily down to budget—know yours.
Cleanup
Check whether the set you're interested in is non-stick. This information will determine the most convenient method of cleaning. Non-stick sets are easy to clean. They can be cleaned by a dishwasher effectively.
Sets without any sort of non-stick often take a bit of scrubbing or soaking. You can also boil off dried-on bits. My biggest tip with cleanup is to rinse your cookware immediately after use while the metal is still warm (not so hot as to burn you, of course).
As a side note, you can actually make any pan non-stick by seasoning it with oil before use. Simply heat the pan until you can feel heat coming off it with your hand, then cover the surface with the oil of your choice. It's essentially the greased cake-pan of the pot and skillet world.
Weight
A good quality stainless-steel set is made with at least 18/8 or 18/10 steel. This info should be included in the product description, but if you ever opt to buy used, it's usually stamped on the bottom.
What is Stainless Steel Cookware?
Overview
If looking for the best stainless steel cookware for your kitchen or want to gift someone, you can read our Guide to find out the best features and qualities to look for in the same.
In addition to providing you with detailed information on what to look for in stainless steel cookware, we will mention a few brands that provide quality cookware and at an affordable price. One thing you need to know about stainless steel is that it offers the durability and efficiency required when preparing your meals.
Most homeowners and professional chefs prefer stainless steel for their kitchens. You too should try investing in some. It would however be advisable to research more about the type/brand of cookware you wish to invest in before making an order.
What Is Stainless Steel?
Stainless steel is a metal engineered using a mixture of at least 10.5% steel, chromium, and several other metals. The result is corrosion and stain-resistant steel with a lustrous and easy to polish metal, also known as stainless steel. Among other properties, stainless steel can tolerate very high temperatures and doesn't rust.
For this reason, stainless steel cookware doesn't and won't rust in your kitchen cupboards even when left unused for many years. This cookware handles remarkably well in ovens (depending on the handle) hence no need to worry when baking. Stainless requires minimal maintenance for it doesn't tarnish, retains its original shine, and is dishwasher safe.
Is Stainless Steel Cookware Compatible With Induction Cooktops?
Induction cooktops work by heating the cooking element directly, thus reducing heat loss significantly. Unlike your gas range or electric range cookers, induction cooktops use a magnetic field to produce heat.
The cooktop also has an entirely flat surface top increase contact with the cooking element. For this reason, you need to ensure your cookware are compatible with this cooktop.
The good news, however, is that manufacturers will indicate if your stainless-steel cooktop is compatible with induction cookers or not. If shopping for the cooktop yourself, take a small magnet with you and try to stick it to the cookware.
Anything that the magnet sticks to is induction-compatible. Aluminum and copper cookware aren't, however, induction ready. Stainless steel and cast iron usually work on these cooktops.
There's also a workaround for induction cooking especially if your cookware isn't induction compatible. The Mauviel Induction Disc, for instance, makes it possible to use any cookware with the induction cooker.
All you need to do is place the induction disc on the cooktop, then the cookware on it. The induction disc will dissipate heat to the cookware, whether induction compatible or not.
These induction discs cost between $20 and $90 depending on the quality. With this disc, it will be possible to use your cookware with the induction cooktop with ease.
Reasons To Invest In Stainless Steel Cookware
You can never go wrong with stainless steel cookware. Professional chefs and even homemakers prefer stainless steel cookware and for a good reason. Stainless steel is fashionable, durable, and also gives your kitchen a fresh new and shiny look.
Here are other advantages:
Appearance: Stainless steel provides a beautiful, shiny, and smooth look and feel. Cleaning stainless steel surfaces is also relatively easy, a reason it maintains its look and luster for very long.
Versatility: Stainless steel is stain and corrosion-resistant. That said, stainless steel can be used in a wide range of culinary applications ranging from acidic foods (tomatoes) to alkaline foods (carrots, greens, and sprouts). You never have to worry about tainted taste due to your cookware reacting with your recipe.
Durability: As the name denotes, stainless steel doesn't gather stains nor scratches. It maintains its toughness and doesn't dent up easily. You can also use it in your dishwasher as well.
Cost: Stainless steel cookware is very affordable. You should be able to find quality and durable cookware from a supplier near you.
Maintenance: As mentioned earlier, stainless steel is tough and scratch-resistant. It should therefore fare well in your dishwasher, detergents, and stains. All you need is a simple detergent and warm water to rinse stains off.
Like everything else, there are a few downsides of stainless steel cookware. Although stainless steel products are lightweight, affordable, non-porous and don't rust or chip, the compound isn't a good conductor of heat. Stainless steel might not distribute the heat properly for an even cook.
Manufacturers however have this in mind, and often include aluminum and copper in the core to help improve heat transfer. Cheaper and thinner stainless steel cookware might however not have the core included, a reason you should consider investing in the more expensive models.
Some of the best cookware on the market today either have copper partially or all the way up for improved conductivity. Cookware should be a one-time investment. That said, you should go for stainless steel cookware with the core included for improved efficiency and durability.
How To Clean Stainless Steel
Stainless steel is relatively easy to clean. It's however advisable to wash, rinse thoroughly, and towel-dry your aluminum cookware when you get them for the first time.
Be sure to wash your cookware before putting them in the cupboard. Unlike porcelain cookware, you don't need to season steel cookware before using them.
It would be advisable to fry your foods in coconut oil, olive oil, butter, and unsaturated fats for the best results.
Once done cooking, get rid of all the food and debris soak, and wash. Do this to preserve the cookware's original gleam and look for centuries. Your grandchildren will find them in the same condition you bought them.
Avoid putting salt directly on the cookware while it's hot. Doing this increases the risk of pitting and spotting in the metal. Only add salt to already cooking and warm food to preserve the metal. To clean any stains and streaks, use distilled white vinegar then wash it off with warm soapy water.
Extreme heat may cause discoloration (rainbow) on your steel cookware. You can use stainless steel cleaners to remove the discoloration or simply use 100% tomato juice. The natural tomato acidity removes all the bits of stains effectively with minimal scrubbing.
Soaking the cookware in a baking soda and vinegar solution overnight will do the trick as well. Spots caused by hard water can be cleaned in the same way too.
How To Use Your Stainless Steel Cookware
Stainless-steel cookware can be used in a wide range of culinary application. You can use it for frying, stop top cooking, sautéing, baking, boiling, casseroles, roasting, grilling, barbequing, steaming, braising, scrambling, and poaching.
Stainless steel shouldn't ever be used in the microwave oven. No metal should. You could also use your stainless steel cookware in the refrigerator.
How To Choose The Best Cookware Made Of Stainless Steel
With dozens of brands and manufacturers producing stainless steel cookware, identifying the best one for your specific needs might be overwhelming. Stainless steel products however come in various shapes, sizes, and production methods; there are those manufactured with two or more materials in a process known as cladding.
While these are great products, you need to identify products within your budget range when shopping. This is the only way you can make a more informed decision on these. Some of the factors you ought to consider when shopping for cookware include heat conductivity.
Stainless steel isn't a good conductor of heat; going for stainless steel cookware with copper or aluminum cladding would be a much wiser decision. Price is another factor you should have in mind, as well. Go for cookware affordable enough yet capable of lasting many years.
Stainless steel is known for its durability. Cookware made of stainless steel is a worthy investment.
Stainless steel doesn't react with any food (whether acidic or alkaline). That said, it shouldn't stain nor be hard to maintain. Made of shiny chromium, carbon, and steel, among other metals, you can be assured your food won't taste any different, nor will the cookware stain.
Steel isn't an excellent conductor of heat. That said, you should consider investing stainless steel cookware with copper cladding for improved efficiency. Copper and aluminum cladding is commonly used to improve steel's conductivity hence proving an even cook.
Other Factors To Consider When Shopping For Stainless Steel Cookware
While stainless steel might be popular in modern kitchens, you still need to make a more informed decision when buying cookware made of the same.
Here are some of the essential factors you ought to consider:
Cladding: Stainless steel isn't the best conductor of heat. Aluminum and copper solves this problem through cladding for even heat distribution. Go for cookware with either/both aluminum and copper on its base or sidewalls.
Durability: The most durable stainless steel is comprised of 8% chromium and 10% nickel. Composition says it all about stainless steel, which is why you need to look at the numbers when shopping for steel cookware. Chromium is the compound that gives it a shiny and smooth look and feels. 18/10 stainless steel makes the most corrosion-resistant and durable cookware you can get.
Handles and Lids: Most stainless steel cookware products come with ergonomic and easy to grip handles and knobs. Some of these will be cool to the touch even when the pot is boiling hot. Be sure to check the lids to ensure they fit well. Do you need the knobs and handles in the oven, or will they burn? These are some of the questions to ask yourself when shopping for such cookware. Some sets will, however, come with lids that can be used on both the skillet and the pot.
Needs and Preferences: Always go for sets with pots and pans you need and use every day. A set will include a sauté pan, saucepan, a stockpot, and a skillet. Go for sets that fulfill your desires and needs when cooking.
Extra Accessories: Some sets will have a few accessories such as a spatula, measuring spoon, and a slotted spoon included. While you might not want to buy an extra kitchen accessory, some of these come at no additional charge. These accessories may be made of rubber, plastic, wood, and metal. Metal might however scratch your otherwise impeccable cookware.
Final Thoughts
Stainless-steel cookware sets are popular thanks to their durability. They can be used for years if you treat them right. Many weary of the potential health risks of Teflon pans also flock to stain-less steel, especially if cast iron is too heavy for them.
Any of the sets above would make an excellent addition to your cookware arsenal, but if I had to pick one from the lineup as "best," it would be the Cuisinart MCP-12N Multiclad Cookware Set.
It is a 12-piece set with superb triple-ply construction that ensures even heat distribution. Additionally, you get a nice mix of pot/pan sizes.